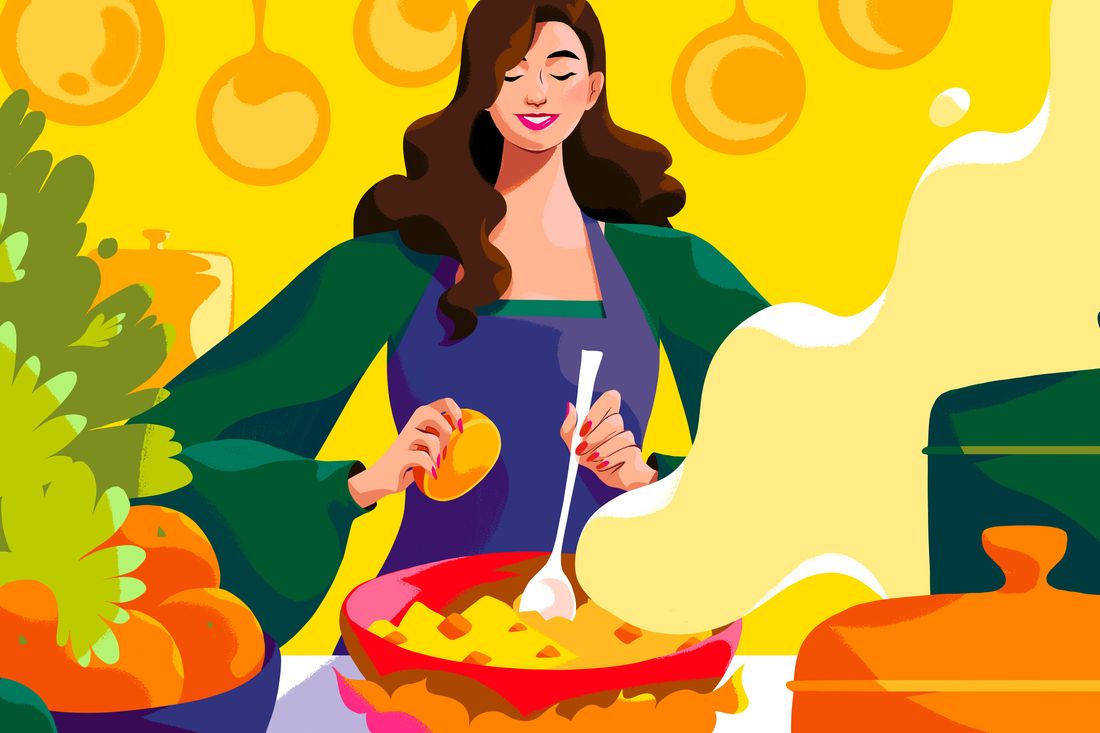 Sierra Tishgart, the CEO and co-founder of the beloved cookware brand Great Jones, spends her busy days managing all aspects of her growing business — hopping on marketing and financial calls, video chatting with the warehouse responsible for packing the brand's aesthetically pleasing products, and everything in between. Great Jones' mission of empowering home cooks by making cooking — and high-quality cookware — accessible to more people has become even more valuable over the past year, with many more people staying home and exploring their kitchens. For Tishgart, cooking has become a regular moment of brightness in her days: a way to get away from her phone screen and prioritize her physical and mental health each day.
Now that we're in a new year, it's time to renew our commitments to taking care of ourselves and each other, with daily routines (like cooking) that help promote health and well-being. Within those routines, it's also important to take little moments of joy for yourself. Besides cooking, Tishgart says hers include walking her Australian Shepherd and drinking orange juice or snacking on citrus fruits to get her daily vitamin C. Here, with Tropicana, we asked Tishgart how she stays on top of her business, while cultivating routines that give her daily brightness and comfort.
On making cooking more joyful and bright with Great Jones:
A big part of what we do is build confidence in the kitchen by equipping you with the products that we really feel like will set you up for success, as well as really providing great content and support to help you figure out what you need and why, and then how to use it. I think that cooking can often feel so overwhelming, and I think that can stem from the fact that there's so many options to outfit your kitchen at a wide range of price points. We want to make the process really simple and joyful, and make high-quality, beautiful kitchen tools that you're very proud to use … I recognize that it was a privilege to be able to be so busy in this hard year and to get to have a business that was something that provided people a lot of support in a very hard time. Cooking became not just a joy, but a necessity.
On her favorite breakfasts:
I love a baked good, a good scone, and sometimes I'll freeze scones and pop them in the oven in the morning — that's always really nice. I also love doing a soft scramble with eggs; it's such a nice way to make eggs feel so luxurious. I'm a New Yorker, so the ultimate breakfast of a great smoked fish and a bagel is like my favorite thing. I feel like orange juice is an essential part of that classic New York spread.
On weekends, I typically make pancakes, or order a bagel spread with smoked salmon, whitefish salad, and Tropicana orange juice.
On her jam-packed days as a startup co-founder:
Owning your own business is a whole other level of commitment and time and energy. I also think people don't realize necessarily how small the Great Jones team is or how young of a company we are … I'm doing a wide range of things every single day. To give an example from this morning, I was [video chatting] — though, ideally, I would have been there in-person — with our warehouse to make sure that our new packaging was being packed properly, we were doing drop tests remotely of our products, and then I'll hop on a marketing call, and I have a financial call in an hour.
On the daily routines that keep her grounded:
I find a lot of pleasure in cooking and in my kitchen. That is a really nice, kind of quiet part of my routine. And I almost always cook at night; it's doing something with my hands in which my phone really can't be front and center. I also really like to garden when the weather is appropriate, kind of that similar feeling of putting my hands in soil, watching something grow, I think [applies to both] gardening and cooking. I like the messiness of it to a degree actually … It's a part of my day that I don't feel the need to so tightly control. I just get to turn off my mind and put my phone down.
On the importance of cooking as a daily moment of brightness in the past year:
I'm grateful that people cooked this year. I know that some people cooked out of joy, and some people cooked just out of safety or necessity, but I think it's been amazing just to see people develop their skills and their confidence [in the kitchen]. If we can play a small part, that's amazing. But cooking is something I obviously believe is great for mental health, physical health, the environment, and likewise. It's been nice to see that become such an ingrained part of people's rituals this year, and hopefully bring some sense of calm and comfort.
This advertising content was produced in collaboration between Vox Creative and our sponsor, without involvement from Vox Media editorial staff.