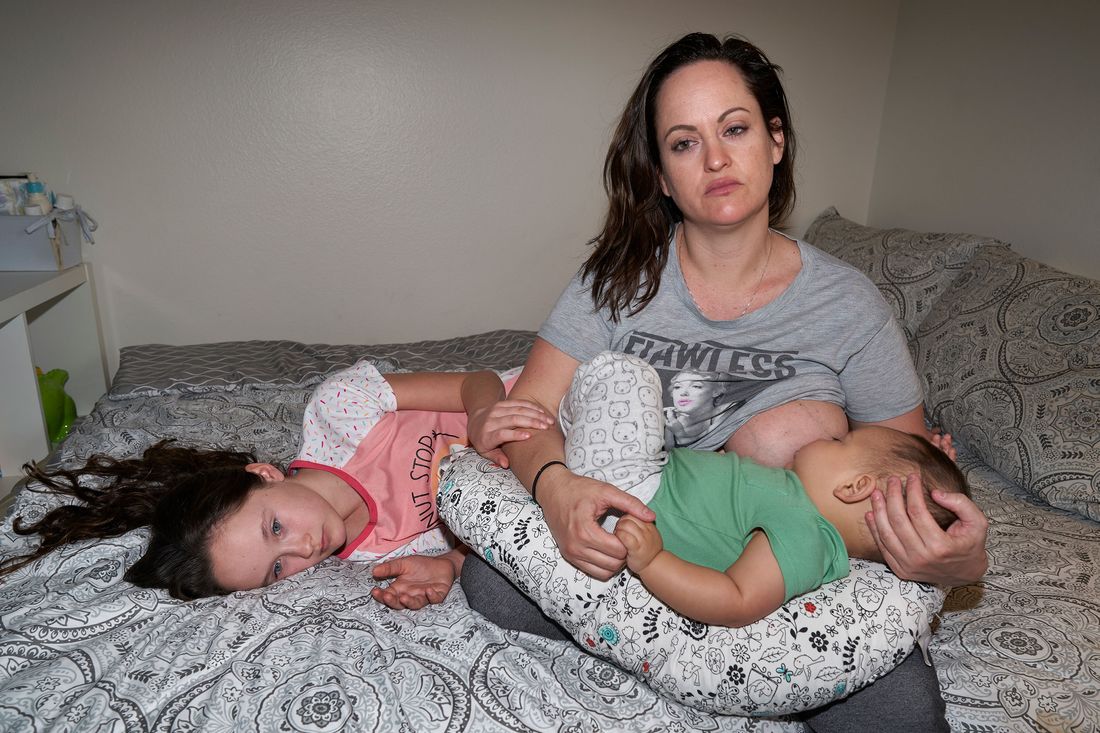 Tara breastfeeding her baby with Lily by her side.
Photo: Brenda Ann Kenneally for New York Magazine
Before COVID, before the complications with her pregnancy, before remote school and conference calls and standing in line outside Target for hours just to get groceries, Tara knew there wasn't much she couldn't handle. She had survived years in a violent relationship, all the while raising a kid and holding down a job. She had decided to leave her husband at seven months pregnant; she and her daughter moved into a one-bedroom apartment the weekend before lockdown. Soon, Tara had a newborn to care for while she oversaw her daughter's school and cooked and cleaned and worried about how she could possibly return to work when her maternity leave ended. The pandemic amplified the impossibly hard circumstances that mothers, especially single mothers, are expected to surmount with no safety net. Something had to give for Tara and for so many other women left to navigate an unrelenting list of tasks required to keep a job and a family afloat. In this context, it is unsurprising that millions of women would be pushed into unemployment over the course of the pandemic. When Tara looks back on everything she managed in the last year, she can barely believe it. "All that stuff really happened," she reminds herself. She spoke to the Cut about how she made it through an unthinkable year.
Everything hit at once. I was extremely pregnant, about to be a single mom. It was March 13, the height of the craziness: You couldn't find toilet paper, people were freaking out. I was leaving my husband, who was abusive and an alcoholic, and moving into a one-bedroom apartment with my daughter, who's 10. There's no contact at all; I have a restraining order against him. So I have no financial help, no emotional help, no nothing. When I went to the hospital, my sister went with me. My son just turned 8 months, and he's never met him. The restraining order was for the whole year, and it's up in two months.
Toward the end of my maternity leave, I didn't know if I would even be able to come back to the office or if I'd be able to do my job remotely. And then, I was like, if I do my job in the office, what the hell am I going to do with my kids? My daughter was at the end of fourth grade and doing school remotely. And I have a newborn. Even if I can find somewhere to put my daughter, I can't afford it. And I'm worried about bringing COVID into the house. I went back remotely for a little bit in September.
My daughter is a brain. She's a super-great kid. She likes to read. She did volleyball and gymnastics. All that stuff — she's dealing with her mom having a really hard time, and she would cry. She missed her friends and wanted to get out of the house. A lot of her happiness now comes from her baby brother. So I was paying attention to her school but also a baby. I would set up my computer at the dining-room table, and my baby would be on my lap, breastfeeding.
My job was financing vehicles. If you buy a car and go to finance it, the dealership will send your info to different banks, and those banks have to compete with one another to try to get you a loan, the best rate. There are 500 million variables that go into it. I worked for one of those banks. It was a lot of assessing risk. I had like 45 seconds to make a decision on if I wanted to give this person a loan. I'd been there like a year.
We would normally make 60 to 80 phone calls a day, but the most I could make would be like 20. They couldn't hear me; there was a screaming baby in the background. I would have to mute my phone to breastfeed. It was freaking impossible. My boss would be like, "Why aren't you making enough calls?" and I'm like, "I'm trying." I would break down and cry in the middle of the days, more days than not.
My daughter is 10, but still she'd say, "Okay, Mom, I'm getting off for lunch for 45 minutes. Can you make me lunch?" Or trying to throw in laundry in between calls. The frustration of feeling like your house is going to shit and wanting to clean up but also trying to work, and then the baby cries, and now he pooped and ruined his outfit, and you've got a conference call in five minutes. And then my daughter telling me, "Be quiet, I can't hear my teacher!" I kept thinking, How the hell am I supposed to do this?
Then we had a conference call with a couple people where they were talking about downsizing. I was still considered new. I knew I was toast.
Honestly, not even having anything to do with COVID necessarily, when you work in such a male-dominated field — it's like 20, 25 percent women — and you're pregnant, and you're taking a day off or coming in late for your regular prenatal visits with your doctor, even though you may be doing that with your boss's knowledge, it's still really scary. You know what I always say? Your job doesn't understand that you have kids, and your kids don't understand that you have a job. I would get a look, or, like, "Oh, again, you have to go to the doctor?" Especially because I was high risk, I had a hell of a time. I was 39 when he was born, and I had a history of miscarriages.
They got rid of anybody that was new. And I spent more time out for my pregnancy than I had even worked there. I didn't mean anything to them. COVID did affect business; that's a fact. But if I was never pregnant and I never missed any time — I don't know. Maybe I would have still had my job.
The only way I have been able to survive this year was having some disabilities and having a baby. The money for disability didn't even cover my rent, let alone anything else, even after I moved to a one-bedroom apartment. So I drained my savings. And now it's all gone. My older sister just gave me all the money from her tax return from that last year and said, "You can have this, make it last, figure it out." Without her, I don't even know what I would do.
So right now, I'm home. It's getting better, finally. I actually just got a job. It's part time. It will lead to full time, and I'm grateful for it, but it's still a little touchy right now. I think February I'm okay, but by March I might not be able to pay rent. I don't think they can throw you out or anything, because of the pandemic. Never been happier, though, because I have a peaceful home.
I turned 40 during this, my daughter turned 10. The only person I had to talk to was a 10-year-old. But she was my 10-year-old. So I think it's made us closer. And there was a lot more conversation of really understanding each other in a deeper way. My daughter loves all kinds of board games, and we do a lot of that. She's also extremely athletic, so we started hiking, but during the week so we wouldn't pass other people as much. We wore our masks. I'd have the baby strapped to me, and we would do miles, up and down, get dirty, and hike and catch sunsets, have a picnic. We live right by the water. The views, where we'd hike? I can't even describe. You're just on the side of a cliff. Nothing but ocean, as far as you can see, left and right and out in front.