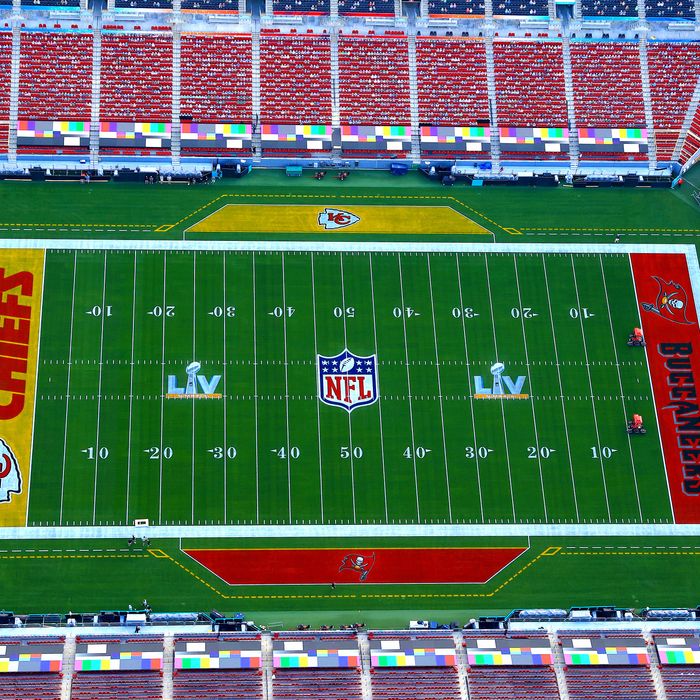 There is literally no way to predict when the Super Bowl will happen. You can consult the moon, the stars, the tides, and legal and spiritual professionals, but ultimately what happens every year is that the knowledge of when and where the "big game" will take place is mysteriously implanted by unseen forces in the brains of a handful of your friends' friends, who then say things like "What are you doing for the game on Sunday?" and "Man, Brady. Am I right?" And then someone says something to someone else, who says something to someone else, who tweets something, and so on and so forth, until eventually, just hours before kickoff, this knowledge makes its way to you.
(Some have claimed that there is an entire football season leading up to the Super Bowl and that the time and place of every game are made publicly available by the National Football League. I don't doubt this unsubstantiated rumor, but I will not be investigating it further.)
This year, the mysterious knowledge about the time and date of the Super Bowl made its way to me last night, when I saw a tweet about it and thought, Oh, the Super Bowl's happening? Huh, okay. Evidently, my time had come.
Here are some basic facts I've gleaned about Super Bowl LV (that's Roman for "Super Bowl Louis Vuitton"). Feel free to share these facts with others who may not have gotten the news.
When is it happening?
Sunday, February 7, 2021, at 6:30 p.m. EST.
Where is it happening?
Tampa, Florida.
Who's playing?
The Tampa Bay Buccaneers (feat. Tom Brady) and the Kansas City Chiefs.
Wait, Tom Brady's in the Super Bowl again?
Incredibly, yes. After 20 years with the New England Patriots, Brady signed with the Buccaneers in 2020, and now he's playing in his tenth Super Bowl. Damn, it's wild what you can accomplish when you avoid eating strawberries.
Who's doing the halftime show?
The Weeknd.
Did the Weeknd really get Instagram Face?
Great question, and no.
How are they making the big game COVID-safe?
Uh, well … according to the NFL, attendance at the 65,000-seat Raymond James Stadium will be limited to 25,000 people, including 7,500 vaccinated health-care workers, and mask-wearing will be mandatory. Still, some experts are worried. "My biggest concern for when COVID-19 might spread at the stadium is not necessarily when people are sitting in their seats," Stephen Kissler, an epidemiologist at Harvard, told CNBC. "It's actually when they are mixing in other parts of the stadium."
Those are the facts, and I think — I hope — that, even in these trying times, we can all come together to agree on one thing: In the end, the team with the most points will be the one to take home the prize (a gentle kiss on the lips from Roger Goodell).
Good luck to all! And please put Gisele in the game this time.