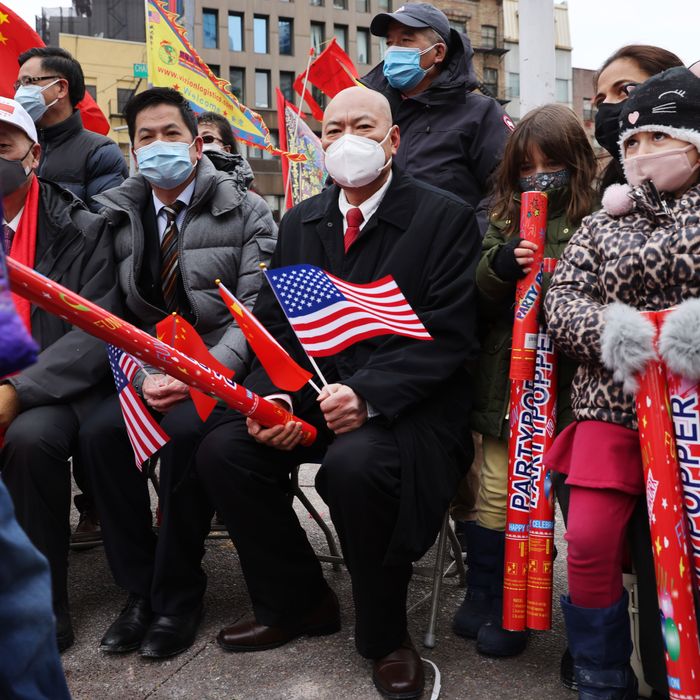 "Residents and officials watch as traditional Chinese dancers perform in a Lunar New Year ceremony in Chinatown on February 12, 2021, in New York City. (Photo by Spencer Platt/Getty Images)
Photo: Spencer Platt/Getty Images
Once, as a child riding in the back seat of the family station wagon, I told my mom that someone was following us. I'd seen spy movies on TV; I thought it would be fun to evade some imaginary bad guys. But she reacted with real fear, urging me to lie horizontal so that I couldn't be seen. It wasn't until the garage door closed behind us that she allowed me to sit up. My cheeks were hot from where I'd pressed them against the car's upholstery, and I was sweaty from the guilt of making her feel so afraid.
Not long ago, I was talking with her about the rise of Asian American racism in the U.S., and she told me why she had been so fearful that day in the car.
Like so many Asian American immigrants, my parents left behind everyone and everything they knew in Taiwan to build a better life for my brother and me. One of their biggest dreams was home ownership. They bought their first house in New Jersey, and they decided to paint the siding red and white. Compared to the other black-and-white and brown-and-white colonials in the drive, it was an unusual color choice, but my mom has always loved red. It's also very auspicious in Chinese culture.
After living there for a few years, we moved to a bigger, beige-colored house in a different neighborhood. One day, before my mom could close the garage door, an angry man got out of his car, stalked up the driveway, and got in her face. "I just have a question for you. Why would you paint the house such a terrible color? It's an eyesore for the neighborhood. Don't you guys have any taste?" My mom was confused. Who was this person? What color? Then she recognized him as our old neighbor. He was a doctor, she recalled. I remember him yelling at my dad for not mowing the lawn often enough or properly bagging fall leaves. Much like the Karen from Montclair, it was racism packaged as excessive neighborly concern.
We just didn't know that sort of harassment existed at the time. This man had tracked down our new address to confront my mom in the middle of the workday, at a time he knew she would be alone. He repeatedly asked her the same questions, growing more frustrated and agitated, as she avoided his eyes and didn't answer. She shakily went inside.
"Were you scared?" I asked my mom.
"More confused," she said. "Why would someone be so angry about a house color?"
More recently, I've understood her confusion. Being Asian American has always been a bewildering and complicated experience. You move to a new country and think you'll be treated like an American, but what you really want is to be treated like you're white, which isn't possible.
There is a common Chinese saying of 吃苦 (chīkǔ). It translates literally to "eat bitterness," to swallow our pain and suffering and endure it. We persevere and we don't complain, and it is seen as a virtue: Work hard for things that people can't take away from you. In a study of ethnically diverse cancer patients, they found that Asian Americans reported the lowest pain scores. My mom would not have seen the terrifying incident with our old neighbor as something to tell us about. Sharing it would have meant she was complaining. He used words. He didn't cause her physical harm. He didn't even use a racial slur. So, maybe it really wasn't that bad.
I've recently realized that I've continued to define my experience as an Asian person living in America as "not so bad." I don't have issues finding my foundation shade at Sephora. Potential employers don't discriminate against my hair texture for a job. Pew Research indicates that in the U.S., Asians are the overall highest-earning racial and ethnic group. More than half of Asians have at least a Bachelor's degree.
The damaging model-minority myth suggests that Asians actually have it pretty good in this country, especially compared to everyone else, and propels a perception of universal success (in reality, Asians have the largest income gap with one of the highest poverty rates). It also implies that with higher education and hard work, you can chīkǔ racism. I've been shamefully ambiguous as to how prejudiced white America is to Asian Americans, giving white supremacy the "benefit of the doubt" it did not deserve. I've been constantly made to feel like I should be grateful for what I have, but what I really have is an uneasy, panicky feeling that I should have spoken up for more and sooner.
Every day as a beauty editor, I receive hundreds of email pitches from publicists asking me for thoughts on their clients and topics. Would I want to interview a celebrity makeup artist on how to create the "hottest beauty trend" — the slanted "fox eye"? Would I be interested in trying out a gua sha tool from "Karate Apothecary"? Would I want to visit any one of the dozens of Chinese-medicine start-ups, almost all of which feature non-Asian founders and practitioners, trying to "elevate" and "modernize" the experience? Do I have the time to send an email ranking them from a scale of one to Mahjong Line?
I can remember so many situations like these that, at the time, felt too nebulous to call out as 100 percent racist or problematic. When the murder of George Floyd occurred in May 2020, I felt sadness and rage for the Black community. I knew that being an ally meant not using their tragedy and pain to center my own narrative. Internally, I wondered if America had the capacity to care about more than one race at a time. The consensus in my group chats is that no one cares about Asian Americans.
Given America's history with anti-Asianness, it probably doesn't. Anti-Asian racism and the sense that Asians belong only in Asia have existed since at least the 1800s, when the fear of "yellow peril" created a whites-only immigration policy. Since the pandemic began, anti-Asian racism has been on a sharp rise. In March, California congresswoman Judy Chu estimated that 100 anti-Asian hate crimes were being committed every day.
Every single person in my Asian friend group either knows or was someone who was verbally or physically attacked this year for their "connection" to the "kung flu." Then in January, brutal hate crimes occurred across the U.S., specifically targeting the Asian elderly, including Vicha Ratanapakdee, an 84-year-old Thai man, who died from being shoved. A local newspaper in Chinese-centric Queens reported on NYPD data showing that there has been a 1,900 percent increase in hate crimes against Asian Americans in NYC (making Asian Americans the city's third most-targeted racial group, following African Americans and Jewish Americans). Leading up to Lunar New Year, the happiest day in Asian culture, Oakland's Chinatown reported up to 20 assaults in two weeks. And these were just the reported ones. Many elders chīkǔ out of a fear of repercussion or the belief that it's pointless to report crimes to the police. Celebrities like Daniel Dae Kim offered a $25,000 reward for the perpetrator attacking an elderly Asian man to be found, but calling for more policing is only a way for the Asian and Black communities to turn against each other. The same weekend that it happened, Asian Twitter and Instagram and my group chats became an endless, horrifying feedback loop of the same links and reactions.
I thought that everyone would be talking about it at work the next day. No one was, apart from the Asian Slack employee-resource group. After a concerted effort on social media to tag prominent Asian American journalists, a small handful of outlets covered the crimes as news. It was also Super Bowl weekend, and in America, that football game is always deemed more newsworthy than a person of color being beaten and murdered.
Even now, the community is relying on a handful of influencers to raise awareness of the crimes. Every morning, I wake up to more news of an attack of another Asian parent or grandparent. My friends are terrified for their parents to venture out in the community. They text them asking them to be careful and to stay at home. They plead on social media to be heard and reshared, and call for allies. The next generation of Asian Americans use their American boldness and perfect English accents to speak out on social media for their family members.
You might look at what's happening to the Asian American community now and think it's about crimes of opportunity or a failure of our mental-health system, not race-fueled crime. You might look at my mother's story and think it was over a house color, but it wasn't. It's easy for racism to exist in our country when it is so insidious and has had years to hide under the excuses of power and outsiderism, or even misogyny and taste. My old neighbor did not like "something" about my family — in this case, a house color — and he felt entitled to target a young Asian American woman when she was at her most vulnerable to express his emotions. He knew he had the power. He never wanted an apology. He wanted an easy outlet for his rage. It was about exhibiting dominance in a society that rewards whiteness.
There's a pattern with these attacks on Asian American elders: People target those whom they perceive as weak, as outlets for their rage and entitlement. Usually and sadly, this often means women. It can only end when people change the power dynamic by speaking out and not backing down. With the rise of Asian American hate crimes, I'm no longer confused about who I am. I am Asian, as well as American, and swallowing the bitterness of racism shouldn't be something that I have to bear. America and Americans should do better.
*A version of this article appears in the March 1, 2021, issue of New York Magazine. Subscribe Now!