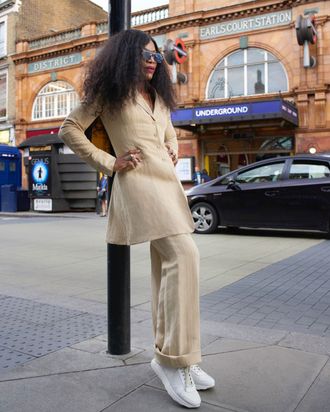 Photo: Courtesy of Theresa Ebagua
As a teenager, Theresa Ebagua often wandered through thrift stores and flea markets, enamored of all the vintage shoes on display. Decades later, in 2012, she brought her youthful passion to life with Chelsea Paris, a luxury footwear brand named after her daughters and inspired by her Nigerian heritage.
"My style is quirky, bold, and experimental," Ebagua told the Cut. "I like to push boundaries and enjoy mixing eclectic patterns and silhouettes. Chelsea Paris, in essence, is an extension of my own stylistic expression, so my personal styling and footwear designs complement one another."
With its leather snake-print boots, chunky-heeled platforms, and fuzzy mules, Chelsea Paris has become a fashion-girl and celebrity favorite. Zendaya, Beyoncé, Kendall Jenner, and Lupita Nyong'o are just some of the names who wear the brand. But Ebagua is also community driven. Each season, she donates a portion of the proceeds to different organizations. For Black History Month, she's contributing 10 percent of proceeds from sales made on her website this month to Color of Change, the nation's largest nonprofit organization fighting racial injustice today.
We spoke with Ebagua about Bridgerton, finding peace, and her favorite shoes.
What's one shoe you've designed that's especially meaningful to you?
If I had to pick, my favorite shoe at the moment would be the Kels sandal in black gold. It's adorned with black velvet and a gold dot pattern atop a stunning pyramid heel. It exudes a very retro vibe and adds flirty energy to my wardrobe.
How do you thank someone for a gift?
I truly cherish intimate relationships, so I'm personal with my thank-yous. I'm fond of sending floral arrangements with a handwritten note. Also, if I know you enjoy a particular cuisine, I'll arrange for it to be catered for you.
What would you never wear?
I'm quite adventurous, so I'll always try something at least once and do my best to make it work.
What's your dream vacation?
Right now, I simply want peace. If I could, I would love to go back to Bali, especially following the year we've had. I'm yearning to return to a place of tranquility where I can unwind and recharge.
What's a good book on your coffee table right now?
I live a fast-paced life, so it's nice to slow down at times. One way I do this is by reading. I find escape in thoughtful story lines. Recently, I've found myself reaching for Island Beneath the Sea, by Isabel Allende. I've always admired historical fiction, and the manner in which Allende weaves this narrative is simply enchanting.
Last show you binge-watched?
Bridgerton. It's steamy! And whimsically vibrant. I could not get enough.
What's your guilty pleasure?
The Real Housewives of Salt Lake City.
The secret to hosting a good party?
Food, playlist, and lots of alcohol. Quantity and quality are essential when it comes to food. I like to offer a variety of dishes. A well-curated playlist is crucial because it sets the mood. And the alcohol adds a twist to the activities.
What are some trends you like right now?
Chunky platform heels are everything! I'm also drawn to exotic textures like zebra and cheetah prints. They remind me of an African safari, which is actually the inspiration for my autumn-winter 2021-22 collection.
One you don't understand?
Fanny packs. I don't so much mind them when they're worn as cross-body bags, but around the waist I just don't get it.
What's your favorite restaurant in New York?
Sylvia's in Harlem. When I'm in need of comfort food, it's my first stop. The cornbread, the cornbread, the cornbread — it's so good!
One thing you could eat every day for the rest of your life?
Plantain chips. Unripe ones (this matters).
Which shoes do you wear most often? 
I'm currently living in my Ace mules. I'm in Los Angeles currently, so I can get away with them this winter.
What are five inanimate objects that bring you joy?
"Fenty fan here! This is my go-to lip gloss. Right now, I'm loving the shade Glass Slipper. It's clear and shiny yet surprisingly not sticky. I take it everywhere."
"This mask changed my skin-care routine. I fondly call it the 'five-minute facial.' Once I rinse it off, my skin not only feels amazing but it's also so dewy and radiant."
"Sometimes you need to pause, release all of the things weighing you down, and affirm your power. Delia's words sweetly guide you in doing so."
"I adore this bag. It's eye-catching, iconic, and a wonderful accessory to any outfit. The butter hue is lovely; it's an uncommon, beautifully neutral color."
"I often fantasize about wearing this dress on an island. It's such a versatile piece. You can wear it by itself or pair it with orange cargo trousers for a cool-girl moment."