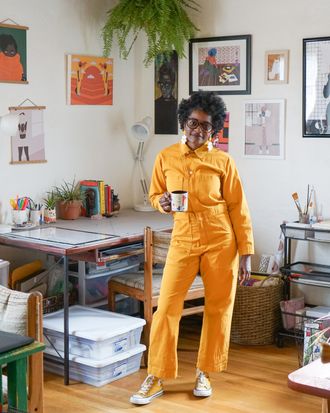 Representation is everything to graphic designer Janell Langford. Having spent a majority of her adult life in white spaces, she wanted to created a brand that illustrated her truth. Enter Obsidiopolis: "a sanctuary for black women and femmes to be empowered and inspired." The name was inspired by obsidian — a stone that, according to legend, shields against negativity and enhances truth. Obsidian is famously dark, but Langford's brand is all about bright colors, which she uses to spread a message of love and encouragement.
The Sante Fe–based designer sees drawing as her superpower, but she's also keenly interested in vintage clothing. So turning her graphic-design vision into wearable art felt natural to her. "I've sketched clothing and models since I was little," she told the Cut. "I also was big into the idea of building art universes through merch."
The Cut spoke with Langford about the pleasure of looking up, Black Futures, and prioritizing mental wellness.
What's one piece from Obsidiopolis that's especially meaningful to you?
The most meaningful thing I've made is my installation, CJ's Temporal Lobby, at Meow Wolf's House of Eternal Return exhibition in Santa Fe. It's the culmination of so much of what Obsidiopolis is about: mixing comic book storytelling, design, and even interactive animation. It's closed because of COVID-19 right now, but I can't wait to share it with the universe. As far as clothing I've designed, I really love my shirt "CJ's Dream." The image is a mural on the exterior of my installation. It depicts CJ, the protagonist of the Obsidiopolis story world, in a dream dimension where she can access her deepest creativity.
How do you thank someone for a gift?
It depends on the person. A handwritten note is timeless, but I'm pretty sure all my grandmothers would prefer I express my gratitude with a phone call. I'm always happy to oblige.
What would you never wear?
I try to never say never because I've surprised myself in the past. But right now, off the top of my head, leggings or jeggings and a T-shirt has never been a good look on me. Some people can pull it off, though, so good for them!
What's your dream vacation?
These days, I would love to go to just about any big city with delicious food, culture, museums, and a robust vintage scene. I also love movie theaters and will prioritize a movie or two in the best theater the city has to offer. Unique architecture is another big draw for me, just wandering around looking up at things brings me immense pleasure. To make it a dream, add a couple of friends and my dog.
What's a good book on your coffee table right now?
Black Futures edited by Kimberly Drew and Jenna Wortham! It's a collection of essays, art from Black creatives, and more, centering the question: "What does it mean to be Black and alive right now?"
Last show you binge-watched?
The Crown. I didn't think it was for me because I never had any interest in the royal family, but watching their personal drama (however fictionalized) and how it's shaped the world has been fascinating and surprisingly addictive.
What's your guilty pleasure?
Ice cream. I got addicted when I worked at an ice-cream shop in Seattle. I'm actually lactose intolerant, so the guilt also comes with punishment. I'm so grateful that vegan ice cream exists.
Secret to hosting a good party?
Dinner: The company.
Dance: The playlist.
Family: The alcohol.
What is a trend that you like right now?
Seeking therapy and prioritization of mental wellness. It took me a while to learn this, because I grew up in an environment where that sort of stuff wasn't discussed ever. I love that there are so many resources and therapy options available now. Hoping that access grows, becomes less stigmatized, and is not just a trend.
One you don't understand?
People that wear masks but pull them off to talk (wtf, get away from me).
Favorite restaurant in New York?
It's been a while, but I love Freemans. The food is delicious. End of story.
What's the one thing you could eat every day for the rest of your life?
The idea of eating the same thing everyday kinda freaks me out. I crave variety more than anything. But it's winter and dreary so the only thing that comes to mind is pho.
Shoes you wear most often?
Combat boots or Converse. I like to be comfortable.
What are five inanimate objects that bring you joy?
"I have a boilersuit/jumpsuit addiction, and the L.F. Markey jumpsuits are by far my favorite right now. They're very comfortable and well made — effortless and perfect for any situation."
"A Portland-based sustainable company that makes the cutest and most comfortable underwear I've ever purchased."
"I heard about Lone deodorant while listening to one of my favorite podcasts, The Friend Zone, and it's the best natural deodorant I've ever used."
"I've been a huge fan for years. They always have a delightful selection of colors and patterns and are especially perfect for those days I don't want to do my hair but still wanna look cute."
"I discovered Rolla when I was looking for a '70s style pair of cords. They're a dream."