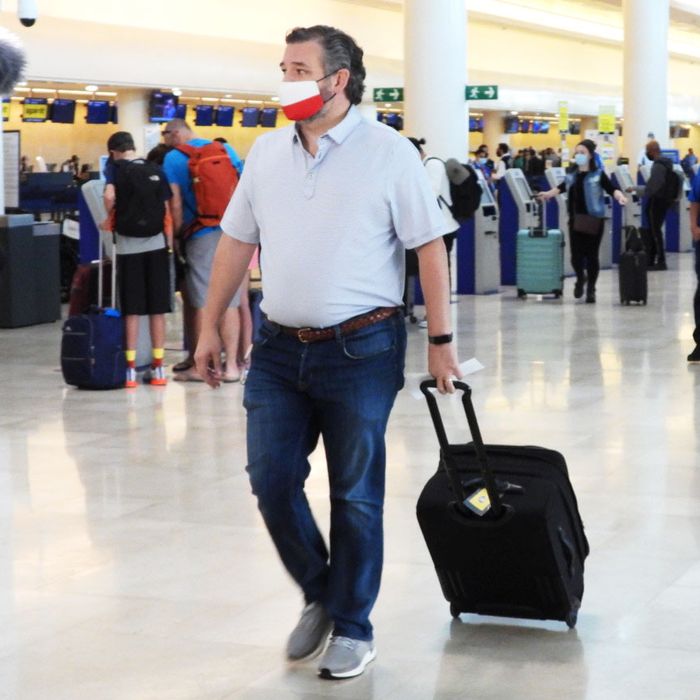 Okay!!!
Photo: MEGA/GC Images
Well, okay, yes, sure: Ted Cruz did take a little trip to Cancún while his state weathered an unprecedented (and ongoing) crisis. And, okay, yes, his decision to flee with his family as millions of others hunkered down in their dark, freezing homes — as the Texas death toll climbed past 20 people — admittedly does not look great! But please, Ted Cruz is begging you, do not blame him for this dereliction of duty: It was his daughters (ages 10 and 12) who wanted the vacation, and well, what was he going to do — simply say no??
Certainly, that would've been one option, some might even say the obvious option. But according to the Texas senator himself — who issued a statement on Thursday, in the wake of airport Cruz sightings in both Houston and Mexico last night — he was just trying to score some parenting points.
"Like millions of Texans, our family lost heat and power too," Cruz explained. "With school cancelled for the week, our girls asked to take a trip with friends. Wanting to be a good dad, I flew down with them last night and am flying back this afternoon." His wife, a perfectly capable chaperone, will presumably stay behind with their daughters.
Cruz did not apologize, but he did say that he and his staff "are in constant communication with state and local leaders to get to the bottom of what happened in Texas." Notably, his statement makes no mention of those who have died as a result of the storm, nor those who accidentally carbon monoxide-poisoning themselves in desperate bids to heat their homes — only of the "food lines, gas lines, and people sleeping at the neighbors' houses."
Still, maybe he will better understand the scope of the catastrophe now that he has returned to the state. Whether or not he always intended to simply drop off the kids in Cancún and then run right back to work was not immediately clear at the time of his statement, although as some pointed out on Twitter, he packed a pretty big bag for one night. NBC has since reported that Cruz was originally scheduled to leave Saturday, while text messages obtained by the New York Times reportedly indicate that his wife, Heidi, wanted to escape the family's "FREEZING" Houston home with a long weekend at the Ritz-Carlton Cancún.
Realistically, it also sounds like Cruz understood the extremity of the winter weather battering Texas this week. He warned in a radio interview on Monday that as many as 100 people might die, advising his constituents to stay in their houses: "Don't risk it," he said. "Keep your family safe and just stay home and hug your kids." Or, you know, use them as a scapegoat against mounting calls for your resignation. Very versatile, kids!
This article has been updated.