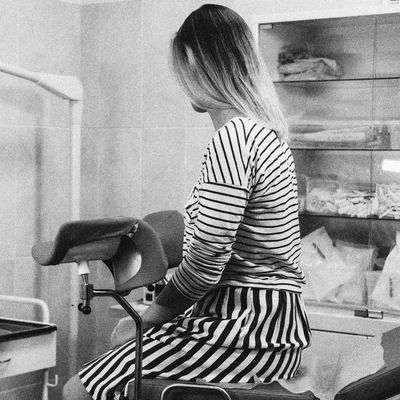 Photo: romankosolapov/Getty Images/iStockphoto
In one of the latest, more outrageous attempts to erode a woman's right to choose, Republican lawmakers in Tennessee have put forward a bill that would grant a man the power to veto a woman's hypothetical abortion, HuffPost reports.
The legislation, which was introduced earlier this week in both the Senate and the House, is stringent. Essentially, it outlines a formal court process a man could use to prevent a woman he impregnated from obtaining an abortion. Under the bill, a man would be able to file a petition to the court over the matter, requesting an injunction; then a court hearing would have to be held within 14 days. At said hearing, all the man would have to demonstrate to win his case is that he is the biological father — though DNA evidence is not required — and that there is "reasonable probability" that the woman would seek the procedure. Then the court could issue the injunction, barring the woman from going through with the procedure — that is, if she is even planning to in the first place. Were she to violate the injunction, the bill reads, the court would be able to hold the woman in civil or criminal contempt and "punish the respondent in accordance with the law."
This act — which is sponsored by Senator Mark Pody and Representative Jerry Sexton, in their respective chambers — is intended to take effect on July 1, 2021, "the public welfare requiring it."
Even if the bill is enacted, it will almost certainly be found unconstitutional. In the landmark abortion ruling Planned Parenthood v. Casey, the Supreme Court struck down a state requirement that a woman give her spouse notice before going through an abortion; the legislation in Tennessee is more stringent than that.
Francie Hunt, executive director of Tennessee Advocates for Planned Parenthood, said as much in a statement to HuffPost. "This is an unconstitutional, insulting, and dangerous bill," she said. "The priorities of Tennessee's politicians are drastically out of step with constituents struggling through the coronavirus pandemic. The legislature needs to stop trying to distract the public from their leadership failures with increasingly stigmatizing abortion restrictions."
As of 2017, Tennessee has just 12 facilities that provide abortions, according to the Guttmacher Institute. While that number may seem high in comparison to that of Louisiana, which only has four facilities, abortion is not accessible in 96 percent of Tennessee counties, where 63 percent of the state's women live.