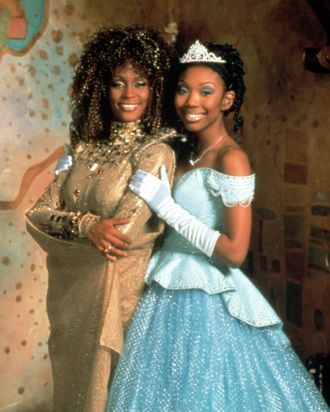 Photo: Walt Disney Co./Courtesy Everett Collection
One of the minor tragedies of our time has been that, even as we've entered peak nostalgia streaming, the pinnacle of the genre remained out of reach. For those of us who don't own a DVD player or a VCR, a craving for Rodgers and Hammerstein's 1997 made-for-TV Cinderella could only be partially satisfied by the few grainy clips available on YouTube. On February 12, that all will change: This legendary coming together of Brandy and Whitney Houston, this brilliant film executive produced by Houston herself, is coming to Disney+.
Let's recall the highlights: Brandy is the best actress to ever take on the titular role; she was also the first Black actress to do so in a movie. The colorblind casting meant that those of us watching the musical as kids got to see a fantasy world that reflected both the actual world we live in and the possibilities that we have the potential to bring forward. The soundtrack is fantastical and dreamy, with vocals from Brandy and Whitney Houston! Like, two of the most incredible voices in musical history! Together! Also: I don't think blue eyeshadow has ever looked as good on anyone (before or since) as it does on Brandy's soft glam princess. There's an earnest, full-throated joyfulness to the movie, from the charming performances to the luscious costumes and sets. It's everything a fairy tale should be.
This is a thrilling announcement for those of us who have fond memories of being mesmerized by fairy godmother Whitney Houston's presence on our box TVs, and it's doubly thrilling because it will introduce a new generation to the best Cinderella movie ever made. Let the countdown to February 12 begin.