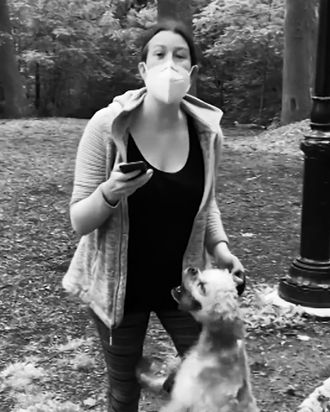 Amy Cooper.
Photo: Christian Cooper
Upon completing therapeutic and educational programs on racial prejudice, Amy Cooper, the white woman who falsely accused a Black birder of "threatening my life" in Central Park over Memorial Day weekend last year, is no longer facing charges.
According to the New York Times, after the Manhattan district attorney's office charged Cooper with one count of filing a false report, she was offered a "restorative justice resolution," in part because of her lack of a criminal record. During a virtual hearing in Manhattan criminal court on Tuesday morning, Assistant District Attorney Joan Illuzzi-Orbon said the solution was "designed not just to punish but to educate and promote community healing," and Cooper's therapist reported that she "learned a lot" throughout their five sessions. Illuzzi-Orbon then moved to dismiss the charges against Cooper, and the judge complied.
The ruling appears to mark the conclusion of the saga of Amy Cooper, whose racist confrontation with Christian Cooper (no relation) sparked a nationwide conversation about the ways women weaponize their whiteness to endanger Black men. The incident occurred on May 25, 2020, after Christian Cooper politely asked Amy Cooper to leash her dog in the Ramble section of Central Park, where she was violating the park's off-leash policy. Rather than recognize that she was in the wrong, she placed a histrionic call to 911 — which was captured in a video that went viral — informing Christian, "I'm going to tell them there's an African American man threatening my life." The day the video spread, Cooper publicly apologized for her actions, saying, "I am well aware of the pain that misassumptions and insensitive statements about race cause." In early July, the Manhattan DA's office brought charges against her. Then, in October, it emerged that Amy Cooper had leveled another false accusation against Christian Cooper in a second call to the cops, in which she claimed that he "tried to assault her."
The dismissal of the charges has been met with some outrage from those who wished to see Amy Cooper convicted, and who see the dismissal as yet further proof that the criminal-justice system does nothing to hold the privileged accountable. However, throughout the case, proponents of restorative justice have pointed out the limits of seeking resolution through the criminal-justice system. Among those latter voices has been Christian Cooper himself.
While Christian has not hesitated to call Amy's actions "racist" throughout the case, he has expressed compassion for her; after the charges were announced last year, he said he would not be cooperating in the prosecution's investigation. In an op-ed for the the Washington Post, he explained his decision, writing, "I believe in punishments that are commensurate with the wrongdoing," later clarifying that he would be satisfied if Cooper were to undergo anti-bias training or some form of community service. Upon the DA's decision to dismiss the charges, Cooper told the New York Times, "I am far more outraged by the U.S. Congress, which continues to deny the mostly Black and brown people of the District of Columbia statehood, and the representation every American deserves, than by anything Amy Cooper did."
Amy Cooper has not responded publicly to the conclusion of her case. However, in a statement posted to Twitter, her lawyer, Robert Barnes, thanked the district attorney's office for its "thorough and honest inquiry" and for dismissing the charges. "Others rushed to the wrong conclusion based on inadequate investigation & they may yet face legal consequences," Barnes wrote.