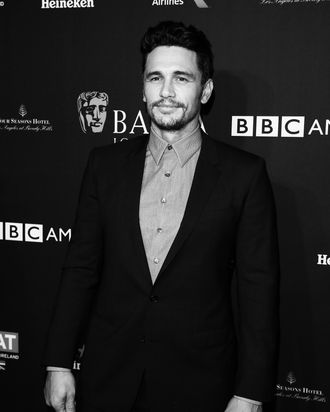 James Franco
Photo: Jean Baptiste Lacroix/WireImage
In late 2019, nearly two years after five women leveled sexual-misconduct allegations against James Franco, two actresses who attended Franco's now-defunct acting school brought a class-action lawsuit against the actor, accusing him of intimidation, sexual coercion, and fostering an exploitative work environment. Now, AP News reports, a tentative settlement has been reached in the case.
The exact terms of the settlement have not yet been made public. However, according to a joint status report filed in L.A. County Superior Court on February 11, the two former students who brought the suit, Sarah Tither-Kaplan and Toni Gaal, have agreed to drop their individual claims against Franco. Tither-Kaplan was one of the five women who accused Franco of sexual misconduct in a Los Angeles Times report published in January 2018, after Franco took home a Golden Globe for his performance in The Disaster Artist; Gaal was not.
Their claims date back to 2014, when both women attended Franco's Studio 4 acting school in Los Angeles, which at the time offered a $750 master class on sex scenes. (The school ceased operation in 2017.) In the lawsuit, the women allege that Franco intimidated them into performing exploitative and gratuitous scenes on-camera while actively denying them nudity riders and other protections. In one particular orgy scene — which Tither-Kaplan recounted to the Times — Franco "removed plastic guards that covered other actresses' vaginas while he simulated oral sex on them," the lawsuit claims.
Franco "sought to create a pipeline of young women who were subjected to his personal and professional sexual exploitation in the name of education," the suit reads. The lawsuit also named Studio 4 associates Vince Jolivette and Jay Davis, accusing them alongside Franco of "widespread inappropriate and sexually charged behavior towards female students by sexualizing their power as a teacher and an employer by dangling the opportunity for roles in their projects."
Franco has not yet responded publicly to the settlement, though he has categorically denied the sexual-misconduct allegations against him in the past. In one previous court filing, after applauding the "tremendous and important contributions" of the Me Too and Time's Up movements, his attorneys decried the allegations against their client as "false and inflammatory, legally baseless and brought as a class action with the obvious goal of grabbing as much publicity as possible for attention-hungry Plaintiffs."
While this marks the conclusion of the lawsuit, per the joint status report, the claims of the other plaintiffs who joined the class-action filing will be dismissed "without prejudice" — meaning they could refile their allegations at a future date.