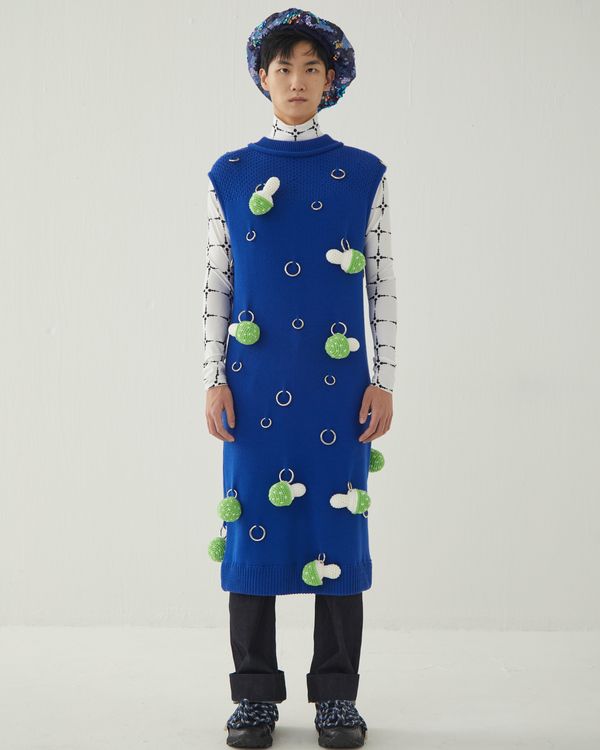 It's pandemic Fashion Week! Sure, I don't really know what the heck is happening, but I'm still welcoming it as a nice little treat. Instead of loading up our screens with nonstop exhausting news and Netflix, we can escape into the sights of beautiful clothes on beautiful people. You know what else helps people to escape from reality? 'Shrooms. And yesterday, on New York Men's Day, fashion and fungi were joyfully married on a dress by the South Korean label the Stolen Garment.
Before we get into the dress, let me tell you the story behind the name of the label, because it's riveting. When designer Jungwoo Park was graduating from Central Saint Martins in 2017, he and his classmates showed their collections in a special exhibit. But things took an unexpected turn when one of his garments was stolen from the show just hours after it opened. The news went viral throughout the school, and people began to post photos of someone walking around London wearing the piece. Sadly, the trail went cold, and the item was never retrieved.
With good humor, Park named his entire label in honor of the debacle. His clothes reflect a similar spirit. His fall 2021 collection was inspired by a trip — that is, a trip, wink wink — with friends to a used bookstore in Seoul, where the titles of '90s adult books stood out to him. Some of the words included desire and passion (obviously) as well as delinquent (spicy!). I can only imagine what books inspired all the rope-bondage elements in the collection, but the mushroom dress seems to me to fit the phrase play lover, words that Park included as inspirations in the show notes.
Portobello and shiitake mushrooms these are not. In Stolen Garment's collection video, bodies and faces melt and warp as models gyrate to a distorted audio track. Was I tripping in the middle of the workday? I'm still not sure. But if pandemic Fashion Week means more weird short videos to transplant me to another realm in my mind, I'm here for it.