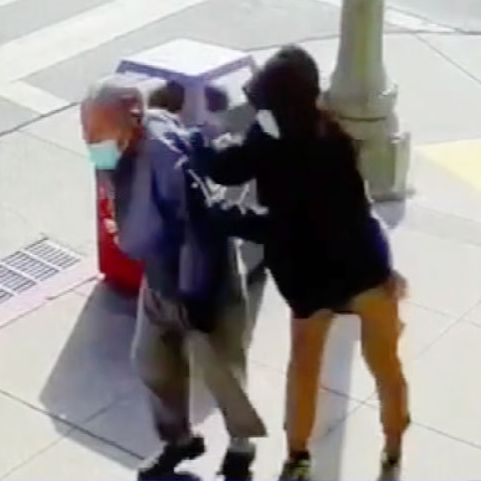 Photo: Oakland Chinatown Chamber of Commerce
Last week, actors Daniel Dae Kim and Daniel Wu announced that they were offering a $25,000 reward to anyone who could help identify the person who was caught on camera shoving a 91-year-old man in Oakland's Chinatown. The attack came amid a sudden and massive rise in the number of hate crimes against Asian Americans across the country, a phenomenon many activists argue is not getting as much media attention as it deserves.
"The skyrocketing number of hate crimes against Asian Americans continues to grow, despite our repeated pleas for help," Kim wrote. "The crimes ignored and even excused. Remember Vincent Chin."
Oakland police later said they believed that the man in the video is Yahya Muslim, 28. Muslim was already in custody on an unrelated case when they identified him. After the news was made public, Kim tweeted that he and Wu would be donating the $25,000 reward to various groups that combat anti-Asian violence.
Vincent Chin, whom Kim referenced in his tweet, was a major figure in the Asian American rights movement. In 1982, the 27-year-old Chinese American man was killed in a hate crime by two white autoworkers. "It's because of you little m—f—s that we're out of work," one of the attackers allegedly said. After his death, Chin's killers, Ronald Ebens and Michael Nitz, pleaded guilty to manslaughter and were sentenced to three years probation and a $3,000 fine. Neither spent a day in jail. The verdict sparked national outrage.
"The Vincent Chin case forced Asian Americans into the civil-rights discourse." Roland Hwang, the co-founder and former president of American Citizens for Justice told NBC News. Until then, Hwang explained, the national discussion about race relations had centered on Black and white Americans. "The Vincent Chin case, along with other cases, each serves as a wake-up call to address anti-Asian bias and racial intolerance."
Now, nearly 40 years after Chin's death, hate crimes against Asian Americans are on the rise in the U.S. As the Queens Chronicle noted back in September, NYPD data showed that there has been a 1,900 percent increase in anti-Asian hate crimes in New York City in the past year — there were 20 incidents in the first half of 2020 alone, compared to 1 in the whole of 2019. An August 2020 U.N. report also found that there were more than 1,800 racist incidents against Asian Americans in the United States over an eight-week period from March to May 2020.
And the violence has continued into 2021. As Amanda Nguyễn, the civil-rights activist and co-founder of Rise, a sexual-assault-survivor advocacy organization, noted in an Instagram video over the weekend, the past few weeks alone have seen several violent attacks on Asian Americans across the country: An 84-year-old Thai American man, Vicha Ratanapakdee, was killed in an unprovoked attack in San Francisco; a 64-year-old Vietnamese American woman was assaulted in broad daylight in San Jose and robbed of $1,000 in cash she had taken out for the upcoming Lunar New Year celebration; and in New York, Noel Quintana, 61, a Filipino American, was slashed in the face with a box cutter while riding the subway.
"This may be the first time you are hearing about this violence if you are not following Asian American news because the mainstream media does not spotlight our stories," Nguyễn wrote in the caption alongside her video. "Racism kills."
Many blame the Trump administration for inciting this violence; Trump and numerous other members of his White House staff embraced racist and xenophobic anti-Asian rhetoric early on in the pandemic, repeatedly referring to COVID-19 as the "China virus" and the "Wuhan virus." In an October statement, Manjusha Kulkarni, executive director of the Asian Pacific Policy and Planning Council said: "Our data and evidence of the real-life stories confirm that Asian Americans are facing increasing racist and xenophobic attacks, catalyzed by rhetoric from the president and other government leadership."
The Biden administration has begun to take steps to attempt to reverse the hateful legacy of its predecessor. In January, the president signed an executive order denouncing the discrimination that has been directed at the Asian American and Pacific Islander communities during the pandemic.
"I think these are very promising," Kulkarni told NBC News about the actions laid out in the president's directive. "And I think it's just the beginning. There's a lot more work that needs to be done."
This post has been updated.