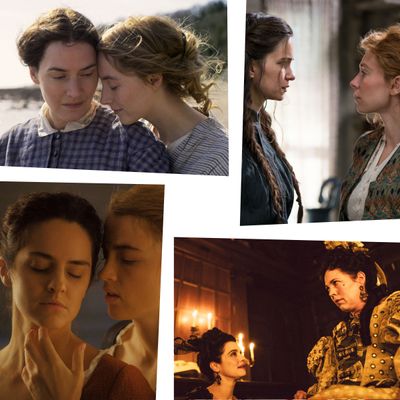 Photo-Illustration: by The Cut; Photos: NEON, Everett Collection, Bleecker Street
Two women, both wearing several layers of petticoats, stroll down a cold beach exchanging furtive, hungry glances — the kind of looks that say Let's have sex, or We just had sex. It's the 18th or 19th century; tuberculosis is still a leading cause of death, and "sea air" is a cure for it and everything else. One of the women is ill, so they're out breathing some.
I'm thinking of a scene from Ammonite, Francis Lee's dull lesbian paleontology movie about the 19th-century English fossilist Mary Anning. But there's something a lot like it in 2019's Portrait of a Lady on Fire — just the beach is in France, not Britain. Now, if we switched out the beach for the English countryside, we might be watching 2018's The Favourite, or if we were to place our heroines in a chilly New England backwood this could be The World to Come, a queer frontier romance that screened at Sundance last week.
Besides featuring cold weather, illness, and bloomers, all of these films are lesbian love stories set in the early 18th to mid-19th century. But it was The World to Come, which follows two couples trying to survive in Donner Party–level conditions, that really got me thinking: Why, at least in much of recent cinéma, do all of the lesbians exist in the past? (Some spoilers ahead.)
It's a curious trend, and one, to be clear, I welcome. I have no problem with filmmakers queerifying historical figures just because (as is the case with Ammonite), and it is wonderful to see something like The Favourite conceived on rumors that Queen Anne was gay. For Portrait director Céline Sciamma, the urge to place her lovers in the past seemed to serve both history and her own creativity. As she told Vulture last year, her fictional film was "based on accurate research and sociology," and drawn from a period where there were many female painters.
While none of this really answers the question of why all the movie lesbians exist in the past, it did occur to me the reason might not be that complicated. There is something titillating about fighting through underskirts and pantaloons in order to reach your lover, as there is conducting your sumptuous, smelly love affair amid the 18th-century English court. Certainly the bawdy mud baths of The Favourite add a certain je ne sais quoi, as do the hallucinogenic armpit drugs from Portrait.
But it really wasn't that fun to watch the frostbitten women of The World to Come fight for both their lives and their love, which is maybe where I get stuck with all of this. I like forbidden romance, but it's a pretty predictable trope. The moment it begins you know the story will end very badly or ambiguously for the long-suffering lovers, and this is particularly true of LGBTQ stories, both those set in the past and the present. And while a good bit of yearning or tragedy does a romance well, might it be nice for it to be less inevitable?
And then again, maybe that's your thing, in which case you should sit down with all of the films I've discussed and enjoy yourself. But I wouldn't say no to more movies like the upcoming I Care a Lot, which involves a couple of queer grifters who almost get to ride off into the sunset until their crimes come to a head.
Because it's nice, every once in a while, to see women in love without the trappings of the forbidden and the desperate. And while that might have still been possible 200 years ago, I would welcome more stories set in the present, where they might go to space or hunt for treasure or, at the very least, go somewhere warm.
The World to Come is out in select theaters this Friday, February 12 and will be available on demand March 2.