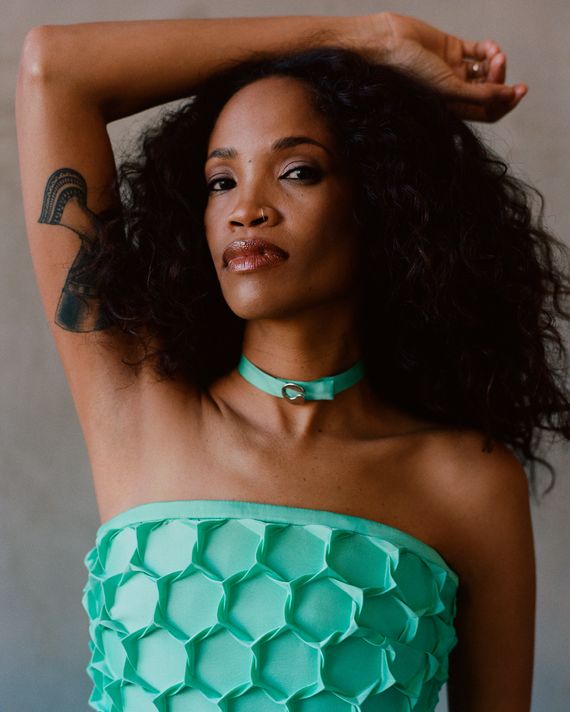 Coperini
dress.
Photo: Lelanie Foster
"I am inspired by acts of resistance and the way that shows up in society," says documentary photographer Stephanie Mei-Ling. "Culture, norms, values, and lifestyles that go against dominant ideology inspire me."
Mei-Ling was raised in Los Angeles by a Taiwanese mother and a Black American father. In high school, she took a darkroom class and fell in love with photography. She studied sociology in college to better understand the people and lifestyles she was interested in documenting. Now based in Brooklyn, she uses her lens to tell the stories of communities that have been marginalized and made invisible.
From her work in i-D capturing the Black and brown LGBTQ+ community to her project about racism in the America maternal health-care system, Mei-Ling is moved by daily life and intimate moments. As a union member of the Local 600, an international cinematographers guild, the self-taught photographer continues to use her craft to reclaim cultural narratives.
The Cut spoke with Stephanie Mei-Ling about listening to meditation music, mastering singing, and her LED light bulb.
What does cool mean to you?
Cool means being comfortable or at ease in your own skin. Cool isn't trying too hard. Cool is sure, has style, and is kind. Cool is rooted in self-assurance and authenticity. You don't have to wear the newest trends to be cool — it's about confidently being yourself.
What three creative people have had the most impact on you and why?
I am not sure if I can narrow it down to three people, but my mom was my first example of creativity, from her love of travel to watching the way she designed her life. That is my foundation.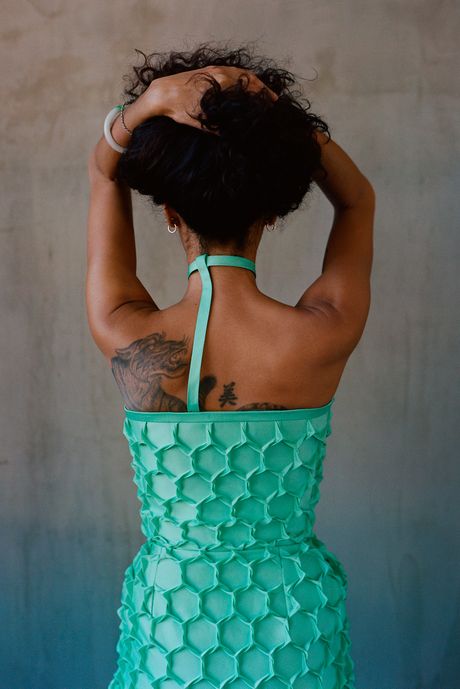 What have you been listening to lately?
I've been listening to a lot of meditation music. Healing tones. Chants. I try to not default to '90s R&B and music I'm familiar with, so I force myself to explore and discover new music. Currently I'm really enjoying Giveon and Sault.
What kind of animal would you be and why?
A bird, for the amazing views and the freedom, or a cat because they come and go as they please.
What superpower would you have and why?
My superpower would be the ability to retain information. I'd be able to read books and remember facts. I'd have an expansive database of vocabulary words. Super-boring, lol. I'm a nerd.
If you could master any skill (that isn't related to your current job), what would it be and why?
I'd master singing. It is one of my favorite mediums of expression. I'd take my skills to karaoke and be the annoying person who outsings everyone.
What are you doing for fun right now?
You can catch me dancing in my living room, kitchen, bathroom in front of the mirror — pretty much everywhere in my apartment.
Has the way you dress changed during quarantine? If so, what are you wearing now?
I get to wear loungewear 24/7 and that is my happy place.
Are there any causes or organizations you are supporting?
I donated to the Bail Project. I believe our justice system is flawed and cash bail has forced a lot of innocent people — disproportionately Black and brown — to spend weeks, months, and years in jail. The bond industry exploits low-income people who are vulnerable and powerless. No one should have to wait in jail for a court hearing because they can't afford bail.
What are your favorite local businesses to support?
There is a family-owned coffee shop in my neighborhood called Parlay. The food and service is great. I'm a fan of all small businesses and I try to buy Black whenever/wherever I can.
What goals are you working toward at the moment?
Being a better goal-setter.
What are you excited about right now?
I'm excited for winter to make an exit.
Do you have a self-care routine? If so, what does that look like?
My daily self-care rituals: morning meditation (since 2013). Five-minute stretch. Affirmations. I try to drink a gallon of water daily. I work out four or five times a week. I just recently got into skin care, and that has been fun!
What piece of advice has had the biggest impact on you and why?
Life is short. We get one chance (in this incarnation) to live life. Make each day count.
What is one item that has made your life better?
LED light bulb.