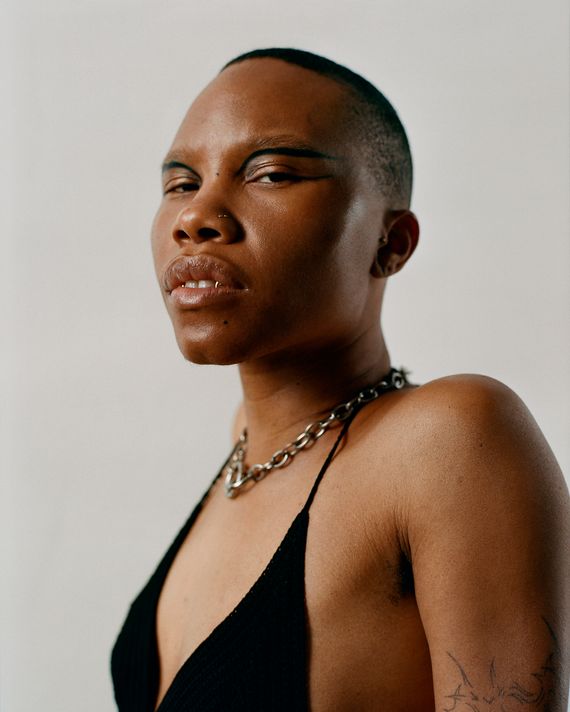 Dion Lee
bodysuit.
Photo: Lelanie Foster
Jamaica-born artist Dion A. McKenzie, also known as TYGAPAW, has been producing music that heals, inspires, and claps back for over a decade. Drawing from the energy of dancehall and '90s club bangers, the Crown Heights-based producer has an eclectic techno sound that will make you want to dance all night at a rave-y party (or at least reminisce about back when that was possible).
Since moving to the city in early 2000s, McKenzie has become a central figure in New York's queer club scene. They're committed to building space for Black artists in the electronic music scene and have founded popular club nights like Fake Accent, a monthly party curated to highlight queer and trans artists of color. Their debut album, "GET FREE," was made in a month during the pandemic and features powerful words from writer and artist Mandy Harris Williams.
The Cut spoke with TYGAPAW about reconnecting with drawing during the pandemic, the lack of Black lesbian love stories, and breaking out their suits to walk to the bodega.
What does cool mean to you? Cool to me is a person of integrity. Integrity is cool af.
Where do you get inspiration for your work? What was the last thing that you saw that inspired you? I'm really influenced by my environment. Traveling the world is incredibly inspiring, especially meeting people along the journey. I would say that's my main source of inspiration. The last thing I saw that inspired me is the David Hockney 1973 documentary A Bigger Splash.
What three creative people have had the most impact on you and why?
Whitney Houston because she's the GOAT. I've loved her from the moment I was introduced to her music at the tender age of 3.
[My partner, the photographer] Avion Pearce is such a force. She's an incredible artist and I've been blessed to share space with her on a daily basis, and learn from her every single day. She brings a lot of light and joy to my life — that's some serious impact.
Marlon James, because his novel, A Brief History of Seven Killings, inspired me to research Jamaica's history and incorporate my ancestry into my work. His book is a game-changer, and the fact that he is a gay Jamaican man only adds to the impact.
What three fictional characters do you relate to most?
Honestly, I can't name even one. I haven't seen any Black queer nonbinary fictional characters, so I can't relate, and that's that on that. They really need more Black queer stories that are not about trauma. Also, would love to see more Black lesbian love stories; there are very few.
What kind of animal would you be and why?
A tiger. The power! The beauty!
If you could master any skill (that isn't related to your current job), what would it be and why?
I want to master using oil paint.
What are you doing for fun right now?
Redesigning my studio and drawing.
Has the way you dress changed during quarantine? If so, what are you wearing now? 
Not really. I don't wear men's suits as much anymore, but I just might put one on to go to the corner store if I'm feeling cute.
Are there any causes or organizations you are supporting?
I really admire the work that Public Assistants are doing in Crown Heights for the community. They recently lost their space and deserve to be set up somewhere more permanent. Send them all the coins.
What are your favorite local businesses to support?
I love this Haitan restaurant called Lakou, which is owned by two Black women.
What goals are you working towards at the moment?
I have a few big things in the works, but I'm going to keep them to myself because I'm Jamaican and we're a bit superstitious that way.
What are you excited about right now? 
My debut album being released on vinyl. As an independent artist, it's a very big deal for me, and I'm very excited to hold my work in my hands for the first time.
Do you have a self-care routine? If so, what does that look like?
It's mostly just making sure I'm eating healthily and getting adequate exercise and sleep. Trying to meditate more to manage my stress levels, because I have a lot going on music career wise, and I'm trying to keep a rapid pace during a pandemic.
What piece of advice has had the biggest impact on you and why?
My mother told me this when I was 16 or 17, when I refused to eat or leave my room: "Only you can make you happy. No one else can." I never forgot that shit.
What is one item that has made your life better?
My laptop. I couldn't work without it and I take all my Zoom meetings on it.