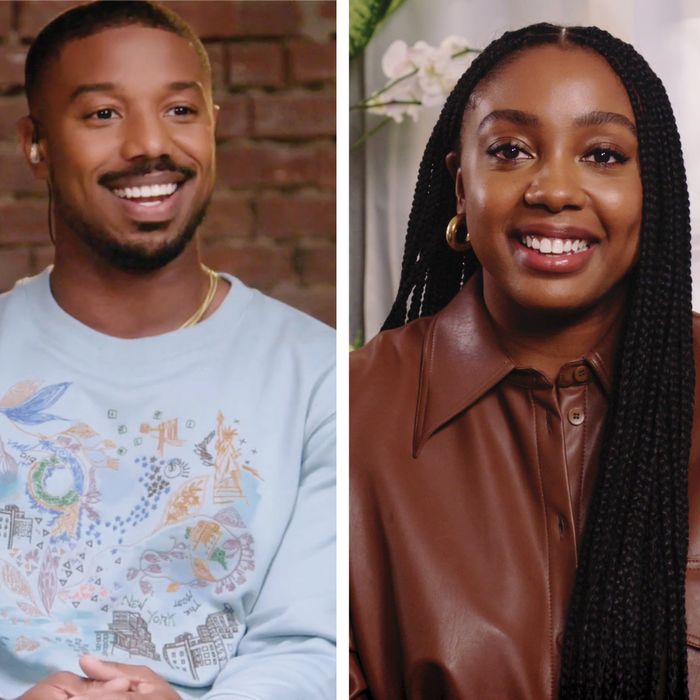 In January, Coach launched Coach Conversations, a monthly YouTube series in which members of the Coach family talk about culture, community, and creativity. The debut episode featured Jennifer Lopez and Jay Shetty, a former monk turned purpose coach, discussing how they found and continue to find their purpose.
For the second episode, the brand brought together actor and producer Michael B. Jordan, Grammy-nominated rapper Cordae, and the incoming editor-in-chief of the Cut, Lindsay Peoples Wagner, for a conversation called "Creating an Impact That Lives Beyond." The trio had a warm, honest dialogue about the experiences of Black creatives and the importance of having a lasting impact. All the guests shared the ways they are trying to create change in their respective industries, how they overcame roadblocks, and the advice they have for the next generation of creatives.
"The sharing of knowledge and information is vital to a creative's success," said Cordae, who was recently featured on the March cover of GQ with his girlfriend, the tennis star Naomi Osaka. "Each one teach one. It's important to always support the community year-round in all facets." Through his music and his actions that the public might not see on social media, the young hip-hop artist is committed to inspiring and pushing the next generation to dream big.
"I am a reflection of those that came before me, and I stand on the shoulders of those that have lifted me up," said Jordan. "I feel it's only right to give back to the community that gave so much to me, and passing the torch to the next generation is part of that."
In addition to this month's conversation, the brand has announced the launch of the "Coach Dream It Real Scholarship Program" through the Coach Foundation. Created in partnership with the Thurgood Marshall College Fund, these scholarships will support students attending historically black colleges and universities in an effort to help break the cycle of inequality.
Watch the second episode of Coach Conversations below.