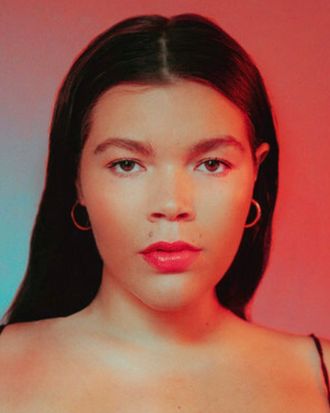 Photo: Savanna Ruedy/Courtesy of Tiffany Baira
Tiff Baira may be a New Orleans native, but you'd be forgiven for thinking she's a born and bred New Yorker — the city is very much her brand. In 2015, the now 24-year-old model moved to New York to study entertainment and media management at Pace University, and ended up receiving an extensive education on love and sex in the city. In June 2020, about a year and a half after she graduated, Baira was back home because of the pandemic, and took to TikTok to relive some of her favorite NYC moments, and she hasn't stopped since. Using her front-facing camera and some TikTok magic, Baira recounts tales of dating, sex, clubbing, restaurants, and the occasional sugar daddy. Many other people wanted to relive it all, too (or live it for the first time vicariously, as the case may be), and Baira became a TikTok influencer and relationship guru seemingly overnight.
In her TikToks, one-on-one dating consultations, and podcast, Baira dives deep into the NYC dating scene, outlining where to meet rich, eligible, fashionable bachelors; how to stop giving a fuck about other people's opinions; and her favorite dating apps. On her podcast, she interviews other social-media characters and discusses topics like sexpectations, the importance of platonic love, and body positivity. And if you're looking for even more dating wisdom, during one-on-one sessions Baira creates assignments for clients, including listing your favorite qualities about yourself, the qualities you look for in a partner, non-negotiables, and excuses you've made for people in the past. After each rendezvous, Baira also requires her clients to fill out a postdate assessment to figure out what went right and what went wrong. Here, Baira talks about TikTok fame, dating consultations, and her dream date.
Take me back to when you first started your TikTok account.
I never considered myself an internet person. I can barely text, but when I was home in New Orleans at the beginning of quarantine, I was so nostalgic. I was thinking about all the men I'd met, the club life, the best places to meet people. And from there, it went viral. It was a place for us all to come together and reminisce on the good times when we were going through such a hard time.
You offer one-on-one dating consultations. What exactly do these sessions look like?
It's a Zoom call, and I start off by getting to know if they're interested in a long-term relationship or just looking to have fun. My dating-advice services are not about finding the dream man or the dream relationship. They're about understanding how you find the dream relationship based on what you need, rather than sacrificing your needs to catch someone. The sessions are filled with homework and different activities to celebrate your worth and remind yourself that anyone is lucky to have you. I have about 40 consistent clients now — most are women, both queer and heterosexual, but I've seen a few queer men as well. My clients, for the most part, are between 18 and 32.
What's an assignment you give your clients?
The Zero Tolerance List. These are things that you absolutely will not sacrifice, no matter if that person's 99.9 percent perfect. For example, if your date orders for you at the dinner table, then maybe you're getting out of there. There is no room to make sacrifices because I've seen the anxiety people, including myself, have felt. The narrative has been that dating should be hard and torturous. I'm trying to break that narrative and say, "Hey, dating is actually horrible for most people because they're sacrificing the things they want." The basis of looking for a partner should be on the grounds of, "I'm doing so many amazing things, and I deserve someone just as amazing as I am."
What's the biggest concern clients have about dating?
The biggest thing that I see is confidence and insecurities. There's no way to isolate dating and how you feel about your worth. A lot of my clients are in a situation where someone continuously hurts them, and they don't know why. I always tell them it's a magical mystery of the world why people treat us shitty. People are going to continue to reject us. So I tell everyone, "You are the bouncer of your own club." Don't worry about why they're acting a certain way. Say, "Having access to me is a luxury, and I'm able to revoke it.''
You're young to be giving dating advice. Do you feel qualified? 
I'm only giving advice on things that I myself have experienced, but ultimately, looking for love and finding yourself is ageless. It's something we all go through, and just like my clients, I'm still searching as well. This is a lifelong process. I think the power of these sessions comes from having a community and a space to share our experiences together — no matter if you're a young adult just entering the dating scene or someone newly single after a long relationship. Regardless, I want to help people feel comfortable in the most important and longest relationship they have: the one with themselves.
Has talking about dating all the time through TikTok videos and your one-on-one consultations affected your personal love life?
Doing these dating sessions has made me realize how important it is in my dating life to practice what I preach. We all have that friend that gives amazing advice, but acting on it is really different. So I try to live my life with true authenticity. When I'm navigating my own life, I ask myself, "Am I doing something that I would recommend to my girls?" I'm deriving just as much confidence as they are. With the dating advice to the TikToks to my podcast, yes, I'm creating it, but I'm so inspired by everyone choosing to stand up for themselves, choosing to love themselves, choosing not to sacrifice aspects of themselves for a "love" that doesn't feel like love.
What's your personal dream date?
I am obsessed with the grand gestures. It doesn't have to be a superexpensive date, but I love a well-thought-out date. My goal one day is to end up in a hot-air balloon flying over the city. That might be a little far-reaching … but nothing's out of our league.
This interview has been edited and condensed.