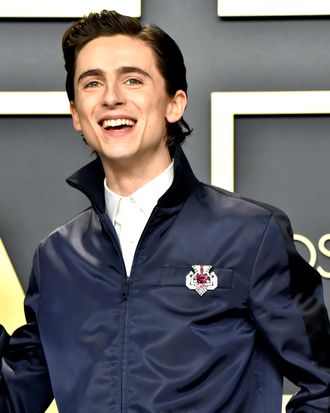 Timmy Tim Tim.
Photo: Jeff Kravitz/FilmMagic
As you may have heard, the Super Bowl (?) is somehow happening tonight; "kickoff," as they say, will reportedly take place less than an hour from now. I am not a person who sets any kind of store by the huts and the hikes, but this year, I have received word that the Big Game will boast a number of special guests: Michael B. Jordan masquerading as a sexy Amazon Alexa. Esteemed inaugural poet Amanda Gorman. A young Edward Scissorhands, who would like to sell you an electric car. Which — huh?!
This last appearance comes courtesy of actor Timothée Chalamet, who stars alongside Winona Ryder in an ad for the Cadillac LYRIQ. Ryder reprises her original role as Kim, only all grown up. Now, she has a son — Edgar, played by Li'l Timmy Tim — whose scissor-hands get him banned from public transit and complicate everyday activities such as playing ball with his bros. Shouldering the burden of having knives for fingers, Edgar lives a glum, lonely existence … that is, until his mom purchases a LYRIQ. The SUV's hands-free mode allows our young protagonist to feel the freedom of the open road for the first time, and finally, he smiles a tiny smile.
Typically, I do not feel particularly moved by Super Bowl ads — which reportedly cost an (to my mind) unjustifiable $5.6 million per 30 seconds — but just like Chalamet, I was a big fan of Edward Scissorhands growing up. I am happy to see the story reimagined without Johnny Depp, who played the original Scissorhands and recently lost a libel case against a U.K. tabloid that described him as a "wife beater" over his alleged abuse of Amber Heard. I am also happy that the ad has already been released online, meaning there's no need to wait through almost an entire football game to see it: