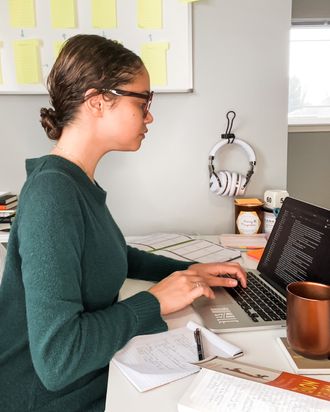 Photo: Photo courtesy of Erynne Hundley
As a part of its ongoing efforts to support the arts and education, Valentino has joined forces with writer Tomi Adeyemi to create #WritersRoadmapxValentino. In this initiative, Valentino has pledged to sponsor 50 students to take part in a creative-writing workshop led by Adeyemi.
The seminar will take place over a number of weeks and offer students all the tools they need to succeed in their burgeoning writing careers. In addition to learning from the New York Times best-selling author Adeyemi, the students will enjoy the benefits of learning among a diverse group of individuals, as the course includes young creatives from across the globe.
The program discovered the scholarship recipients via social media, allowing them to include students from a variety of backgrounds. The students expressed their desire to be a part of the course by using the hashtag #WritersRoadmapxValentino, in order to catch the attention of the team and be granted one of the scholarships. Each student received a welcome kit, including a Strand Bookstore x Valentino tote and the new Valentino fragrance, Voce Viva (so they can smell good while they write).
The Writer's Roadmap works to foster the next young voices in literature and creativity, and with the support of Valentino, the course is now accessible to a wide range of students from around the world. You can visit @thewritersroadmap for more details and personal reflections from the young writers.