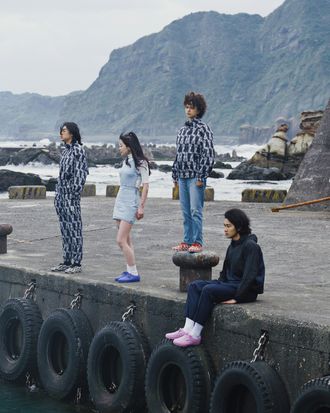 Photo: Zhong Lin/31/JAN/2022
Vans and Opening Ceremony have dropped their latest collaboration, and it's more accessible than ever. The fashion empire and the classic California skate brand have been collaborating since 2014, with limited-edition collections available exclusively through Opening Ceremony. But this time, the collection will also be sold on Vans.com, making it the first-ever global collaboration between the two companies.
For co-founder of Opening Ceremony and California native Humberto Leon, this collab is the first step in creating clothing for everyone, especially his teenage self.
"I have always thought about my 16-year-old self," says Leon. "It has always been kind of an inspiration of mine to really look at how to democratize fashion. I think when you are making clothing and the quantities are quite low, it's not easy to democratize fashion as quickly, but working with Vans, I think that is what they do already."
The dual-gendered collection features two new allover patterns that reinvent the Vans checkerboard. From afar, you may mistake the shoes for that classic design, but as you move closer, the outline of a black leopard and an abstract snake print become apparent.
"The snake, to me, is oddly one of the most powerful animals around, both spiritually and physically, so I really kind of love that about snakes. The leopard, for me, is one of the strongest animals in the entire world," Leon says. "It was really about empowering the wearer and picking animals that felt quite ferocious and strong."
From Quil Lemons to Tyler Mitchell, Opening Ceremony has a knack for seeking out the best photographers at the beginning of their careers. This campaign is no different as Malaysian-Chinese photographer Zhong Lin worked to bring the collection to life in a series of images featuring her friends.
"I really kind of feel like she is somebody who is, and should be, the next big photographer," says Leon about Zhong Lin. "I love that she is Asian, and I love that she is a female and I think that her eye is particularly incredible."
In addition to four new pairs of shoes, the collection includes a full track set and tote bag in the black leopard pattern. Although you can now be decked out in Vans X Opening Ceremony from head to toe, if you're looking to get only one item, Leon suggests the classic sneakers.
"You can wear them every day, and no one will judge you for it," he says.
The latest from Vans X Opening Ceremony is available on February 19.