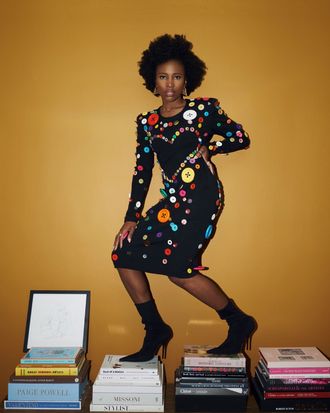 Inspired by her grandparents, who started the first Black-owned business in their tiny town 50 years ago, Shilla Kim-Parker created Thrilling to empower the owners of small secondhand stores. Today, Thrilling hosts 250 shops on its online platform, allowing customers to purchase from different vintage boutiques across the country. For Kim-Parker, a partnership with Zerina Akers — renowned stylist and the founder of Black Owned Everything — was a dream come true.
"As a Black woman, and having a lot of Black-owned shops on our site, I've always admired how Zerina has centered the Black experience, talked directly to the Black experience. All of her looks have always been put together with such meaning and purpose. So, for me, it's like, this is a Pinch me moment," says Kim-Parker.
With '90s fashion making a huge comeback, the Thrilling x Black Owned Everything collaboration took inspiration from the decade's female hip-hop and R&B artists. Each piece is sourced from a Black-owned vintage store (because it's all one of a kind, it ranges in price and sizing).
"There was something about the '90s hip-hop culture that, you know, still affects us today," says Akers on the inspiration behind the collection. "You know the amount of risk-taking that Lil' Kim did … being raunchy and unapologetic with [her] sexuality — there was power in that, and there was a different kind of unity."
Of course, as with all vintage shopping, you end up with a few pieces you didn't plan on purchasing. Akers admits that she ventured a little bit outside of the '90s category after falling in love with some vintage gems. One thing she can't get out of her mind: a Patrick Kelly jacket. Including Kelly, she says, felt symbolic: "[He was] the first Black designer to have a Paris house. And then fast-forward to where we are today — where our Black designers are today — there's this resurgence. All of a sudden, it's kind of uplifting the Black community."
The collaboration speaks to the power of both shopping vintage and shopping Black owned. Each handpicked item in the collection is more beautiful than the next, and it's available to shop right now online at Thrilling.