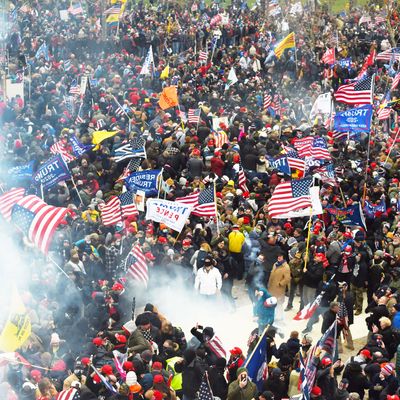 Mobs of Trump supporters swarming the U.S. Capitol on January 6.
Photo: ROBERTO SCHMIDT/AFP via Getty Images
Donald Trump's unprecedented second impeachment trial began in Congress today, with a sobering piece of evidence supporting the single charge of "incitement of insurrection." Democrats presented a video montage, sourced from news outlets and social media, that depicts the events of the January 6 Capitol riot as a step-by-step progression — one kickstarted by Trump himself.
The video opens with Trump's address to supporters gathered at the "Stop the Steal" rally, a protest of the election results that started on the afternoon of January 6. In the footage, the then-president insists he won, assures the crowd that "this was not a close election," and pledges to walk to the Capitol with them to make the case. As Trump continued his speech — repeating baseless claims about "duffel bags" of manufactured votes — a first wave took off in that direction. The video shows them pushing Capitol police back at the barricades and muscling their way toward Congress, where lawmakers were in the process of certifying then-President-elect Joe Biden's election.
As the mob gathered outside the Capitol building, Trump was still speaking: "The Constitution says you have to protect our country, you have to protect our constitution, and you can't vote on fraud," he said. "When you catch somebody in a fraud, you're allowed to go by very different rules. If you don't fight like hell, you're not going to have a country anymore."
The video then cuts back to the rioters, clashing violently with police on their way toward the building. They used the metal gates as battering rams, set up a gallows, and eventually made their way inside, outnumbering law enforcement officers as they banged down the door. They swarmed through windows and the halls, many of them chanting "treason."
"There's a fucking million of us out there," one rioter can be seen telling an officer, "and we are listening to Trump, your boss."
The clips collect familiar, harrowing imagery from the attack — representatives evacuating as Trump supporters hammer at the chamber doors; rioter Ashli Babbitt being shot by police; the ransacking and the looting; Trump's statement to the mob that they are special and loved — in a cohesive timeline. Presented as an escalating series of events, Trump's catalyzing role looks clear, even before you consider the months of baseless lawsuits, inflammatory tweets, and public grandstanding leading up to the "Stop the Steal" rally. (Lawyers for Trump have vehemently denied his role in inciting the riot.)
Convicting Trump post-presidency could bar him from holding federal office in the future. Still, Republican lawmakers seem predictably loath to do it. As the New York Times reports, 45 GOP Senators have already voted to dismiss proceedings, and Democrats would need a two-thirds majority (or 17 Republican votes) to avoid an acquittal.
"You ask what a high crime and misdemeanor is under our Constitution," Representative Jamie Raskin of Maryland, lead impeachment manager, told the Senate after playing the video. "That's a high crime and misdemeanor. If that's not an impeachable offense, then there's no such thing."