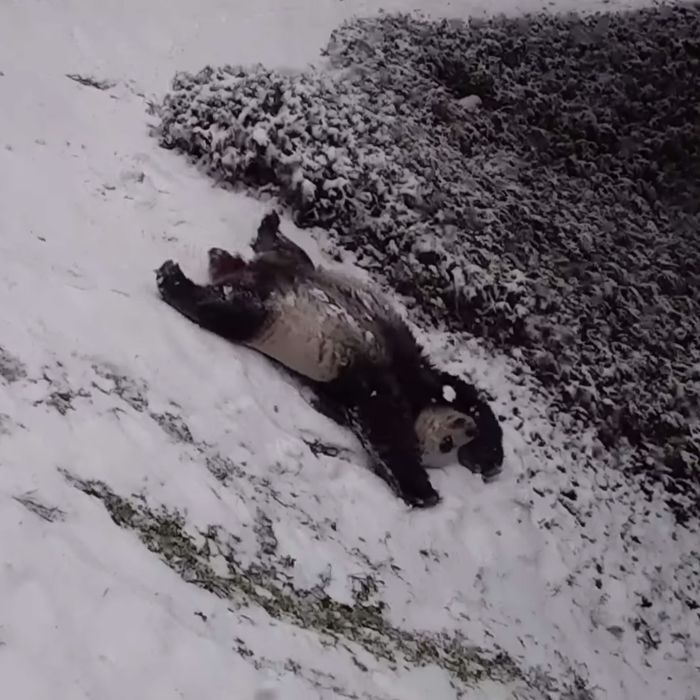 Overjoyed by the year's first major snowfall, the National Zoo's pandas went balls to the wall.
Photo: The Smithsonian's National Zoo and Conservation Biology Institute/Facebook
What is more beautiful than joy, that consuming yet fleeting state of complete bliss? Joy is realizing that it is Friday when you thought it was only Thursday. Joy is finishing a marathon, or so I've been told. Joy is the National Zoo's giant pandas Mei Xiang and Tian Tian barreling into their outdoor habitat yesterday to appreciate the region's first major snowfall of the year, and going absolutely hog wild.
Please enjoy:
Unencumbered by human concerns over things like brain damage and spinal injury, these pandas truly threw caution to the wind, lunging their bodies down the hill in a manner so reckless, not even the most daring 6-year-old might devise it. One panda bravely assumed a supine position and slid down the hill headfirst, with both arms and legs splayed out like a sentient snow angel; then, evidently impressed by that method of descent, the hulking beauty trudged back up to the top of the hill and went for round two. The other panda opted for a slightly more disorienting experience. After a short practice round, the rotund bear clasped its front paws over its head and rolled down the hill sideways like an unraveling roll of toilet paper.
Noticeably absent from the festivities was Mei Xiang and Tian Tian's five-month-old cub, Xiao Qi Ji. While mom and dad rejoiced in the region's first major snowfall of the year, young Xiao Qi Ji was slightly more skeptical of the powdery ice that blanketed the outdoor portion of his home, only spending a total of five minutes outside. However, the zoo reports that he was "very interested" in the scene, and "took a little nip" at the snow.
An understandable reaction from the youngster; snow, to the uninitiated, can be perplexing. However, in no time, we anticipate he'll be hurling his burly body down the slippery hill, discovering which of his parents' styles he prefers (rolling or flat on back, arms out).