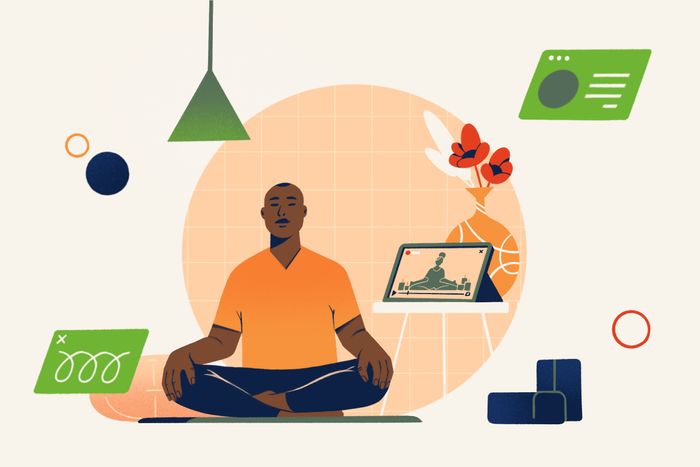 Photo: Illustrations by Vrinda Zaveri
The idea of "wellness" was already going through a kind of renaissance by the time COVID-19 arrived. But during a global pandemic and one of the biggest health crises in recent history, people around the world were faced with navigating a difficult year without any clear answers or solutions. This uncertainty paired with the ripple effect of the pandemic left us with a new crisis — one of mental health.
As more people seek out wellness practices to make it through quarantine, therapists have to deal with their own unique burdens of being responsible for their own well-being, the well-being of others, and their livelihoods as business owners. For Shazia Siddiqi, founder and owner of Let's Art About It, this was an unprecedented challenge.
"None of us in the wellness industry had experience or expertise in pandemics," Siddiqi says. "We were in a position where we were trying to help people cope through the challenges that came with it, while also trying to navigate our own wellness. For therapists, we've never been in such a parallel process as our clients since maybe World War II."
Siddiqi's art therapy studio in Clawson, Michigan, was only four months old when the pandemic forced her to close her doors. She had to think quickly and rely on business tools to be sure she was making the right decisions for the future of her business. "QuickBooks helped [us] stay financially organized throughout the pandemic so that we could see our revenue grow through new avenues and monitor expenditures to stay within budgets," she says. Shift happens — with less than a year of business under her belt, Siddiqi shifted to virtual art therapy offerings via workshops, text message prompts, and even pre-recorded guided sessions.
For those needing an outlet to work through their COVID-19 anxieties, the evolution of therapy and wellness practices is a saving grace. And for therapists, it's another way to keep their business going when people need it the most. Ahead, learn five ways that those working in wellness and mental health have survived the pandemic, while also creating safe spaces during a year when they've been more needed than ever.
1. Making Wellness Truly Accessible with Virtual Sessions
Ensuring that therapy is accessible for all is on top of many therapists' to-do lists, but it wasn't until the pandemic forced people inside that it seemed like more of a real possibility. With telehealth, or tele-mental-health, on the rise, organizations like Compton Girls Club pivoted to virtual sessions rather than in-person workshops. According to Chrystani Heinrich, its founder and executive director, that's yielded greater results than she could've imagined.
"The club has actually experienced more growth during this pandemic: We have kids who don't have access to after-school programs and social experiences who now attend our events for extracurricular activities," she says. "I love providing these spaces for teens to just be teens and relax and learn for a moment. Wellness is self-care."
By providing meetings online, Compton Girls Club reached communities across the globe, from as far away as South Korea. That's something Heinrich plans to continue well after the pandemic ends. "It really made the club accessible to teens who may not be able to get to the building, or have money for transportation, or any other things that may have made the events inaccessible," she says. "And it is kind of cool to get speakers and guests from across the country and world."
2. Prioritizing Their Own Care
During a time when more people than ever are turning to mental health resources to navigate anxieties about the future, it's easy to see how leaders could become overwhelmed, too. This is especially true for Siddiqi and Heinrich, both mothers who had to learn to manage their wellness organizations, while also taking care of their children and themselves amid a pandemic.
"I am having to split the role of being a mother with being a founder of a nonprofit organization," Heinrich says. "It's hard taking care of business with your board when you have three different schedules and two of the members are also doing Zoom school and work."
To combat the stress of being a business owner and mother to a 2- and 6-year-old, Siddiqi found that pouring into the community helped her manage her own anxieties. "Having a purpose and working towards that in any way gives hope — to ourselves, our loved ones, and the world around us," she says. "Prioritize self-care, and know that as a wellness-giver, you may need a little — or a lot — more than others, and that's OK."
3. Relying on Simple Solutions for Bookkeeping
Trying to remodel an entire business structure to fit within the confines of quarantine is a big task. It's even bigger when the threat of having to permanently shutter a business is always looming. That's why Joan Blank, founder of Dream Catcher of Los Angeles Equine Therapy, relied on QuickBooks to manage finances.
"QuickBooks has really helped to organize our business," she says, "but it really helps to organize what we need to and track donations and track our expenses. We can break everything down. It's easy and understandable to use, so, it's really been a good tool for us." For Blank, being able to sit down and easily pay an invoice herself has been useful, especially as she's in between bookkeepers.
For Compton Girls Club, QuickBooks started out as a sponsor for their Business G.IRL Incubator, but eventually Heinrich onboarded her business with the help of a QuickBooks Live agent. Since then, QuickBooks Online has evolved into an essential business tool for Compton Girls Club, as well as a strong supporter of young, female BIPOC entrepreneurs. "I am a creative and honestly, thinking about money has been super intimidating," Heinrich says. "But now I feel confident that I can take this info that's all in one place and share it with an accountant. I am a small business owner starting from absolute scratch, so I am learning everything as I go."
And the key to simplifying the nitty-gritty of finances? Customized tools that do away with the manual labor. QuickBooks' Bank Feed "has been our saving grace," says Siddiqi of Let's Art About It. "It syncs our bank account transactions so all we have to do is categorize them, rather than entering them all manually." Siddiqi says features like this give her peace of mind so she can move onto her many other responsibilities, like planning new virtual classes and training art therapists from all over.
4. Moving Events Outdoors
Outdoor wellness is often thought of in terms of yoga in the park, but when indoor classes or sessions were made impossible by COVID-19, many wellness businesses moved events outside. In Siddiqi's community, the city's Chamber of Commerce held outdoor events, and she set up outdoor chalk stations where people could "chalk out" their feelings.
"We continued to leave uplifting messages for people out on walks, and would set out chalk outside until late fall for people to express themselves, often suggesting expressive prompts such as drawing symbols of hope," she says.
Dream Catcher of Los Angeles Equine Therapy was already mostly outdoors, but with immunocompromised clients and occasional indoor riding sessions, they still had to enact new outdoor safety measures.
"When we did open slowly, it was with very strict protocols in terms of masks and hand-washing and sanitizing saddles," Blank says. "We have been doing one-on-one rides. Before the holidays, we were doing single lessons. We weren't to full capacity, but we were able to conduct healthy lessons, thank goodness, with nobody getting ill. We felt very lucky, and the parents were thrilled to have the kids come back."
5. Counting on the Kindness of the Community
With the amount of businesses that have closed permanently because of COVID-19, it can seem like a miracle that so many others have remained open. Surprise donations, unexpected fundraisers, and even celebrity contributions have helped wellness companies keep their doors open, and to the owners, that might as well be a miracle.
"Our volunteers, who are so loyal, are doing GoFundMe or birthday donation things on their Facebook pages," Blank says. "We've had individuals help us, and sometimes somebody comes out of the woodwork, which is wonderful."
With such a young business, Siddiqi admits she started the pandemic scared for the future. She didn't know if she could keep Let's Art About It afloat, especially since no one had any answers about when the pandemic would be over. But surprisingly, her business is what saved her.
When Shift Happens
No one could have predicted the changes small-business owners have had to face in the last year. Read more on how entrepreneurs across all industries have made quick-thinking changes to not just survive, but thrive in 2021.
Read more small-business content here.
This advertising content was produced in collaboration between Vox Creative and our sponsor, without involvement from Vox Media editorial staff.