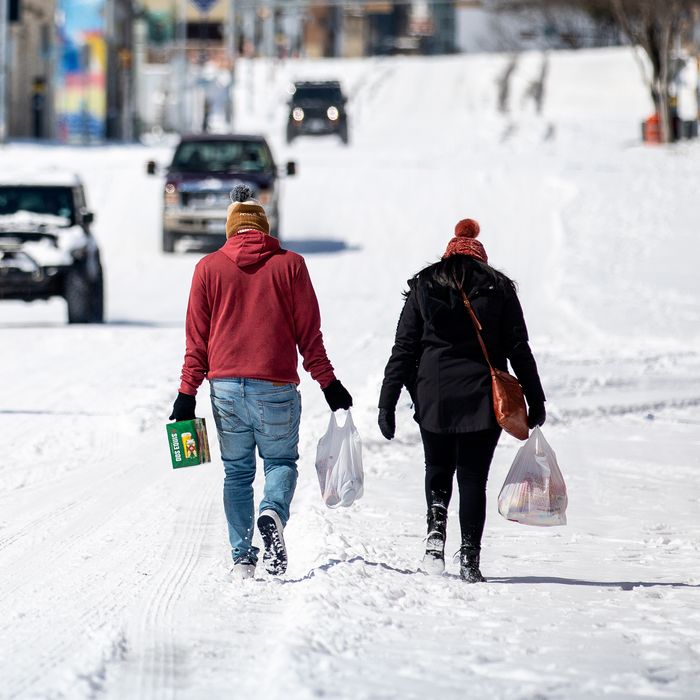 Austin residents bringing home groceries from a nearby gas station on February 15, 2021.
Photo: Getty Images
Days after a massive, historic winter storm brought snow and single-digit temperatures to Texas, the state remains mired in crisis. After the Texas independent power grid buckled under frigid conditions and heightened demand over the weekend, as of Thursday morning, more than 500,000 homes and businesses are still without power, and residents are resorting to desperate measures to withstand the deadly cold. Water pipes are bursting. Counties are seeing a rise in carbon-monoxide-poisoning cases, some of which have been fatal, as people seek out alternative sources of heat. Unhoused people are freezing to death on the streets. Some areas are facing water and gasoline shortages.
As some face their fourth consecutive day without power, public officials still don't appear to have a grasp on when heat and electricity might return. The situation is dire.
Here's an overview of what's happening in Texas.
When did the winter storm hit?
The massive storm — officially named Winter Storm Uri — descended upon the country on Saturday, bringing snow, frigid temperatures, and ice coast-to-coast. In some parts of Texas, wind chills dipped below negative 15 degrees; on Monday night, Houston clocked a temperature of 13 degrees, which was, at the time, lower than temperatures in parts of Alaska. In the assessment of Judah Cohen, the director of seasonal forecasting at a company called Atmospheric and Environmental Research, the storm could shape up to be "one of the most costly natural disasters of the year," he told the New York Times.
How did Texas's power grid fail?
In tandem with the punishing cold, Texas — along with neighboring states — has also experienced mass electrical outages, the result of a few overlapping factors: In short, the power grid could not meet the demand of so many people scrambling to heat their homes, nor was it equipped for a weather event of this magnitude.
Texas typically sees energy use peak in the summer, per NBC, and its electrical grid relies overwhelmingly on natural gas, which becomes harder to get during the winter. When the storm hit, the supply fell short of climbing demand, while alternate energy sources — wind and solar, which together generate a reported 21 percent of the state's electricity and do not account for the current crisis, as some conservatives have erroneously claimed — faltered in freezing temps and overcast skies. The deep freeze strained production of pretty much every form of energy, whether natural gas or coal or nuclear or green. And then, Texas is the only state that operates its own power grid, meaning it is not subject to the federal regulations that may have forced preparedness for extreme conditions like these.
As a result, millions of households across the state lost power, many of them for days in a row. On Tuesday, the Electric Reliability Council of Texas (which controls about 90 percent of the power grid) announced the continuation of rolling blackouts across the state, in an effort to help balance out the power grid. ERCOT did not say when Texans could expect full power to be restored.
How widespread are the power outages?
As of Thursday morning, more than 537,000 homes and businesses are without electricity, according to a widely accepted power-outage tracker. While the current tally is significantly lower than it was on Tuesday, when upwards of 4 million were without power, hundreds of thousands of Texans are still suffering.
"We know millions of people are suffering," ERCOT president Bill Magness said in a statement on Wednesday. "We have no other priority than getting them electricity. No other priority."
How are residents without heating staying warm in frigid temperatures?
As icicles accumulate on indoor ceiling fans and water freezes straight from faucets, the situation in many Texas homes — which are often underinsulated, as they're built to release heat, not retain it — has become desperate. Residents have resorted to aggressively layering clothing indoors and hunkering under blankets, some subsisting on whatever doesn't need to be cooked on a stove. Harris County, where Houston is located, has recorded over 300 carbon-monoxide-poisoning cases since Monday, as people attempt to heat their homes by bringing barbecue pits and generators inside. A woman and an 8-year-old child died Tuesday after leaving a car running in a garage overnight, in a bid for heat.
Shelters have been racing to bring unhoused people off the streets, with cities opening warming centers in churches and gyms, and booking hotel rooms to keep pace with demand and maintain coronavirus safety protocols. Still, deaths have been reported outdoors as windchills plunge temperatures below zero overnight. In total, nine people have suffered weather-related deaths in Texas, according to AP News; across the entire South, at least 31 people have died. At one large animal sanctuary that spans 78 acres across San Antonio, 12 animals — including a chimpanzee, other monkeys, lemurs, and birds — have died in the past week. "I never, ever thought my office would turn into a morgue, but it has," Brooke Chavez, executive director of Primarily Primates, told the San Antonio Express-News.
What about the drinking water?
Power outages have also meant water crises or shortages in about half of the state's counties, per CBS News. In Houston, as of Wednesday, the majority of the city's population had little water pressure or no water at all, according to the Houston Chronicle. Like many other localities, the city's mayor has warned residents that any water they may have could be contaminated, and has issued a boil-water notice, instructing residents to boil any water they intend to drink. Those who lack power to boil water are advised to drink bottled water, although grocery stores have been plagued by staggering lines and stock shortages.
What are government officials doing to fix the situation?
Although Governor Greg Abbott initially attempted to leverage the crisis as a blow against expanded renewable energy, he has since ordered an investigation into ERCOT. He also submitted a request for a Federal Emergency Declaration — necessary to authorize aid from the Federal Emergency Management Agency — over the weekend, which the White House approved. On Wednesday, Abbott held his first press conference since the storm began. According to the Texas Tribune, he offered minimal information, directing the state's natural-gas producers to redirect any external fuel sales to local power providers. Still, he did not say when services might be restored, an underwhelming response some critics have described as negligent.
"A state that prides itself on energy production left millions of its citizens to freeze in the dark," tweeted Representative James Talarico, who, as of Tuesday, had been without power for 30 hours. In a follow-up tweet, he wrote, "This is not a natural disaster — it's years of underinvestment, deregulation, and neglect."
But not every official has pegged blame on leadership. The mayor of a small town in West Texas resigned this afternoon after he told his constituents, in a since-deleted Facebook screed that went viral: "No one owes you or your family anything; nor is it the local government's responsibility to support you during trying times like this!"
This post has been updated with new information.