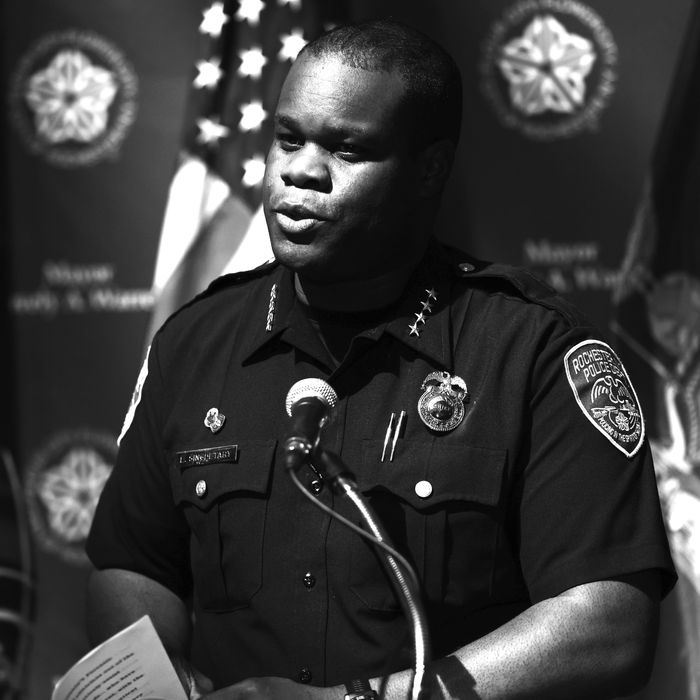 La'Ron Singletary, formerly the Rochester police chief.
Photo: Michael M. Santiago/Getty Images
In March of last year, police officers in Rochester, New York, detained a 41-year-old Black man named Daniel Prude in the midst of what appeared to be a psychotic episode. He had fled his brother's house in the middle of the night, and when police found him, they pulled a spit hood over his head and forced him to the ground, holding his face to the pavement. Prude suffocated in the hood, but his death only became public knowledge in September, when the family released body-cam footage in a news conference.
Amid allegations that Rochester police deliberately withheld information on the circumstances of Prude's death — allegations supported by an internal review of the department's handling of the case — New York attorney general Letitia James announced in September that she would convene a grand jury to hear evidence. On Tuesday, that grand jury declined to indict any of the seven officers involved. Below, everything we know about Daniel Prude's death.
Daniel Prude was reportedly experiencing mental health problems when police detained him.
On March 22, Rochester resident Joe Prude took his 41-year-old brother, who was visiting from Chicago and had a history of mental health issues, to the hospital for evaluation on the basis of "suicidal ideation." According to the New York Times, Daniel Prude was acting erratically, but the hospital discharged him after a few hours. Early on the morning of March 23, he ran naked from Joe's house, prompting Joe to call the police. Rochester police documents reportedly show that Joe informed officers of his brother's hospitalization and the reasons for it.
When responding officers found Prude, the Times reports that he was ranting, and a witness said he claimed to have coronavirus. They pulled a white, mesh hood over his head to keep him from spitting, and sat him down in the street. The spit hood upset Prude. He tried to get up; officers then pinned him to the ground, one holding his head to the pavement while another applied a knee to his back. Shortly afterward, he stopped moving — according to a lawsuit filed on September 8, his heart stopped beating, and although paramedics revived him through CPR, his family ultimately removed him from life support on March 30.
In April, the Monroe County medical examiner concluded that Daniel Prude died by homicide, as a result of asphyxiation from restraint, with "excited delirium" and PCP use as contributing factors.
Prude's death was kept quiet — until body-cam footage was released in September.
The Times reports that, following Prude's death, the Rochester police department released no comment; while Prude was in the hospital on life support, chief Singletary allegedly told the mayor that he had overdosed on PCP. The officers involved were subsequently cleared of any wrongdoing in an internal investigation, and Prude's death did not make the news cycle until September 2, when his family shared body-cam footage of the arrest at a news conference.
The graphic, disturbing video shows Prude kneeling in the middle of a dark street, naked and shouting in the snow. He yells for an officer's gun but complies with their orders before they put the hood on him; only then does he try to get up. That's when the officers force him to the ground, holding his face to the asphalt as he pleads: "Trying to kill me!" About two minutes later, he stops moving. Per the Associated Press, that's when one of the officers "notice[d] water coming out of Prude's mouth," and another observed, "He feels pretty cold."
The officers then alerted paramedics, who resuscitated Prude. According to the Times, one of the paramedics told the officers: "So, PCP can cause what we call 'excited delirium.' I guarantee you that's how he coded. It's not you guys' fault. You've got to keep yourselves safe."
But as Joe Prude pointed out at the news conference, "The man [was] defenseless, buck naked on the ground. He [was] cuffed up already."
"I placed a phone call for my brother to get help," Joe said. "Not for my brother to get lynched."
The police chief allegedly withheld information about Prude's arrest.
The Times reports that, although he informed Rochester mayor Lovely Warren "that Mr. Prude had an apparent drug overdose while in custody," Rochester Police Chief La'Ron Singletary failed to mention "the actions his officers took to forcibly restrain Mr. Prude." Meanwhile, coronavirus precautions meant that Joe Prude could not see his brother in the hospital, and he allegedly had little information as to what had happened. His family filed an open records request on April 3 to obtain body-cam footage and preserve any evidence from the encounter, per the Times, while AG James's office was informed of Prude's death on April 16.
As a matter of course, the AG's office handles investigations into deaths of unarmed civilians in New York police custody. In early June, amid widespread protests over racialized police brutality, James reportedly asked that the body-cam footage not be released, in order to avoid compromising her investigation. Or so says the city — a spokesperson for James subsequently denied to the Times that the AG ever submitted such a request, "plain and simple."
Meanwhile, the Rochester police department had already cleared the officers involved in Prude's death, having determined that the "conduct displayed when dealing with Prude appear[ed] to be appropriate and consistent with their training," according to the Times.
After the body-cam footage was made public, protests placed pressure on officials and Singletary resigned.
Protests quickly followed the release of the body-cam footage, and on September 4, Mayor Warren suspended the seven officers involved — without naming them. "Mr. Daniel Prude was failed by our police department, our mental health care system, our society, and he was failed by me," she said at a press conference.
In the days that followed, Singletary maintained that he would not resign in compliance with demands from local Black Lives Matter activists. By September 8, however, he had reversed course. Announcing his retirement, he called the allegations of a deliberate cover-up "an attempt to destroy [his] character and integrity." (Deputy chief Joseph Morabito also announced his retirement.)
"As a man of integrity, I will not sit idly by while outside entities attempt to destroy my character," Singletary said in a statement, according to the New York Times. "The mischaracterization and the politicization of the actions that I took after being informed of Mr. Prude's death is not based on facts, and is not what I stand for."
An internal review suggested police actively worked to conceal the circumstances of Prude's death.
On September 15, two weeks before Singletary was set to retire, Warren fired him. Announcing her decision, she nodded to the results of an internal investigation that "has shown what so many have suspected, that we have a pervasive problem in the Rochester Police Department."
According to the New York Times, that investigation surfaced a raft of official documents outlining an effort to keep Prude's death quiet and the body camera footage, out of public view.
"We certainly do not want people to misinterpret the officers' actions and conflate this incident with any recent killings of unarmed Black men by law enforcement nationally," a deputy Rochester police chief reportedly wrote in an email to Singletary on June 4. "That would simply be a false narrative, and could create animosity and potentially violent blowback in this community as a result." According to the Times, Singletary quickly replied: "I totally agree."
The Rochester police apparently deployed a range of strategies in their effort to keep the case under the radar: the Times points to a hand-written note on the police report, reading "make him a suspect" next to the "victim type" field. The department reportedly also blamed the delay in releasing the body cam footage first on the attorney general's office, then on an employee with an "enormous backlog of work," in an attempt to keep the Prude family's attorney from publicizing them.
A grand jury declined to indict the officers involved.
On February 23, James announced that the grand jury she had convened to consider the case declined to indict any of the seven officers — Josiah Harris, Francisco Santiago, Paul Ricotta, Andrew Specksgoor, Mark Vaughn, and Troy Taladay, plus Sgt. Michael Magri — involved in Prude's death. At a press conference, James said she had "sought a different outcome than the one the grand jury handed us."
"The criminal justice system has demonstrated an unwillingness to hold law enforcement officers accountable in the unjustified killing of unarmed African-Americans," she continued. "What binds these cases is the tragic loss of life in circumstances in which the death could be avoided."
Meanwhile, the U.S. Justice Department said in a statement: "We intend to review the comprehensive report issued by the New York State Attorney General, as well as any other relevant materials, and will determine whether any further federal response is warranted."
The family filed a civil suit against the police department.
Singletary is among the defendants named in the family's lawsuit, filed September 8, which argues that Rochester officers applied deadly force in violation of their own policies. Further, the suit alleges that the police department exercised "deliberate negligence" and orchestrated a "cover-up" of its actions. At the time the lawsuit was announced, attorney Elliot Shields said that both Warren and Singletary "have failed to address or repudiate their department's determination, which demonstrates a complete lack of leadership. That's why the RPD needs a complete overhaul — there is much work to be done."
This article has been updated.