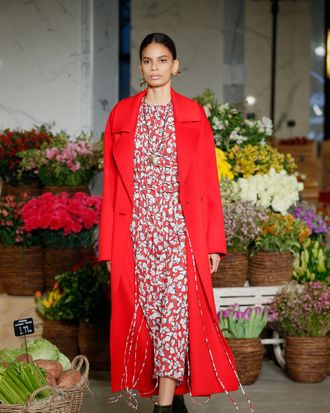 This time last year, celebrities were jetting off to their Fashion Month obligations while concerns about COVID-19 were picking up pace. Now, New York Fashion Week is here again, and it looks a little different from February 2020. With most of the shows going virtual, designers have had to get creative to remind us why we should care about their new collections.
One way to break through the digital noise is to hold an IRL show. On Sunday, Jason Wu hosted a socially distant but very much live runway for his fall-winter 2021 collection. Wu is no stranger to a front row adorned with face masks; he was one of the few designers to host an in-person show back in September for his spring 2021 collection.
This month's show revolved around the concept of a 1950s farmers' market general store. The guests were invited with custom Coca-Cola bottles (Coke was a sponsor), and the event took place at a retail space in Noho that had been transformed into "Mr. Wu's General Store." The runway was lined with baskets of flowers and crates of vegetables provided by the Chef's Warehouse. At the end, the leftover goods were donated to City Harvest, New York's largest food-rescue organization. The brightly colored produce complemented the clothing; true to his style, Wu showcased bold floral prints and strong tailoring. (Although the show took place in real life, you can watch the digitized version for yourself here.)
Rebecca Minkoff also hosted a live show, but she has embraced the 2021 Zoom mindset. Minkoff not only streamed her show virtually but held livestreams on both her Instagram and TikTok accounts. Multiplatform, you say? Been there, done that. But wait: She also took to OnlyFans, a site best known for its explicit content, to offer viewers a behind-the-scenes look at her fall-winter 2021 collection. That's definitely new.
Then there's that classic way to draw attention: celebrity guests. The Concept Korea fall-winter 2021 show is a collaboration between Korean brands Jarret, WNDERKAMMER, and ul:kin. Gracing their runway will be Yeonjun, a member of the K-pop group TXT; Taiwanese singer WayV's YangYang; and the Korean artist BIBI — all famous and beautiful enough to be models themselves. Judging from the level of joy this news has brought to Twitter, the show will be heavily streamed.
Although this Fashion Week can't be easy for the brands, the silver lining is that designers are doing everything they can to ensure that the viewing experience is optimal for everyone — not just those in the front row. You can watch all the shows from your very own bedroom here.