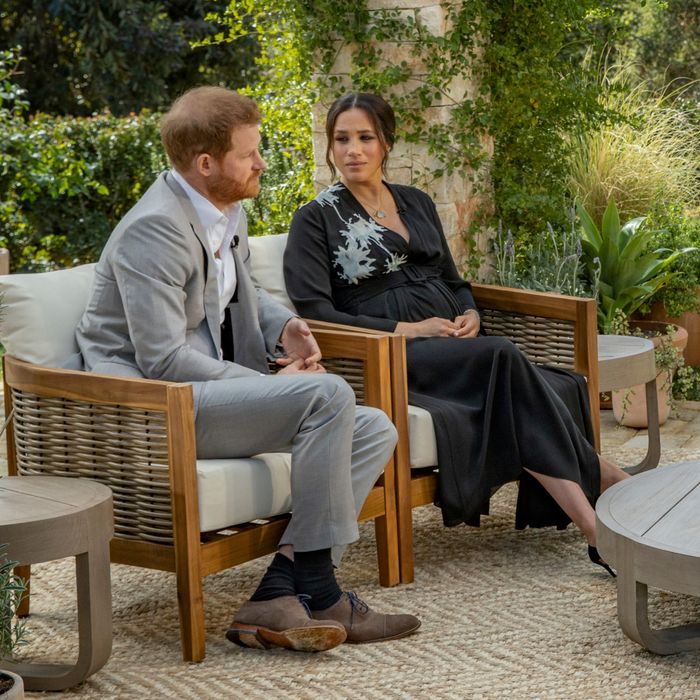 Photo: Harpo Productions/Joe Pugliese
On Sunday night, Oprah Winfrey moderated the first joint interview that Meghan Markle and Prince Harry have participated in since they stepped down as senior royals in January 2020. While a recently released biography of the couple covered some of the reasons behind their decision, they did not work directly with the authors. As such, the Oprah interview is the first time Meghan has discussed how she was having thoughts of suicide during her time in royal family, how members of the royal family had "concerns" about Archie's skin color before he was born, and much, much more.
At the beginning of the interview Oprah qualified that the couple did not know what she was going to ask, that there were no previous agreements, that no subjects were off-limits, and that they were not getting paid. Below, see the biggest takeaways from Oprah With Meghan and Harry: A CBS Primetime Special.
The Big Takeaways
Meghan didn't know what she was getting into. 
She explained to Oprah that she joined the royal family very "naïvely," adding that she had never even Googled Harry. She noted that in joining the family she "didn't fully understand what the job was" or that they were much different from celebrities.
Meghan didn't make Kate cry — "The reverse happened."
After they were married, the U.K. tabloids circulated a story that in the days before her wedding to Prince Harry, Meghan had done something to make Kate cry. When Oprah asked about this, Meghan said: "The reverse happened."
She went on to explain that a few days before the wedding, Kate had said or done something involving Meghan's flower girl dresses that "made me cry and hurt my feelings." Meghan added that there was no confrontation, rather, Kate "owned her mistake" and bought her flowers and a note.
Meghan explained that she was sharing the story so people could "understand the truth," and not to disparage Kate "because she's a good person." When it came to how the media treated Meghan versus how they treated Kate, Meghan said she saw a lot of "polarity" — "they seem to want a narrative of a hero and a villain."
After she was married, Meghan had virtually no freedom, and described being effectively forced into isolation in the palace.
When the press around her intensified in the early months of her marriage, Meghan describes being kept in the palace in isolation, something she likened in the interview to the quarantine-like situations many people have experienced this past year.
She told Oprah that in joining the family, her passport, driver's license, and keys were all handed over, and that if she were to ask to go out to lunch with friends she would be told no, because she was "oversaturated" in the media.
She recalls being extremely lonely. She describes one occasion when "a family member" visited her to instruct her to "lay low." She responded by saying she had only left the house "twice in four months."
Meghan was always told to give no comment, and in exchange the royal family assured they would protect her. 
At one point Oprah asked Meghan if she was silent, or if she "was silenced" and Meghan said that it was "the latter."
She clarified: "Everyone in my world was given the directive to always say 'no comment,'" noting that she and all of her friends and family were told never to speak to the press, because "the firm" (the palace) would protect her and her reputation.
She only realized that wasn't the case after Buckingham Palace failed to correct the false Kate-Meghan crying story, although everyone within the palace knew the truth. Meghan described that moment as "the beginning of a real character assassination," noting that while the palace was willing to lie to correct petty stories about other members of the family, "they weren't willing to tell the truth" to protect her.
Meghan was having thoughts of suicide.
"Almost unsurvivable" is a turn of phrase Meghan once used to describe the litany of online abuse she suffered after Archie was born, and Oprah questioned her about it. While Meghan herself doesn't read any of the press, she explained that she was learning about what was being written about her through her mother or her friends, who would call her in distress.
"I just didn't see a solution, I would sit up at night," and at one point "I just didn't want to be alive anymore," Meghan explained, adding that this was a "very clear and frightening and constant thought." She recalled: "These are the thoughts that I'm having in the middle of the night and I'm scared, this is very real, this is methodical, and this not who I am." At the time she described thinking "it would be easier for everyone."
When Meghan asked to get professional help outside of the palace, she was told she was not allowed.
Meghan said that in desperation, she went to one of "the most senior members" of "the institution" for help (it's unclear what or who that means, but she's likely referring to a very senior member of the royal family). She describes explaining to them how poorly she was faring mentally, and requested that she be allowed to go somewhere for assistance. She was told that she didn't have that option because of how it would look.
She also went to the palace's version of HR, but was told that since she wasn't an employee there was nothing they could do. (She says she received emotional support from one of Diana's best friends, but didn't say who that was.)
The royal family "had concerns" about Archie's skin color. 
Meghan learned through Harry that members of the royal family had "concerns about how dark [Archie's] skin would be," and were "concerned that he would be born too dark." Meghan did not share who made these comments, saying it "would be very damaging" to that person. Oprah also asked Harry about the conversation, which he described as surprising and "a bit awkward," but said "it is a conversation I'm never going to share" when Oprah asked who it was with.
The royal family didn't want to give Archie a title (and the security that comes with it). 
It was long-rumored that Harry and Meghan didn't want Archie to have a title, but it turns out that directive came from the royal family. Meghan explained to Oprah that while she didn't care about the title itself, having a title is what grants a royal grandchild security ("it was important because it affected his safety" as she put it).
To be clear, Archie should have had a title by default, but while Meghan was pregnant the convention was apparently changed. As Meghan pointed out, this would make him the first royal grandchild who was a person of color, and the only one not to be titled in the same way as the other grandchildren.
After stepping down, the couple's security was revoked. 
Tyler Perry offered them a house and security in L.A. after they got word from overseas that their security was being removed due to "a change in status," as they were no longer "official working members of the royal family."
The lack of family support is what spurred their move.
When Oprah asked why they left, Harry said it was a "lack of support and lack of understanding" from both the press and "the firm" (the royal family) that pushed him to make the decision to step back and move. "I was desperate, I went to all the places I should ask for help, and I wasn't given it," he explained. Instead, he recalls being "told continuously 'this is just how it is, we've all been through it.'"
Harry notes that there were red flags early on, including when the family suggested that Meghan keep acting because "they wouldn't have enough money to pay for her security." The couple added that if they were given family support, they wouldn't have left.
Harry was "disappointed" that his family failed to "acknowledge race was an element" in the way Meghan was being attacked.
Harry describes explaining to the family that Meghan was facing death threats and racist propaganda, but they continuously failed "to acknowledge race was an element" in the way Meghan was being treated by the media. "There were opportunities for my family to support her, yet no one from my family ever said anything," he said.
He added that part of the reason why was that they were acting in fear of the tabloids turning on them. "There is a level of control and of fear," he said, of his family's relationship with the British press.
Meghan and Harry didn't blindside the queen by stepping down.
Rumor has it that Meghan and Harry surprised the queen when they announced they were stepping down, but the couple explained that they had been having conversations with her for two years before they officially stepped down, and even spoke to her the evening before they announced it.
As Harry put it: "I've never blindsided my grandmother, I have too much respect for her." As for that rumor (and the terse statement Buckingham Palace put out) Harry said that likely "came from within the institution."
Things between Harry and his family are tense.
The palace cut Harry off financially in "the first quarter of 2020" after the couple stepped down, and Harry explained that Diana's inheritance is what kept them afloat for a time.
Furthermore, Harry noted that after he and Meghan first stepped down, his father, Prince Charles, stopped taking his calls. "There's a lot to work through there," he said about his relationship with his father, adding: "I feel really let down, because he's been through something similar, he knows what pain feels like, and Archie is his grandson. I will always love him, but there's a lot of hurt that's happened."
As for rumors that Harry and William are no longer speaking, Harry only said: "I love William to bits," but "we went down different paths."
The couple is still talking to the queen, though.
Harry said he's spoken to her more this year than ever, and the four of them (Meghan, Archie, Harry, and the queen) have the occasional Zoom call.
Some Nice Little Things
Meghan has always been on good terms with the queen. 
"The queen has always been wonderful to me," Meghan explained to Oprah. She told Oprah about an event she and the queen did together, explaining that they had had breakfast together in the morning, then the queen had invited Meghan to share a blanket with her while they were in the car together. The queen also gifted her a pearl necklace and matching earrings.
Meghan and Harry got married three days before their wedding. 
They said their vows in their backyard, just the two of them and "the Archbishop of Canterbury."
They're having a baby girl.
She's due in the summer, and will be their last child.
They've watched The Crown
Harry said that they've both watched "some of it."
Meghan calls Harry "H"
At one point describing her morning, Meghan says: "I woke up earlier than 'H.'"
They have a chicken coop.
Some of the interview took place on the grounds of Harry and Meghan's Santa Barbara home, specifically in the couple's chicken coop.
In the U.S., the National Suicide Prevention Lifeline is 1-800-273-8255.