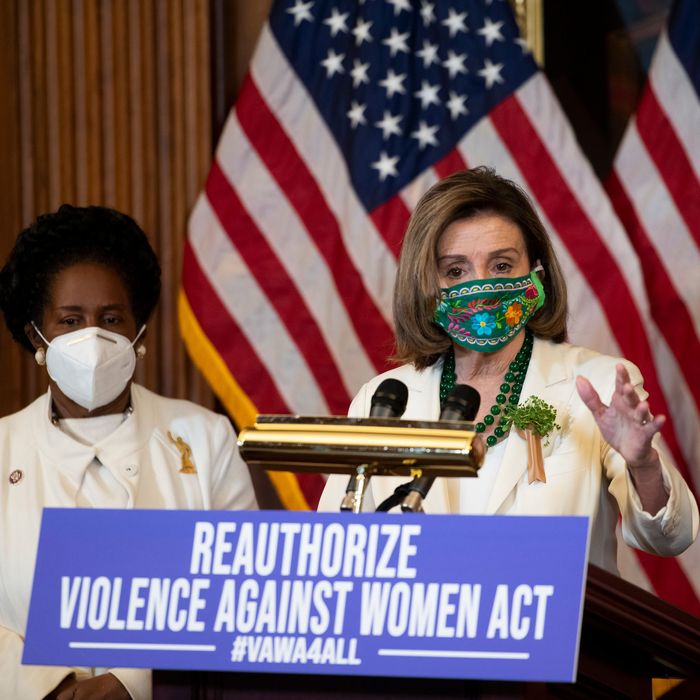 Photo: Shutterstock/Shutterstock
The House voted last night to renew the Violence Against Women Act, landmark legislation that helps combat stalking, domestic violence, and sexual assault, adding some crucial updates to its framework after the Trump administration let it lapse in 2019.
However, 172 House Republicans voted against the act — less than 24 hours after a mass shooter killed seven women in massage parlors in Atlanta, Georgia. The shooter justified his horrifying rampage using language steeped in racist fetishization and misogyny.
Much of the legislation is uncontroversial — "VAWA" (as it is referred to in shorthand) was first enacted in 1994 by then-Senator Joseph Biden and others and was the first major piece of legislation to comprehensively tackle issues of abuse, violence, and intimidation that particularly impact women. However, there are a few pieces of its renewal that update the law and help gear it toward those that need it most.
The new VAWA would expand protections from women to LBGTQIA Americans. It grants tribal courts authority to prosecute non-indigenous people for offenses like sex trafficking, an attempt to address an epidemic of violence against indigenous women. And there is the closing of the "boyfriend loophole," which would prohibit anyone convicted of stalking from buying a firearm, which has made the bill the target of the NRA and NRA-friendly legislators.
The pandemic has led to a rise in intimate partner violence, according to experts, and made the conditions under which such violence occurs agonizingly worse; the groups most impacted by rising unemployment — Black and Latina women — are more at risk. There is a plethora of ways in which the VAWA legislation feels urgent, and obvious — and yet those 172 Republicans failed to send it through to the Senate last night. And once it gets there, it faces an uphill battle from those NRA-funded Republicans.
Representative Marjorie Taylor Greene had a characteristically extreme, offensive, and nonsensical defense for her "No" vote, cast — again — mere hours after women were gunned down, saying, "If you want to protect women, make sure women are gun owners and know how to defend themselves," she said. "That's the greatest defense for women."