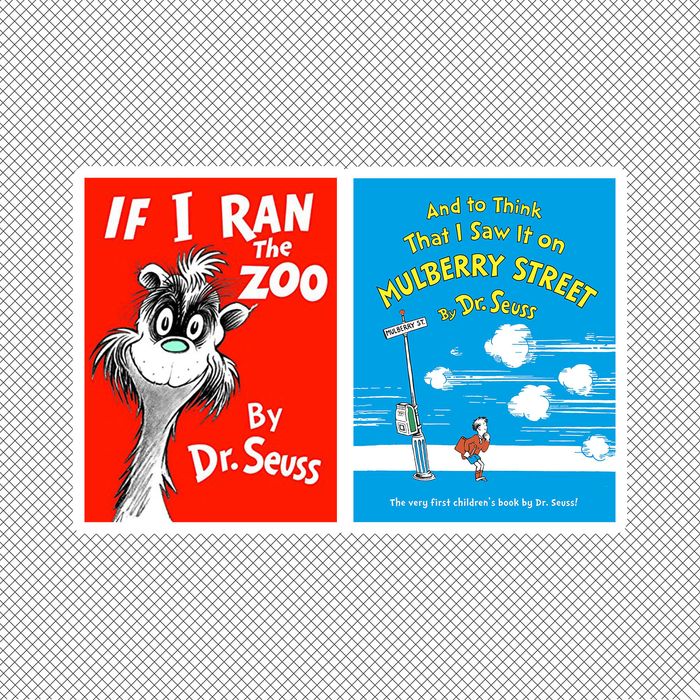 Two of the shelved titles.
Photo-Illustration: The Cut
Half a dozen Dr. Seuss books with overtly racist, offensive imagery will no longer be sold in bookstores. Today — which happens to be the birthday of the man behind the pseudonym, Theodor Seuss Geisel — the company that oversees the author and illustrator's estate announced that it will be halting publication and sales of six books that "portray people in ways that are hurtful and wrong."
"Ceasing sales of these books is only part of our commitment and our broader plan to ensure Dr. Seuss Enterprises' catalog represents and supports all communities and families," Dr. Seuss Enterprises told Associated Press. The affected titles include: And to Think That I Saw it on Mulberry Street, If I Ran the Zoo, McElligot's Pool, On Beyond Zebra!, Scrambled Eggs Super!, and The Cat's Quizzer.
Per the company, the decision follows months of discussion with educators and children's-literature experts — which came after years of mounting and increasingly vehement criticism. In 2017, when Melania Trump donated ten Dr. Seuss books to a Massachusetts school in celebration of National Read a Book Day, the librarian rejected them in an open letter, using the opportunity to highlight that Seuss's illustrations were often "steeped in racist propaganda, caricatures, and harmful stereotypes." That same year, an illustration of a Chinese man with chopsticks and "slanted slit eyes" that originally appeared in And to Think That I Saw It on Mulberry Street was removed from The Amazing World of Dr. Seuss Museum following the protests of three authors, who decried it for perpetuating a "jarring racial stereotype." In recent years, schools across the country have moved away from Dr. Seuss's books, as has The National Education Association, the founder of Read Across America Day, which had long been associated with Dr. Seuss.
Despite the barrage of criticism facing the deceased author, he remains immensely popular: Forbes listed him as the second-highest-paid dead celebrity in 2020, when his books earned an estimated $33 million before taxes.