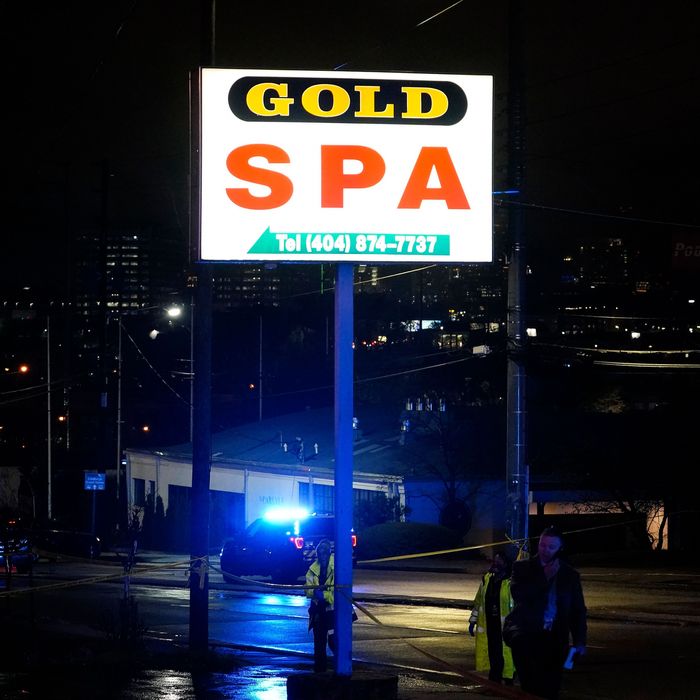 Gold Spa in Atlanta, where three Asian women were shot to death amid a shooting rampage on March 16.
Photo: Brynn Anderson/AP/Shutterstock/Brynn Anderson/AP/Shutterstock
New York Is Committed to Providing Essential Coverage
We've removed our paywall from this and other stories about acts of violence and racism against Asian communities. Consider becoming a subscriber to support our journalists.
A lone gunman went on a shooting spree Tuesday night at three spas across the metropolitan Atlanta area, murdering six Asian women and two others, the Atlanta Journal-Constitution reports. Police have since arrested a suspect: Robert Aaron Long, 21, who is white. He has confessed to the shootings and has been charged with eight counts of murder and one count of aggravated assault.
The deadly attacks began around 5 p.m., when the gunman entered Young's Asian Massage, located in a strip mall about 30 miles north of Atlanta. He shot and killed four people inside: two Asian women, a white woman, and a white man. (A Hispanic man was shot but survived.) Video footage captured the gunman fleeing in a black SUV heading south toward Atlanta, where the rampage continued. Around 5:50 p.m., police responded to a call reporting a robbery in progress at Gold Spa in the neighborhood of Buckhead, where they found three Asian women, dead from apparent gunshot wounds. The gunman also entered a spa across the street, Aromatherapy Spa, where he shot and killed another Asian woman.
On Wednesday, a Cherokee County sheriff identified the four people who were killed at Young's Asian Massage as Delaina Ashley Yaun, 33; Paul Andre Michels, 54; Xiaojie Tan, 49; and Daoyou Feng, 44. Elcias R. Hernandez-Ortiz, 30, was injured. Per the Los Angeles Times, the Korea Times Atlanta named two other victims as Julie Park, 74, and Hyun Jung Grant, 51; and the Fulton County Medical Examiner has listed the names of the two other victims as Yong A. Yue, 63, and Suncha Kim, 69.
Long, who is from Woodstock, Georgia, was apprehended on Tuesday night after his parents notified police that they believed their son was the gunman; he was also captured on security-camera footage from the spas. In Long's car, authorities found a 9mm handgun they believe was used to carry out the attacks. According to two senior law-enforcement officials who were briefed on the matter, Long purchased the gun legally on Tuesday prior to the attacks, NBC News reports.
Long confessed to the shootings, telling authorities that he struggled with "sexual addiction" and saw the spas as "a temptation for him that he wanted to eliminate," Captain Jay Baker of the Cherokee Sheriff's Office said. Police said on Thursday that Long had been a customer at two of the spas he targeted in the attack. Had he not been caught, it appears Long intended to kill more people: After he was apprehended while driving, he told authorities that he had been on his way to Florida, where he sought to commit similar acts of violence. He is currently being held at the Cherokee County jail.
Atlanta authorities have yet to clarify whether they will designate the rampage a hate crime, but they have so far unquestioningly repeated Long's sex-addiction claims, adding that the gunman insisted he did not specifically target Asian American women. This narrative has been met with significant pushback. As New York State Assembly member Yuh-Line Niou tweeted, Asian women are often fetishized and hypersexualized, which is "dangerous and reinforces harmful stereotypes" — and is inherently racist. She continued, "Stereotypes like these cause violence against Asian women to be overlooked, erased, and legitimized."
This incident comes amid a surge in violence and hate against Asian Americans that is largely attributed to the proliferation of racist rhetoric during the coronavirus pandemic. According to new data released by Stop Asian American Pacific Islander Hate, a reporting forum that tracks anti-Asian racism, there were nearly 3,800 reports of hate incidents between March of last year and this past February. Of those reported incidents, 68 percent involved Asian American women.
"Whatever the motivation was for this guy, we know that the majority of the victims were Asian," Atlanta mayor Keisha Lance Bottoms said. "We also know that this is an issue that is happening across the country. It is unacceptable, it is hateful and it has to stop."
The police officers involved in the case drew additional criticism during a press conference on Wednesday, when Captain Baker said that the suspect "had a really bad day," a statement that was met with widespread outrage. It later came out that Baker promoted anti-Asian T-shirts on Facebook last spring, and the Cherokee Sheriff's Office has since said that he will no longer be the agency's spokesman for the case.
The attack has elicited an outpouring of grief from the Asian American community, which is begging for more than just supportive words. "Asian Americans will not be silent about it, and we will demand justice and take steps to prevent the next crime," Chris Chan, an advisory chair for the Asian American Action Fund Georgia Chapter, told the Washington Post. "Everyone has heard enough words. It's time to take some action."
"Now is the time to hold the victims and their families in our hearts and in our light," Stephanie Cho, executive director of Asian Americans Advancing Justice-Atlanta, said in a statement. "We're calling on our allies across communities of color to stand with us in grief and solidarity against racist violence in all its forms. When our most vulnerable community members are targeted, we all need to band together."
President Biden and Vice-President Kamala Harris plan to meet with Asian American leaders in Atlanta on Friday afternoon.
This post has been updated.