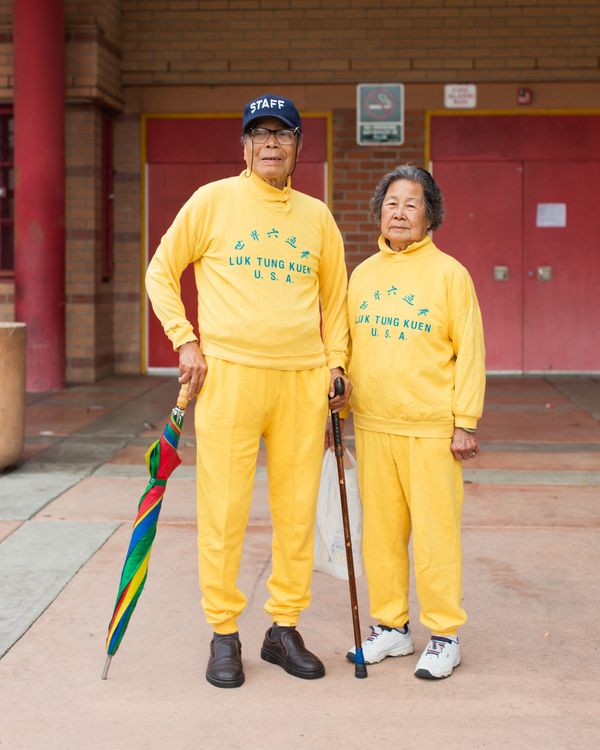 Photo: Andria Lo/Courtesy of Chinatown Pretty
Take a stroll through Chinatown, and you can't help but notice certain fashionable seniors nonchalantly strolling the streets in head-to-toe looks. From grocery-shopping grandmas in matching sets paired with wide-brimmed sun hats to dapper grandpas in freshly pressed suits and aviators, the outfits are an effortless mix of deeply personal vintage and modern streetwear.
But who are they? That's the question two friends, photographer Andria Lo and writer Valerie Luu, set out to answer in their book, Chinatown Pretty: Fashion and Wisdom from Chinatown's Most Stylish Seniors. "We started out really just wanting to know how they compose their outfits," Luu told the Cut. "But the clothes became a gateway to learn more about their immigration stories, their life histories, and their active daily lives that they live as seniors in Chinatown."
Amid the surge of horrific anti-Asian hate crimes, Chinatown Pretty's subjects provide much-needed solace — a powerful reminder of the joy in Asian American communities. For Lo and Luu, it's a love letter to Chinatown. "We're happy to offer some insight into the humanity of the neighborhood," said Lo. "If we can actually show these visible faces from the neighborhoods in a really caring and tender way, that is a form of activism."
When it comes to supporting IRL, the duo recommends visiting your local Chinatown as part of your weekly routine, eating at restaurants and buying your groceries. "That's a great way to support Chinatowns and just bring more bodies to the neighborhood, which means more safety," the two said. "There are a lot of ways — whether it's donating money, volunteering, or just giving people a call — to show love."
Below are excerpts from Chinatown Pretty. Keep scrolling to buy the book; the two are donating 100 percent of the Bookshop proceeds to Chinatown nonprofits.
Buck Chew, 96, San Francisco
"We first spotted Buck Chew sitting on a bench in Portsmouth Square wearing a fedora, suit, and white gloves. He had a gentle, inviting smile.
Mr. Chew always carries a a little photo album with pictures of his younger self, looking just as stylish in patterned pant suits, trench coats, and hats. But his neckties are where he really shines. In his photo album, he has a picture of himself wearing a tie decorated with colorful parrots. It's just one out of his collection of 40 ties.
Before he moved to the United States in 1983, Mr. Chew worked as an accountant and abacus master in Macau, though he considers himself a poet and calligrapher. Most of his clothes are from Hong Kong or Macau, and he has owned them for a very long time."
Dorothy G. C. Quock, a.k.a. Polka Dot, San Francisco
"Dorothy G. C. Quock, better known as Polka Dot, has shown us what it means to be community-minded. One afternoon, we were at her apartment in Chinatown. Her front door was covered in posters and stickers that advocated for universal health care, 'Impeach Bush and Cheney' signs, and a flyer that said 'Bring the Troops Home — Bay Area United Against War.'
Polka Dot thinks globally but acts locally by taking care of her neighbors. On Mondays, she receives a delivery from the food pantry. She keeps a list of her neighbors and 'what they can eat or what they like to eat' on her fridge and distributes her bounty to them accordingly. Recently, Polka Dot's building was purchased by new landlords who increased her rent to $3,000. As someone with limited income, she applied for a hardship wavier and also formed a group of residents, who dubbed themselves 'The Gang of Five,' to appeal to the San Francisco Rent Board. She got her first rent increase waived, but no longer qualifies for a reduction. Nowadays, new tenants pay around $3,000 a month for a one-bedroom apartment, significantly more than what she paid when she moved there 16 years ago. She said that there are only 'half of us' left in the building.
Polka Dot is a portal to what Chinatown is and was. She was born in 1934 in Chinatown as one of eight kids. They lived in single-room occupancy housing (SROs) and houses all over Chinatown — at times with ten people in one room. Her mother worked at the sweatshops that produced Levi's, and sometimes she would bring Polka Dot and her siblings to work with her. Polka Dot described it as a crowded, dirty, and dimly lit place where the shades were always drawn so that people could not look in.
Over the years, Polka Dot has remained a role model and a friend. She came to our photo exhibit at Legion, an art gallery in Nob Hill. The event at the gallery unfolded into an afterparty at the Tonga Room, a legendary tiki bar inside the Fairmont Hotel and one of Polka Dot's old haunts. She joined us on the dance floor, while a cover band played Rihanna's 'Umbrella' on a floating stage atop the bar's indoor pool. When our friend motioned to her that he was ready to walk her home, she said, 'Can you wait five more minutes?' so she could squeeze in one more song."
Ms. Chen, 75, Oakland
"Ms. Chen exuded a certain kind of cool and command — we immediately wanted to call her 'boss.' We loved her mix of colors topped off with a sparkly embroidered cap, which she bought in Thailand nearly two decades ago and recently discovered in her closet.
Originally from Jiangxi, Ms. Chen spent many years moving around China — Guangzhou, Nanking, and four other cities, eventually ending up in Taiwan in 1949. Her final move was to the United States, where she worked at an immigration office in Oakland before retiring. She picked up Cantonese and English on the job."
Sui Chen Shen, 86, Vancouver
"Sui Chen Shen was glowing in her neon cap after visiting her husband at Villa Cathay, a senior care home. When she came to Vancouver at 55, Mrs. Shen got a job working at a clothing factory. The shirt was made by a friend, utilizing leftover fabric. When she unzipped her jacket, we saw the darker lead-resist print that delightfully contrasted with the front fabric.
For seven years, Mrs. Shen steamed clothes to support her four daughters, three of whom lived in the United States. 'I was really tired and sweat a lot,' she said. 'It was really hot — no air conditioning.' Eventually, the physically demanding job took its toll. 'I had to stand a lot,' she said. 'Later my body wasn't feeling good, so I retired.'
Mrs. Shen's outfit taught us a lesson on how to balance boldness. She claims there isn't much to it. 'I don't really have a thought process,' she said. 'I wear whatever I feel like.'"
The Jungs, Los Angeles
"We met the Jungs at the Alpine Recreation Center, where Mrs. Jung, 86, teaches Luk Tung Kuen, an exercise program consisting of 36 movements that promote blood circulation and muscle strength, at eight o'clock every morning. They both wore bright yellow sweats suits, custom-made in Hong Kong, printed with 'Luk Tung Kuen.' Although they had owned their sweatsuits for decades, it looked like they just got them yesterday. 'When it's a happy day or party, I'll wear it,' said Mrs. Jung.
Mr. Jung said he met his wife through his cousin. We asked how long they dated before they got married. 'There was no dating back then,' he said. 'You just get married.' He left Hong Kong to come to the United States first, and she joined him two years later in New York. We asked him about his 69 years of marriage to Mrs. Jung. 'How often do you guys celebrate?' we asked. He laughed: 'Every ten years.'"
Sidney Yuen, 73, Oakland
"We met Sidney Yuen as he was headed home with full bags of fresh produce and groceries. He's now retired after having worked for 36 years as a butcher at Berkeley Bowl, a popular East bay grocery store. He has always worked in markets — first at the Sheung Wan Market in Hong Kong, where he grew up, and then in Hawaii where he landed in the '70s upon immigrating to the United States.
We asked him about his distinctive hair, which he said he only began growing out a few years ago. 'Everywhere I go, people say they recognize me [from the grocery store],' he said.
Now in retirement, Mr. Yuen stays active by tending to his backyard garden, practicing tai chi, and learning Chinese dance at local parks."
Gui Zhi Li, 73, Manhattan
"Gui Zhi Li was waiting outside the Chinese Community Center on Mott Street. She had on a bright purple orchid vest paired with a NY baseball cap — part grandma, part urbanite.
Prior to immigrating to the United States, Ms. Li worked as a park gardener in Hong Kong. She's been in the United States for about five years but wants to go back to Guangzhou. 'The weather here is cold. It snows. Guangzhou doesn't snow,' she said. 'I don't want to be in a cold environment.'"
Buy the Book