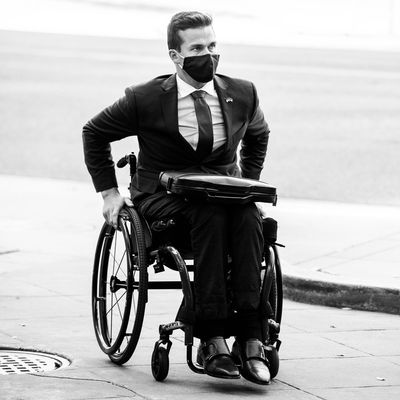 Photo: Tom Williams/CQ-Roll Call, Inc via Getty Imag
Back in November, Republican Madison Cawthorn was elected to represent North Carolina's 11th Congressional District at the age of 25, making him the youngest member of Congress. He won his district with a campaign that advanced falsehoods about the 2020 election, spread lies about his own personal history, and openly espoused hateful, racist rhetoric. A vocal Trump supporter, Cawthorn quickly became a darling of the far-right, speaking at both the Republican National Convention in August 2020 and the rally in Washington, D.C., on January 6 that preceded the attack on the Capitol. As writer Talia Lavin put it in the Cut following Cawthorn's election: "It's hard not to arrive at the conclusion that this is the future of the Republican Party, and the main of what it has to offer."
Throughout his precipitous ascent to power, Cawthorn has also been trailed by reports of sexual misconduct. Over the past week, the Washington Post, CNN, and Buzzfeed News have all reported on the allegations against him from former classmates, who accused the congressman of making unwanted advances on them and putting them in uncomfortable situations. This is not the first time such claims have been made public. In October, over 150 former students from Cawthorn's alma mater, Patrick Henry College, signed a letter saying that his predatory behavior was well-known around campus and that women were warned not to be alone with him.
In addition to being celebrated as a rising star of the GOP, Cawthorn serves on House Education Committee and the Veterans' Affairs Committee. Below, what we know about the young congressman's history of alleged harassment and lies.
He reportedly took women on what he called "fun rides."
A common detail in the allegations against Cawthorn are the so-called "fun rides" he would take women on, in which he would drive them in his car to isolated locations and, women say, make a move on them.
Katrina Krulikas, a North Carolina resident who was part of the same home-schooling network as Cawthorn, was one of the first women to come forward with allegations against the congressman. In August, Krulikas posted on Instagram about an incident that took place in 2014, when Cawthorn was 19 and she was 17. The two had agreed to go on a date, and Cawthorn drove them to a secluded spot in the woods. According to her account, they sat around a bonfire, and soon, Cawthorn started talking about sex, which made Krulikas uncomfortable. She says he pressured her to sit in his lap, and then took things further.
"He tries to kiss me and I say no and I don't let him kiss me," Krulikas told the Post. "We talk for like a little bit longer, like a few minutes. And then suddenly" he moved forward "as if to try to kiss me so quickly that I wouldn't have a choice to say no or push him away. And at this point, I'm so startled that I fall back." Krulikas said that her hair got caught in Cawthorn's wheelchair, and that she was pulling it out to try to escape. Eventually, she got away and Cawthorn drove her home.
"I remember going on that date with her," Cawthorn said in August. ""I did try and kiss her just very normal, just in a flirtatious way. As soon as I realized that she didn't want to — I think she pulled back a little bit — the date was over and we continued to sit around the fire for quite a while. I drove her back to her car and everything was normal. I realized she didn't want to pursue a romantic relationship and so I don't think I talked to her very much after that."
The incident seemed to be just the beginning of a pattern of behavior that he continued when he got to college in 2016.
"His MO was to take vulnerable women out on these rides with him in the car, and to make advances," Caitlin Coulter, one of Cawthorn's former college classmates, told CNN.
Coulter said that Cawthorn took her on one such drive, and that when she turned him down, he turned the car around and began speeding back to campus at 70 or 80 miles an hour on one-lane roads. "And it was — it was really scary."
Another college classmate, Leah Petree, said that Cawthorn invited her on one of his "fun drives" and "insinuated some sexual activity." Petree had a boyfriend and declined, but she told the Post that Cawthorn continued to pressure her. Then, in the cafeteria one day in October 2016, when Cawthorn began asking another female student sexual questions that Petree thought were inappropriate, she intervened, and she says he exploded at her.
"He got really angry and looked at me and screamed at me with a lot of anger," Petree said. She remembers him calling her " 'just a little, blonde, slutty American girl.' And I remember that quote very well … I remember at the time my eyes stinging with tears, the whole table going quiet."
His behavior was so well-known that over 150 of his former classmates spoke out against him.
Cawthorn only attended Patrick Henry College for the fall 2016 semester. He earned mostly Ds, and then dropped out. In his brief time there, though, his conduct managed to make an impression on his classmates. When Cawthorn was campaigning for congress, over 150 Patrick Henry alums shared a letter opposing his candidacy and said that "Cawthorn's time at PHC was marked by gross misconduct towards our female peers, public misrepresentation of his past, disorderly conduct that was against the school's student honor code, and self-admitted academic failings."
"During his brief time at the college," the letter continues, "Cawthorn established a reputation for predatory behavior. His modus operandi was to invite unsuspecting women on 'joy rides' in his white Dodge Challenger. Cawthorn would take young women to secluded areas, lock the doors, and proceed to make unwanted sexual advances," the letter read. "It became a regular warning in the female dorms not to be caught alone with Madison Cawthorn."
Cawthorn has faced a slew of other scandals as well.
Though Cawthorn has not been on the national stage for very long, his time in the public eye has already been characterized by scandals and lies. Notably:
• In a campaign video, Cawthorn said that the 2014 car accident he was in that left him partially paralyzed had derailed his plans to go to the United States Naval Academy. In reality, Cawthorn had already applied to and been rejected from the Naval Academy before the accident took place. According to the Post, he also said that he had been accepted to Princeton and an online program at Harvard, but he later admitted he hadn't been accepted and that those statements were not true.
• In an address at Patrick Henry College, Cawthorn said that at the time of the car accident that his friend who had been driving the car when it crashed had abandoned him at the scene, leaving him to die in a "fiery tomb," and that doctors had declared him dead. Neither of those things were true. The friend, Bradley Ledford, said that in fact he had pulled Cawthorn from the wreckage, and an accident report said that Cawthorn was declared "incapacitated," not dead.
• During his campaign, Cawthorn embraced racist rhetoric. In an attack against the journalist Tom Fielder, who had reported on Cawthorn's lies about his academic past, a Cawthorn campaign website wrote that Fielder "quit his academia job in Boston to work for non-white males, like Cory Booker, who aims to ruin white males running for office." When Booker denounced the comment as "rank racism," Cawthorn replied, "The syntax of our language was unclear and unfairly implied I was criticizing Cory Booker."
• In August, Jezebel found old social-media posts of Cawthorn's, including one of him and his brother beaming at the Eagles Nest, Hitler's vacation home. "Seeing the Eagles Nest has been on my bucket list for awhile, it did not disappoint," Cawthorn wrote. "Strange to hear so many laughs and share such a good time with my brother where only 79 years ago a supreme evil shared laughs and good times with his compatriots."
• After the Capitol insurrection on January 6, he falsely claimed that Democrats were behind the violent attack.
All of this has been widely reported, and yet Cawthorn's ascendancy within the GOP continues. He's a favorite of Trump's, with the president gushing after his election that he's "a terrific young man … He's going to be one of the greats."