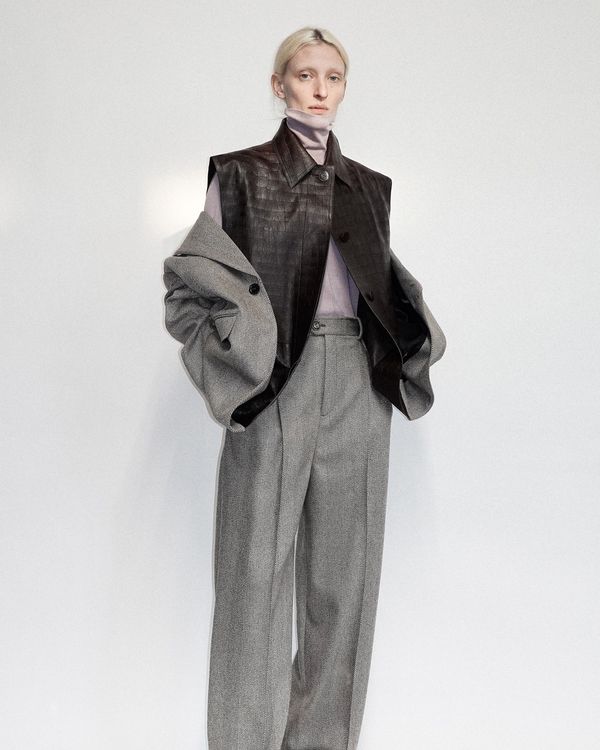 Photo: Courtesy of Peter Do
Consuming content for hours on end is like second nature for many of us, and the persistent noisiness has become sort of its own kind of silence. But somehow, someway, whenever I dig into the onslaught from "Fashion Month," it still manages to be overwhelming. When something breaks through, especially something that's a little quieter, a little subtler, it feels like a revelation. That's what happened when I got a chance to talk to New York–based designer Peter Do, who showed outside the "official" New York Fashion Week.
Having mastered sharply tailored daywear since launching his label in 2018, Do created a fall 2021 collection that lusts for the night. There's a collective state of mind being addressed here: a deep desire to dress up and once again ask your closet to do more. That's why Do deeply explores two-in-one concepts, like a wool blazer that looks as if it's layered over a leather shirt. But when the blazer is taken off, it folds down into a full-length, croc-embossed leather sleeveless jacket. Wear it yet another way by letting the blazer hang from your arms, since it's not going anywhere anyway.
Transitions here aren't merely physical, either. Do is interested in emotional change, having experienced his own darkness. Away from his studio and team during the peak of lockdown, unable to create anything new, he found himself struggling to find the light again. But that melancholy has turned into a sense that change is inevitable — as well as into a renewed hunger to dress up again. His collection film, Night, tells the story of that journey.
Won't it be nice again to experience the night in a busy New York City instead of rotting away on the couch? Just think about all the untouched clothes in your wardrobe begging to be rediscovered and worn in ways you never have before. Their time is coming!