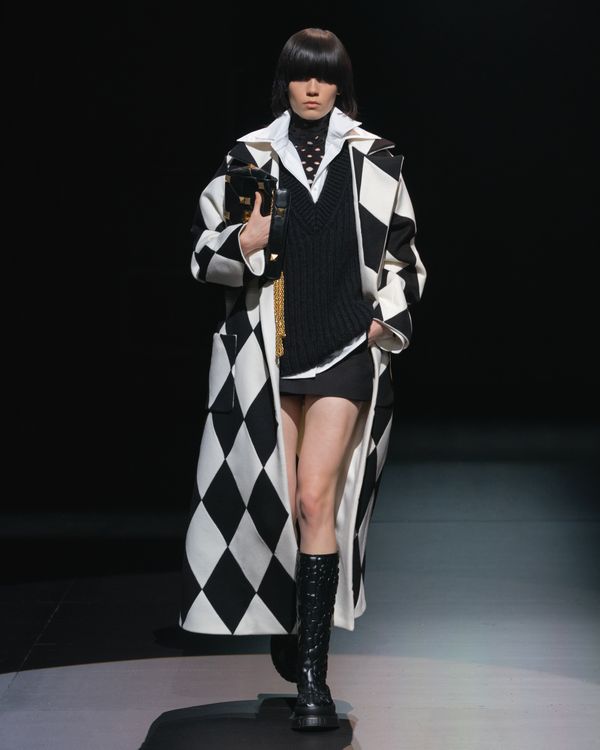 Photo: Courtesy of Valentino
The most memorable villains always have a signature look. And as a fashion nerd, I find it fun to imagine what IRL brand would dress them. Sauron, for instance, would really work a custom pair of Balenciaga knight boots. Kill Bill's Elle Driver might consider pulling a white look from the Moschino spring 2019 collection. And the Joker would have already stolen the green-and-purple outfits from the Prada and Salvatore Ferragamo fall 2021 shows.
When the Valentino fall 2021 presentation debuted on Monday, one particular villain came to mind — a certain devilish, glamour-obsessed heiress who loves furs so much she once plotted to skin 101 Dalmatian puppies to make a coat. Of course, it's Cruella de Vil.
Let's imagine for a second that she's not an evil psychopath preying on innocent puppies and appreciate the fact that the lady's got taste …particularly in her unmatched Glenn Close incarnation (sorry, Emma Stone), who seems to be a big fan of Mugler in outfits snatched at the waist and punctuated with pointy shoulders. In the 1996 live-action 101 Dalmations film, Close's Cruella is even the top dog of fashion's famed House of de Vil. But if she existed in 2021, the social climate simply would not let Cruella get away with her fur-obsessed schemes. So as an alternative, I imagine she would appreciate a beautifully made Valentino coat paired with knee-high combat boots and sensually layered over a laser-cut turtleneck, a white button-down, an oversize knit, and a miniskirt.
Held at the vacant Piccolo Teatro di Milano, the Valentino show was full of ideal clothes for outfitting villains, especially ones who maybe aren't actually evil but instead are just challenging norms (Cruella excluded). Okay, maybe I'm being fanciful, but that claim isn't too far from the show's punk inspiration. "Reopening a theater, even though only for the span of a show, is a bold, almost punk gesture: an invitation to aggregation and sharing when these activities are denied," the brand said in the show notes. "The identity of Valentino today materializes with a clear and incisive sign: both sensual and romantic, nourished by memories but not nostalgic. An identity that reflects in a new generation."