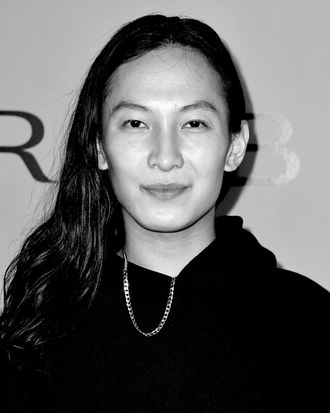 Alexander Wang
Photo: BAUZEN/Getty Images
In recent months, designer Alexander Wang has faced a string of sexual-assault allegations — allegations he initially denied as "atrocious," "baseless and grotesquely false" fabrications. More than two months later, however, the 37-year-old now says he will "do better" going forward and expressed regret without offering an outright apology.
Lisa Bloom, an attorney representing 11 of Wang's accusers, said this week that her clients met with Wang and that they had "[spoken] their truth to him and expressed their pain and hurt." She said her group "acknowledge[d] Mr. Wang's apology" and "are moving forward." Asked about any arrangement, financial or otherwise, that came from the meeting, Bloom declined to comment.
"A number of individuals have come forward recently to raise claims against me regarding my past personal behavior," Wang wrote on Instagram after the meeting. "I support their right to come forward, and I've listened carefully to what they had to say. It was not easy for them to share their stories, and I regret acting in a way that caused them pain. While we disagree on some of the details of these personal interactions, I will set a better example and use my visibility and influence to encourage others to recognize harmful behaviors. Life is about learning and growth, and now that I know better, I will do better." A spokeswoman for Wang declined further comment.
The first of the allegations surfaced in December of last year, when model Owen Mooney said on TikTok that, in 2017, Wang cornered him in a crowded New York City nightclub and "just started touching me up, like, fully up my leg, in my crotch." Similar stories — from people who say that Wang, formerly a fixture in New York's party scene, would ply them with alcohol and sometimes drug their drinks — quickly began piling up on social media. In his statement from January, Wang described the accounts that amplified the claims as "infamous for posting defamatory material from undisclosed and/or anonymous sources with zero evidence or any fact-checking whatsoever."
Since then, some of the people who accused Wang have spoken on the record. New York interviewed seven people whose allegations of misconduct ranged from dance-floor groping to forced oral sex. A number of them said Wang shoved his hand inside their underwear and grabbed their genitals; some also recalled Wang pouring liquor down their throats. Wang largely declined to comment on the claims, except for one — made by a man named Hugo, who said he suspects Wang once had nonconsensual sex with him — that Wang's attorney Eric M. George called "impossible" and characterized as a homophobic smear.
Still, "everyone sort of knew that he gets fucked up and gets people around him fucked up," Hugo said. "I mean, he's all about having fun, fun, fun, but then he pushes it too far sometimes — so far [that] another person sort of has to pay a price for it."
This post has been updated.