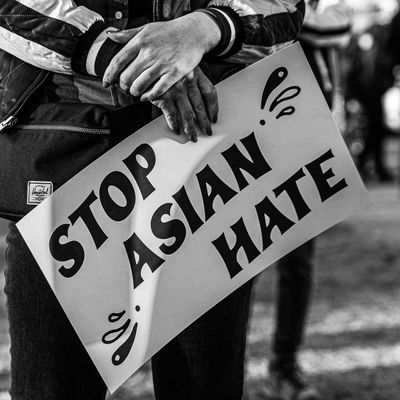 Photo: Kerm Yucel/AFP via Getty Images
A 37-year-old Asian mother was punched in the head in downtown New York on Sunday, in an apparent hate-crime incident, while on her way to a nearby protest against anti-Asian violence. Since the news initially made the rounds on Monday, four more racist physical assaults and possible hate crimes against Asians across the city have come to light, all of which occurred over the same weekend — and one of the incidents left an elderly man in critical condition.
The horrible attacks are the latest in a string of hateful verbal and physical assaults against Asians and Americans of Asian descent across the country in recent weeks, and come less than a week after the shooting in Atlanta in which six Asian women were murdered. The protest on Sunday was being held to bring attention to the yearlong spate of anti-Asian hate crimes, which data show have spiked during the coronavirus pandemic, inflamed by xenophobic, racist political rhetoric.
According to police and witnesses, first reported by Gothamist, the mother, Katie Hou, was on her way to the event when a stranger stopped her on the street and asked to see her protest sign. The unidentified man took Hou's sign, attempted to put it in a trash can, and then started to stomp on it. When Hou asked him why he destroyed it, the man reportedly punched her in the face twice, leaving her lip bleeding, and fled. The attack occurred in front of Hou's young daughter. Police are searching for the assailant, who yelled at onlookers and exposed himself at a nearby subway station after the assault occurred.
The assault Hou endured was one of five known attacks on Asian New Yorkers over the weekend, the New York Times reports. On Friday, a 68-year-old Sri Lankan man was riding the subway in Lower Manhattan when another passenger yelled a racial slur and punched him in the head. A witness told the Times that the attacker "threw what appeared to be a crumpled-up newspaper at the victim before charging at him and yelling a racial slur … He was on top of him. Within seconds there was blood everywhere." The victim was taken to the hospital in critical but stable condition. A man named Marc Mathieu was arrested on one count of second-degree assault, and the incident is being investigated as a hate crime.
Then on Saturday morning, a 66-year-old man of Asian descent was punched in the face on the Lower East Side, an assault that is also being investigated as a hate crime.
Hours after Hou was punched in the face on Sunday, a 41-year-old woman of Asian descent was walking in midtown when she was grabbed from behind and thrown on the ground, police said, per the Times. A 37-year-old woman named Patricia Melendez was arrested on charges of assault and disorderly conduct. And again on Sunday, a few hours later, a 54-year-old woman of Asian descent was hit in the face with a metal pipe by a man while walking on the Lower East Side. Elias Guerrero, 38, has been arrested on several charges including hate crime assault, resisting arrest, and harassment.
Asian New Yorkers have been reporting that, on top of the devastation of the coronavirus pandemic over the past year, they are living in fear of racist violence and vitriol. Many are fed up. "People need to be vigilant about their safety," Hou, who is recovering from her assault, told the Times. "But at the same time, we need to do something to stop this from happening again."
This post has been updated with more information.