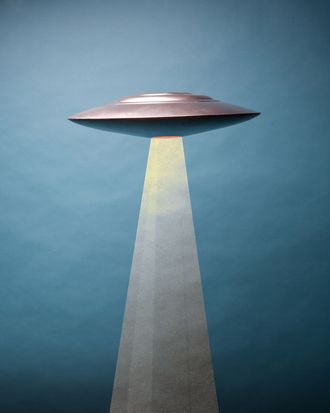 We all know who's behind the UFOs.
Photo: William Andrew/Getty Images
The Pentagon is preparing to release a report on UFO sightings from all around the world, and in the opinion of one official familiar with the intelligence, the public might find the contents difficult to grasp. "We're talking about objects that have been seen by Navy or Air Force pilots or have been picked up by satellite imagery," John Ratcliffe, former director of National Intelligence, said in a recent appearance on Fox News — and while officials try to look for a "plausible" explanation behind each sighting, "there are instances" where they can't proffer one.
Some of the objects, Ratcliffe said, "frankly engage in actions that are difficult to explain."
Difficult to explain. Okay, sure. I've come to expect these sorts of vague statements anytime we're given crumbs of information surrounding UFO sightings — which have been on the rise amid the pandemic — or any sort of space news, for the matter. But in the absence of an official, explicit explanation, allow me to offer my own. Sometimes, the correct answer is the simplest one: What's making the "unidentified aerial phenomenon" gyrate and wobble and migrate in ostensibly unexplainable ways are, obviously, aliens.
Of course, I wouldn't expect government officials to make any declaration of the sort. Demanding that they do so would be unreasonable, and frankly, unnecessary — especially when we all know what's behind the mysterious aerial objects (aliens, which are real). In the estimation of one astrophysics professor, there could be as many as 36 separate alien civilizations interspersed throughout the Milky Way galaxy. Last year, an official from the Unidentified Aerial Phenomenon Task Force — the government's exploratory program — apparently informed a Defense Department agency of the existence of "retrievals" from "off-world vehicles not made on this earth." Demi Lovato says she once entered peaceful talks with extraterrestrial life forms — if you want to argue that aliens do not exist, go ahead, but then how do you explain that?
Just something for the Pentagon to consider before releasing the full report in June. Perhaps they can tap UFO expert Post Malone.