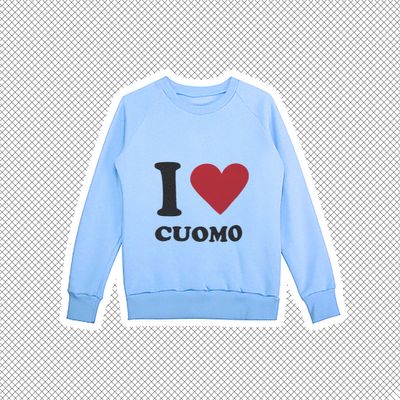 Photo-Illustration: by the Cut; Getty Images
At the height of New York's COVID-19 pandemic last spring, Melissa Stephens fell hard for Governor Andrew Cuomo. From her living room in Atlanta, the 68-year-old tuned in to the politician's daily COVID-19 briefings to keep tabs on her daughter, who was living in the virus's epicenter. She felt calmer knowing the state was being run by such a seemingly competent man, the foil to an unhinged president who was touting Clorox injections as a COVID fix. "He made me feel safe and secure and like things were under control," she said. "He was like the calm in a sea of crazy."
Soon, the retired legal assistant began planning her days around the briefings, making sure she was planted in her recliner chair without interruption so she could hang on to his every word. Stephens replayed clips on her phone, read Cuomo's biography, and made jokes to her partner about moving to Albany if the governor ever came calling. "I just felt like Andrew Cuomo was the bee's knees," she said. Amused by her mother's newfound crush, Stephens's daughter sent her a gray T-shirt last spring with "I'm a Cuomosexual" printed across the chest. Stephens proudly donned it almost every day until recently, when she read about the allegations that Cuomo had sexually harassed young women around the age of her own daughter. "It just makes you want to cry," she said. "It's just so disappointing."
In the past year, Cuomo's won an Emmy for his COVID briefings, landed a seven-figure book deal, and been touted as presidential material. Now, he's facing calls to resign after eight women have accused him of behavior ranging from groping and unwanted kissing to making suggestive comments and asking inappropriate questions about their sex lives. There are multiple investigations into the allegations, as well as claims that Cuomo's office vastly underreported the number of nursing-home deaths during the pandemic. Last Tuesday, President Biden agreed that if the sexual harassment allegations are true, Cuomo should quit. The governor claims he has never "touched anyone inappropriately" and has not signaled any intention to step down. Meanwhile, his "Cuomosexual" supporters have been left wondering what they saw in him, mourning their idealized image of a governor who helped them through a particularly lonely and terrifying part of the pandemic.
Last March, Cuomo thirst traps began to litter the internet. The term "Cuomosexual" was first popularized by campy comedian Randy Rainbow, who had already made a name for himself using Broadway tunes to parody Trump in videos with titles like "A Spoonful of Clorox" and "Cheeto Christ Stupid-Czar." On April 6, he posted a Grease-inspired ode to Cuomo on Twitter, the lyrics "Andy, can't ya see, I'm in quarantine" interspersed with montages of the governor's press briefings. He captioned it, "From now on I identify as #Cuomosexual."
Rainbow's portmanteau captured a mood; it went viral and was immediately added to Urban Dictionary (definition: "Someone who has a deep, abiding affection, or attraction bordering on obsession, for a person carrying the surname Cuomo"). Even Cuomo critics started to develop reluctant crushes. (One journalist who previously had a "reasonable dislike" of the governor as someone who had covered local politics wrote that she felt "butterflies" during his briefings.)
The obsession spawned TikTok appreciation videos (often set to the Princess Nokia song "I Like Him"); landed him guest appearances on talk shows like Ellen; and mutated into merch like T-shirts, mugs with phrases like "Crushin' on Cuomo," and underwear emblazoned with his name across the band. It helped that "Cuomosexuality" also encompassed Chris Cuomo, the governor's younger brother and a CNN anchor, known for his ripped biceps and workout videos.
The love for Cuomo was unprecedented. He's been in politics for 40 years, is serving his third term as New York's governor, and has never received this much positive attention in his entire career. It helped that he only needed to look better than Trump, whose callous indifference to mass death led to one of the worst outbreaks in the world. To appear competent in comparison, Cuomo had only to form full sentences without blatantly lying to the public. He also struck the tone of everyone's favorite teacher by calmly doling out sobering facts and regulations in his thick New York accent, while also making deadpan jokes and meme-able PowerPoint presentations that could have belonged in The Office. ("Baloney," read one bullet point. "You are wrong," another.) His briefings attracted a huge audience, including non–New Yorkers with no awareness of his political track record who found it soothing to watch Cuomo banter with his brother or tell his mom "I love you" during a time of isolation. (One woman told me they felt like "fireside chats.")
Cuomo had always been known for his brusque style of governing and a no-holds-barred directness, which didn't foster much fandom. Now, Chris teased him for gaining a reputation as the "lov gov," and at one briefing Cuomo unveiled a wall of cloth masks people all over America had sent his office, saying, "It spells love." His approval ratings reached all-time highs and rumors swirled about a presidential run. "It was sort of like he became a superhero," said Michele Faherty, a 48-year-old pharmaceutical sales representative in Minneapolis, who gag-gifted herself a "From now on I identify as a Cuomosexual" mug from Randy Rainbow's website last summer. "I just liked that he was strong and powerful enough to stand up to Trump."
Michael Wachowiak, a 29-year-old who lives in Buffalo, New York, said the governor's strength was a comfort in desperate times. "People often end up in relationships with someone who helped them through something very hard." In April, he posted a TikTok with photos of the governor and his brother set to a choral version of "I Touch Myself" with the caption, "Cuomosexuals we ride at dawn."
Last summer, Jessica Valls started posting TikTok videos of herself lip-syncing to Mariah Carey's "Fantasy," Snoop Dogg's "Drop It Like It's Hot," and other pop songs in front of a Cuomo green screen (at one point their lips even "touch"). The 51-year-old double bassist and university professor was looking for a creative outlet now that her gigs were on pause, and as a former New Yorker who lives in Austin, she had always found Cuomo "fun and sexy and cute." Since they were both single, part of her wondered, "Wouldn't it be neat if he just saw this crazy video of this Texas woman who thought he was interesting?"
In the briefings, it seemed like the very qualities Cuomo is often criticized for — being a control freak with a temper — worked in his favor. Reporters and colleagues have long known he's the type of guy to scream at you over late-night phone calls, and the Rochester-based newspaper Democrat & Chronicle described Cuomo as a "bare-knuckled fighter for his agenda; a car mechanic at heart who has mastered control of the levers of power." During the pandemic, his straight-up them's-the-facts style and confident tone made people feel safe.
But the deluge of Cuomo lust was accompanied by a large dose of whitewashing. The national spotlight had a soft focus that blurred out more nefarious behavior, past and present. Cuomo may have sounded competent, but in practice, he seriously mishandled aspects of the pandemic: The governor initially delayed a citywide shutdown, deliberately underreported the number of nursing-home deaths (an issue the FBI is now investigating), and fueled the spread of COVID-19 in prisons by refusing to release incarcerated people early on. Tens of thousands of New Yorkers have died from COVID; at one point, New York City had one of the highest death rates in the world. And even before the pandemic, Cuomo's never had a progressive track record on issues like criminal justice, public transportation, housing, Medicare, or taxing the rich. He's also been involved in high-profile scandals involving shoddy infrastructure and bid rigging, one of which landed his aide in prison on federal bribery charges.
Wachowiak, who has lived in New York his whole life, feels "kind of embarrassed" that he publicly fawned over a politician who he's always known was flawed. He's voted for the governor, but part of him always thought of Cuomo as a Republican in Democrats' clothing who didn't keep his promises on certain issues, like legalizing weed. He's not surprised that someone obsessed with flexing his authority ended up abusing that power. "It's clear now he fosters an almost mob level of governance," he said, "in terms of fear from adversaries and assumed loyalty from people on the inside." Wachowiak would now "rather die" than be called a "Cuomosexual." He's not alone.
The top Urban Dictionary entry for the term has been updated to read, "In love with an incompetent, gropey, hyper-corrupt governor who has an atrocious COVID track record and a history of questionable sexual behavior." Rainbow's mentions are now full of people asking versions of, "How's that Cuomosexual stuff feeling right now?" and he's no longer selling Cuomo-themed merch on his site (his press representative said he'd be passing on my interview request). Some Cuomo stans are still supporting their man, peddling conspiracy theories that the allegations are part of a Republican smear campaign to distract from Trump's crimes. Faherty, the mug owner, says she's waiting to form an opinion until she hears the results of the investigation into Cuomo's behavior, since she's against the rush to judgment that led Al Franken to resign in her state. But most are quickly ditching their hero, even as they grieve the image of him they once had.
Valls recently added a new video to her Cuomo TikTok repertoire. It features her lip-syncing to the breakup song "Before He Cheats," by Carrie Underwood, belting out lyrics about slitting an ex's car tires while glowering at a photo of the governor. She lost all respect for him when she read about the allegations, and knows what it's like to be harassed as a young woman.
For Stephens, the woman whose daughter bought her a Cuomosexual T-shirt, letting go has been a little more complicated. She defended him to her Republican family members when the nursing-home scandal broke, but when she read about the sexual harassment and bullying allegations, she went silent. It was hard to process that the man who she believed was protecting New Yorkers may have been preying on young women. It's been hard to abandon a figure who carried her through so many tough days. While Stephens still plans to wear the shirt — she loves the color — she's going to cut the tag off and turn it inside out. "I don't want to be associated with him now," she said. "It's been a real wake-up call to be more careful about who I get behind."