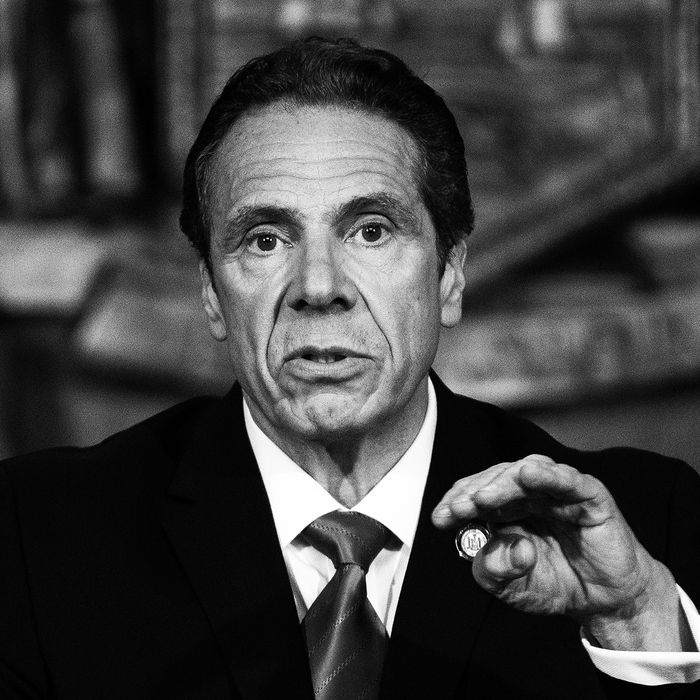 New York governor Andrew Cuomo.
Photo: Stefani Reynolds/Getty Images
The misconduct allegations against New York governor Andrew Cuomo continue to mount, with claims that he has sexually harassed numerous women, that he covered up COVID death rates in nursing homes, that his bullying style of politics creates a toxic work environment. And so do the forceful calls for his resignation: This morning, 12 Democratic members of New York's congressional delegation released statements concurrently, demanding that Cuomo step aside, joining more than 55 Democratic state legislators. Representative Jerry Nadler wrote in his statement, "The repeated accusations against the Governor, and the manner in which he has responded to them, have made it impossible for him to continue to govern at this point."
Evidently, Cuomo sees the situation differently. During a conference call this afternoon, the New York governor once again denied the allegations and reiterated that he will not be stepping down over them. He then went on to blame the mounting calls for his resignation on "cancel culture."
"Politicians who don't know a single fact but yet form a conclusion and an opinion are in my opinion reckless and dangerous," Cuomo said. "The people in New York should not have confidence in a politician who takes a position without knowing any facts or substance, that my friend is politics at its worse."
Contrary to his insistence otherwise, Cuomo is not a victim of "cancel culture," that meaningless phrase frequently invoked by the aggrieved when they discover that actions carry consequences. He is an elected official, facing serious allegations of sexual harassment, fostering a toxic workplace, and political malfeasance. His troubles began in late January, when New York attorney general Letitia James issued a report stating that Cuomo's administration had covered up deaths in New York nursing homes amid the pandemic; they grew worse when an assemblyman came forward and said the governor threatened to "destroy" him for publicly condemning the reports. Since then, numerous woman — many of them former aides — have gone on the record to level misconduct allegations against the governor, accusing him of sexual harassment, inappropriate touching, and asking invasive questions about their personal lives.
One of the most recent allegations, published in the Albany Times Union — that Cuomo reached underneath an unnamed female aide's blouse and fondled her behind closed doors — has been reported to law enforcement, as it may rise to the "level of a crime." Attorney General James is also overseeing an investigation into the numerous accusations.
In place of his image as a charismatic and skillful leader — an image Cuomo assiduously tried to cultivate during the pandemic — has emerged one of a brutish official. As Rebecca Traister writes in her detailed portrait of the governor's office, "Though the multiple scandals erupting in Albany seem to toggle between sexualized harassment stories and evidence of mismanagement, what is emerging is in fact a single story: That through years of ruthless tactics, deployed both within his office and against anyone he perceived as an adversary, critic, or competitor for authority, Cuomo has fostered a culture that supported harassment, cruelty, and deception."