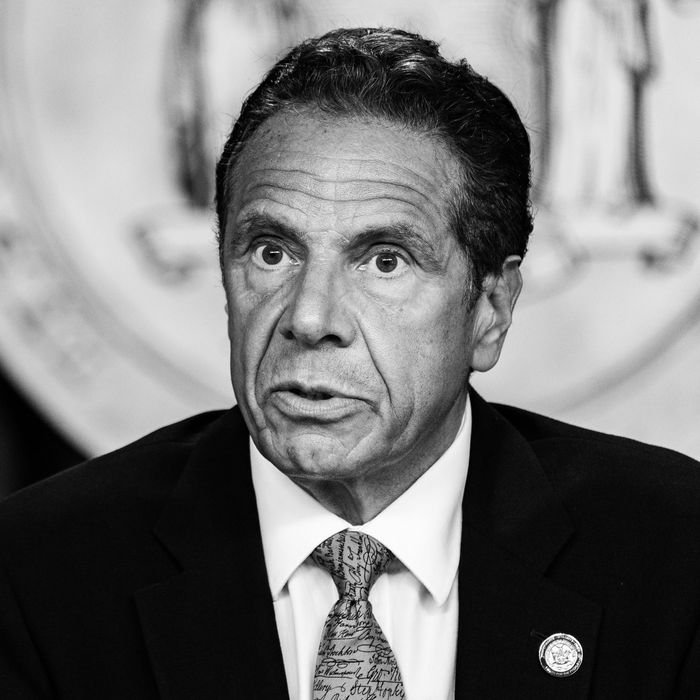 New York governor Andrew Cuomo.
Photo: Jeenah Moon/Getty Images
As numerous allegations of sexual harassment mount against New York governor Andrew Cuomo, along with calls for his resignation, the embattled Democrat held his first press conference in weeks on Wednesday to address the situation.
"I now understand that I acted in a way that made people feel uncomfortable," Cuomo said during the briefing. "I feel awful about it, and frankly, I am embarrassed by it, and that's not easy to say but that's the truth." And yet, when asked directly if he would step down in the middle of his third term — as many public officials are demanding — Cuomo rebuffed the calls. "I'm not going to resign," he said, urging the public to withhold judgement as New York attorney general Letitia James conducts an investigation into the claims.
Cuomo is currently facing three allegations of sexual harassment. The first came from Lindsey Boylan, one of his former aides, who accused Cuomo, on Twitter in December, of sexually harassing her "for years." However, it wasn't until late February that she went into detail, after Assemblyman Ron Kim accused Cuomo of threatening to "destroy him" over statements Kim made about the explosive allegations that Cuomo's administration had covered up nursing home deaths in New York amid the pandemic. (Those allegations are under investigation by the FBI and the U.S. Attorney's Office in the Eastern District of New York.) In a Medium post, Boylan accused Cuomo of fostering an environment where "sexual harassment and bullying is so pervasive that it is not only condoned but expected," and said that he once kissed her on the lips without her consent.
Days later, Charlotte Bennett, a former executive assistant who worked for Cuomo in 2019, shared a similar experience with the New York Times. She said that Cuomo repeatedly asked her intrusive questions about her personal life, including if she "had ever been with an older man." (At the time, she was 25.) "I understood that the governor wanted to sleep with me, and felt horribly uncomfortable and scared," she told the Times, adding that the alleged harassment prompted her to request a transfer to a different department. Then, this past week, a third woman named Anna Ruch — who never worked with Cuomo — told the Times that Cuomo tried to kiss her without her consent at a wedding in 2019.
As the allegations mounted, Cuomo issued a lengthy statement, in which he denied that he ever propositioned or touched anybody inappropriately, but apologized if his interactions were "insensitive or too personal." During the conference this afternoon, he struck a similar note, saying that kissing people is simply his "usual and customary way of greeting," and that "it was my father's way of greeting people."
While it is unclear when the attorney general's inquiry will be completed, James said in a statement over the weekend that the "findings will be disclosed in a public report."