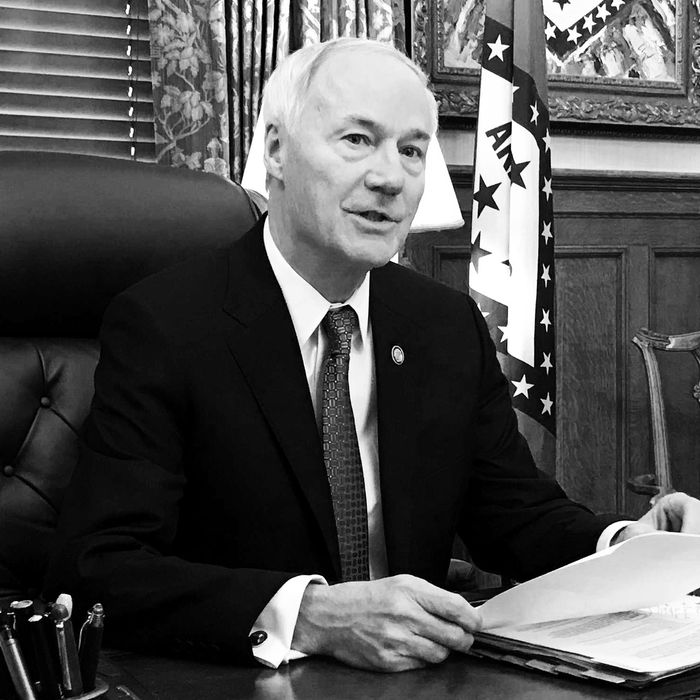 Photo: Andrew DeMillo/AP/Shutterstock
Arkansas reportedly has the highest COVID-19 death rate per capita of any state in America right now. Nevertheless, Governor Asa Hutchinson spent Tuesday signing into law one of the most restrictive abortion bans in the country, one that would even further limit access to crucial health care for Arkansans and put more lives at potential risk if it were to take effect.
The measure, Senate Bill 6, bans abortion in all circumstances, except for cases in which the life of the mother or fetus is endangered. There is no exception for rape or incest. It makes performing or attempting to perform an abortion an unclassified felony, subject to fines of up to $100,000 or time in prison.
The bill will certainly be challenged in court, and is likely to be struck down because it is wildly unconstitutional — but Hutchinson and anti-choice activists are counting on that. The governor was very open in discussing SB6 as part of the wider strategy on the right to use state abortion bans to bring a challenge to Roe v. Wade all the way to the Supreme Court. "SB6 is in contradiction of binding precedents of the U.S. Supreme Court, but it is the intent of the legislation to set the stage for the Supreme Court overturning current case law," he said in a statement yesterday.
Republicans were emboldened by the appointment of Amy Coney Barrett to SCOTUS for exactly this reason, because she will very likely support a challenge to Roe, and shifts the balance of the court in conservative's favor. There has been a surge in anti-choice state bills since her appointment, according to Planned Parenthood, with nearly 250 such measures pending in state legislatures across the country.
But reproductive-rights advocates have also been gearing themselves up for this fight. In a statement, Holly Dickson, the executive director of the ACLU of Arkansas, said: "Abortion is legal in all 50 states, including Arkansas, and we'll fight as long as it takes to keep it that way. Governor Hutchinson: We'll see you in court."
If it goes unchallenged, the law will go into effect on August 3. In the meantime, abortion remains extremely inaccessible in Arkansas already. Providers face heavy and unnecessary restrictions specifically engineered to make it difficult for them to remain open. Poor women and women of color are already suffering more in the coronavirus pandemic, and these groups suffer the most under draconian abortion laws. Dr. Brandon Hill, the president and CEO of Planned Parenthood Great Plains Votes, did not hold back on SB6: "Arkansas politicians have a crisis on their hands, and it's not limiting patients' access to constitutionally protected care. Instead of working to improve the state's underfunded public health system during a global pandemic, politicians are passing bills designed to gain publicity rather than address Arkansans' needs."