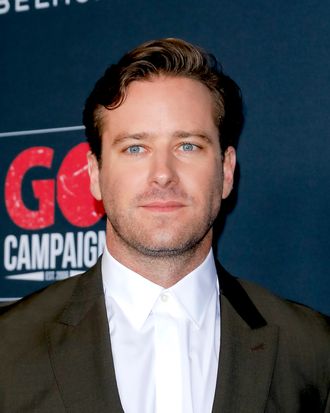 Armie Hammer.
Photo: Tibrina Hobson/WireImage
For a long minute now, rumors of a forthcoming Armie Hammer exposé have been circulating on certain social-media accounts. Given the recent allegations swirling around lurid DMs — detailing an extreme cannibal fetish — the actor purportedly sent a number of women, and the allegations of manipulation and psychological abuse two of his exes have now leveled against him, the timing would make sense. On Thursday, Vanity Fair published a lengthy article, the title of which ("The Fall of Armie Hammer") suggested the investigation may have arrived. For the most part, though, the claims contained in the story don't feel particularly new: Two of the women who went on the record, Courtney Vucekovich and Paige Lorenze, have already spoken publicly about their (alleged) experiences dating the actor. A handful of his friends — none of whom agreed to have their names published — offered feeble character defenses minimizing his (alleged) behavior. But the family drama? Oh, my God.
"Many men in the Hammer family have a dark side, sources close to the family say, one that looms across five consecutive generations," writer Julie Miller teases, and wow, does she deliver. With the help of unnamed sources, contemporaneous accounts, a biographer, and an estranged aunt named Casey who absolutely came ready to dish, Miller introduces us to each of the absurdly wealthy members of what one family acquaintance called "the lucky sperm club," because while they "never accomplished anything," they nonetheless "know a whole lot about spending other people's money." Okay!
Here they are, in order of appearance:
The communist doctor: Dr. Julius Hammer, Armie's great-grandfather, imprisoned for performing an abortion on the wife of a Russian diplomat in 1919. She died shortly thereafter, leading to conviction on a manslaughter charge. Julius, a Russian immigrant, was also a member of the Communist Party in the U.S., a detail that becomes medium-relevant when we meet …
The pharmaceutical chief endorsed by Lenin: Armand Hammer, of whom his second wife (Angela) once claimed: "[It] causes him no pain to see the sufferings of others." He reportedly dropped his medical aspirations after the abortion business; Vanity Fair reports that, instead, he took over Allied Drug, which his father also owned. Apparently, Vladimir Lenin (yep) supported Armand in this career move, and once endorsed him to Joseph Stalin (yep).
Anyway, Armand made a fortune investing his third wife's money in Occidental Petroleum, and according to Vanity Fair, also indulged in numerous and "wide-ranging grifts," including but perhaps not limited to: "laundering money; using artwork to fund Soviet espionage; bribing his way into the oil business; and knocking off Fabergé eggs." He reportedly also enjoyed "do[ing] business with a briefcase full of cash," and may or may not have played a financial role in the Watergate scandal. It is also alleged, by a biographer, that Armand had many mistresses, at least one of whom he compelled to legally change her name and wear disguises. He may also have forced her to satisfy "extremely humiliating" sexual demands.
The … murderer? Next up: Julian Hammer, grandfather to Armie, and a man who — per estranged aunt Casey — "could never get my grandfather's attention unless he resorted to really, really bad behavior." Such as? To quote Vanity Fair: "In the morning hours after Julian's 26th birthday, in 1955, he killed a man inside his Los Angeles home over a gambling debt and supposed advances on his wife, Glenna Sue."
Of his approximately $180 million, Armand left Julian just $250,000, Casey said — a monetary symbol of father's disdain for son. "All of a sudden, I'm in a bad Stephen King novel," Casey told Vanity Fair. "My father is worried about why Michael got the Rolls-Royce. And I'm like, 'Dad, you don't understand. You're going to be out on the street, no one's paying for your house, no one's paying for anything.'" Casey said she spent the next day sitting with Julian "so he doesn't blow his brains out because now he's threatening to kill me, he's threatening to kill Michael, he's threatening to kill everybody."
Casey also told Vanity Fair, and has said in the past, that Julian sexually abused her as a child.
The one who (allegedly) owns the sex throne: Would be Michael Hammer, "whom multiple people say has the mindset of a teenage boy," per Vanity Fair. Michael is Julian's son, and Armie's father; he reportedly made off (I do mean literally, if Vanity Fair is to be believed) with a tidy portion of Armand's assets. Michael, as Armie once indicated to Vulture, had hard-partying habits, which he says softened somewhat when he met Armie's mother, Dru Mobley. Nonetheless, the article points to some post-nuptial chaos: The time the family manor burned down during renovations! The time Michael got a DUI! The time the blue-chip New York art gallery he inherited was busted for selling an alleged $70 million in counterfeit paintings! The related and largely unprobed claim that Michael had been using the gallery's funds for personal expenses! All very regular woes, as you can see.
One of the odder notes about Michael, however, concerns the "sex throne" (or, as he put it, "naughty chair," I'm so sorry) he is rumored to have stashed in the Armand Hammer Foundation headquarters, which — according to Vanity Fair — is really just a warehouse where two sources suggested Michael may have lived for a time. Michael's attorney classed the throne as an "unsolicited gag gift sent by friends," but, if you please:
The structure, about seven feet high, features a chair with a hole in the seat, a cage underneath, and a hook. The Hammer coat of arms—the same one that, for years, adorned the exterior of the headquarters—is painted on the seat. In one photo Michael sits atop the throne grinning while holding the head of a blonde woman, sitting in the cage and also smiling
And then there is Armie: Who, despite the immense generational wealth and an upbringing in a "fucking paradise" (his words, describing the Cayman Islands, where he lived as a child), has pointedly attempted to distance himself from his family's privilege. As his divorce from ex-wife Elizabeth Chambers unfolded over the summer, however, Armie's social-media presence became erratic. His burner Instagram account, @el_destructo_86, suggested heavy drug use and joked (?) about potentially imminent sex with mannequins. There was also the "Miss Cayman" incident. And then, there were also the texts, allegedly sent to various women between 2016 and 2020, some of which Vanity Fair resurfaced: "I am 100% a cannibal"; "'Who's slave/master relationship is the strongest?' We'd win. When I tell you to slit your wrists and use the blood for anal"; among other graphic and violent statements. Hammer has previously declined to respond to reports that he sent these messages, waving them away as "bullshit claims." He also declined Vanity Fair's interview request.