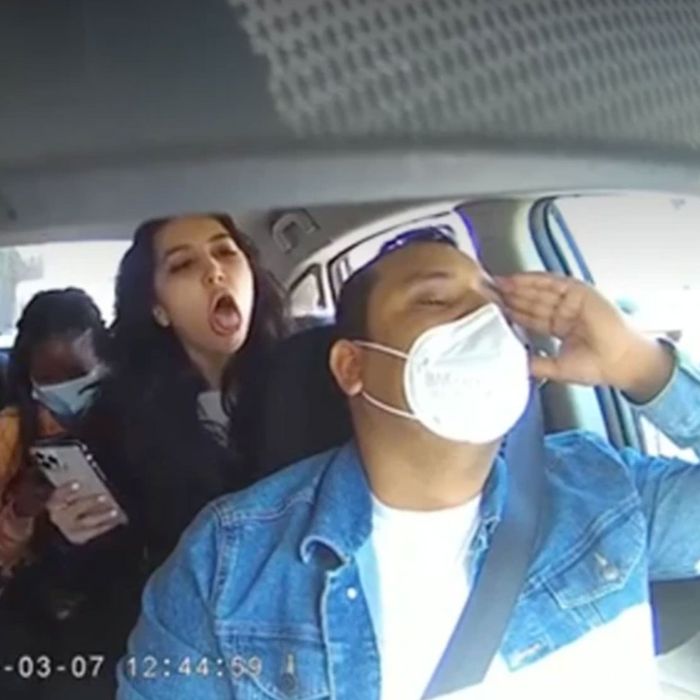 Uber driver Subhakar Khadka believes he was attacked because he's a South Asian immigrant. "If I was another complexion, I would have not gotten that treatment from them."
Photo: Subhakar Khadka via Storyful
When Uber driver Subhakar Khadka picked up three women in San Francisco on Sunday afternoon, he reminded them of the rideshare platform's policy that all riders wear face masks. When one rider spurned his request, Khadka refused them service and asked them to get out of the car. That was when the situation escalated: The passenger who refused to wear a face covering deliberately coughed on the driver, snatched his cell phone, and ripped off his mask, while the other two passengers berated the driver.
"Fuck the masks!" the passenger screamed at the driver, along with other racist slurs, which were captured in dashcam footage that has since gone viral. Another rider yelled, "And I got corona!" While the three riders did eventually get out of car, one of the passengers "reached into an open window and sprayed what is believed to be pepper spray into the vehicle and towards the driver," a San Francisco police spokesperson told HuffPost. Unable to breathe, Khadka says that he, too, had to get out of his car.
Khadka believes that the motivating factor behind the attack was race. "I never said anything bad to them, I never cursed, I was not raised that way," Khadka, who immigrated from Nepal eight years ago to help financially support his family, told a local station. Amid the pandemic, the U.S. has seen a staggering spike in racist attacks and hate crimes against Asian Americans, especially in the Bay Area. According to the Stop AAPI Hatereporting center, between March and December 2020 — when Donald Trump was frequently deploying racist rhetoric about the coronavirus — the project received more than 2,800 reports of discrimination or hate against Asian Americans across the country; about 700 of those took place in the Bay Area.
"If I was another complexion, I would have not gotten that treatment from them," Khadka said.
Khadka has since filed a police report on the incident, which is now under investigation by the San Francisco Police Department, and the passenger who ordered the car has also been banned from Uber's platform. "The behavior seen in the video is appalling," a spokesperson for the ridesharing app said a statement.
Following Uber's action, the passenger who refused to wear a mask — who has not been publicly named — posted a video to social media addressing the situation. While she acknowledged she was "disrespectful as fuck," she went on to downplay her conduct egregiously, saying, "All I did was take his mask off and cough a little bit." She also threatened to sue Uber, and ended the video by pledging her allegiance to a competing rideshare platform, saying, "That's why I take Lyft." It is unclear if, at the time, she knew that Lyft had also permanently banned her from their service for her "unacceptable treatment of the driver."