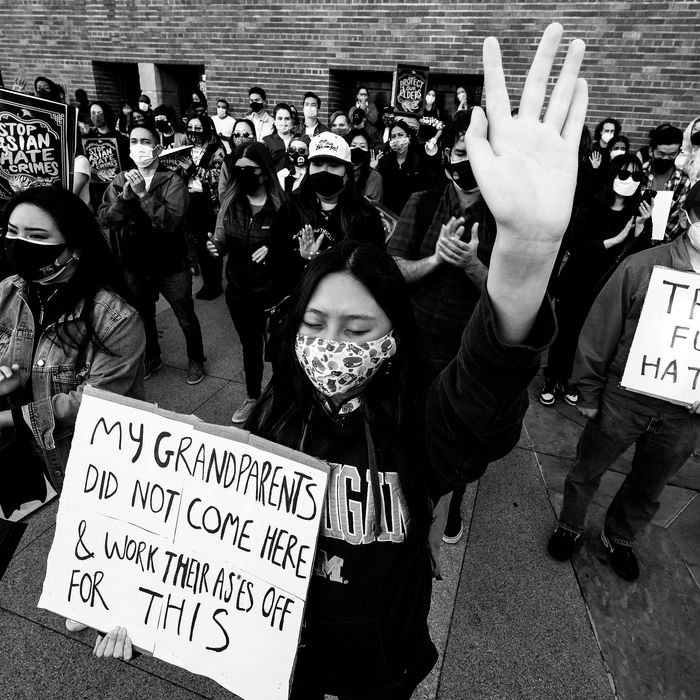 Photo: Ringo Chiu/AFP via Getty Images
New York Is Committed to Providing Essential Coverage 
We've removed our paywall from this and other stories about acts of violence and racism against Asian communities. Consider becoming a subscriber to support our journalists.
On Tuesday, eight people were killed in shootings at three Atlanta-area spas. Six of the victims were Asian women. Police have arrested a suspect, a 21-year-old white man named Robert Aaron Long who may have been en route to Florida to carry out more shootings, according to Atlanta mayor Keisha Lance Bottoms.
Long told investigators he had a sex addiction and wanted to "eliminate any temptation." The horrific murders come during a surge in violence and hate crimes against Asian Americans. Over the past 11 months, there have been nearly 3,800 incidents reported to the forum Stop AAPI Hate, a disproportionate number of them directed at women, spurred in part by racism linked to the COVID-19 pandemic and fueled by the former president's discriminatory comments about the "Kung Flu." (In a post-election survey, one in six Asian Americans said they had faced COVID-19-related racism.) Many of these incidents involve racial slurs and violence: a man was recently attacked in a New York City subway station, a woman was shoved to the ground outside a Queens bakery, and an educator's finger was severed after he was assaulted at a bus stop in California. Here's how you can help fight the violence on Asian Americans in the wake of yet another tragedy.
Donate to Georgia-based organizations
Georgia's Asian American population has doubled in the past two decades, and you can give your money to places that will help keep them safe. In Georgia specifically, organizations like Asian Americans Advancing Justice (AAAJ), the Asian American Advocacy Fund (AAF) and the Center For Pan Asian Community Services (CPACS) provide critical support to the community through legal services, policy advocacy, and life-saving resources for new immigrants and refugees. Here's a good compilation of resources for looking up organizations in your own city.
Support Asian American women
Asian women face sexist and racist obstacles that block them from having control of their bodies, accessing health care, or feeling safe in the workplace. The National Asian Pacific American Women's Forum (NAPAWF) fights for reproductive health and rights and has worked to defeat sex-selective abortion bans and other forms of medical racial profiling. You can help improve conditions for Asian and migrant sex workers through the grassroots collective Red Canary Song, which organizes for decriminalization and labor rights, as well as Butterfly, which runs a 24/7 hotline and provides emergency support to help keep workers safe. You can also give to the California-based Asian Immigrant Women Advocates (AIWA) or to the Koreatown Immigrant Workers Alliance (KIWA), which help improve conditions for immigrants in other low-wage jobs in the garment, hotel, and home-care industries in Los Angeles.
Take bystander-intervention training
Many of the recent hate crimes against Asian people have happened in public places. Trying to diffuse a situation requires the proper skills, which you can acquire by taking a free, online bystander intervention course run by the groups Hollaback! and Asian Americans Advancing Justice (AAJC). Organizers will talk about the spectrum of disrespect Asians are facing, from microaggressions to violence, and discuss five strategies for intervention. As a next step, you can also take a conflict de-escalation course in which you will practice responding to real-life scenarios.
Volunteer in your community
The recent attacks have left many Asian people scared to leave their homes. Volunteer to accompany elderly Asian Americans walking around in your community (there are groups in Oakland and New York that organize these efforts), support Asian-run businesses in your city, join local organizations, and check in on friends and family in this demographic to see if there's anything else you can do to help. If you are the victim of or a witness to any hate incidents, report them to Stop AAPI Hate or Stand Against Hatred.
Educate yourself about racism against immigrants, Asian Americans, and Pacific Islanders (AAPIs)
The first step in fighting against racism is understanding its roots. Discrimination against Asians is often either framed as xenophobia or hidden behind the "model minority" myth. Read up on how America abused Chinese laborers during California's gold rush, or on how they built America's first transcontinental railroad, only to be banned from coming to America with the Chinese Exclusion Act of 1882. The U.S. has a long, racist past of blaming Asian American workers for driving down wages and taking jobs, which led to the 1982 murder of Vincent Chin, a Chinese American auto worker and other acts of violence. America has segregated, imprisoned, and taken away basic rights from Asians throughout history. To learn more, PBS's five-part documentary Asian Americans and Iris Chang's book The Chinese in America are great places to start. For more contemporary discussions, read Cathy Park Hong's essay collection, Minor Feelings: An Asian American Reckoning, or check out the YouTube documentary series about racism during the pandemic, Asian American Stories in the Time of Coronavirus.