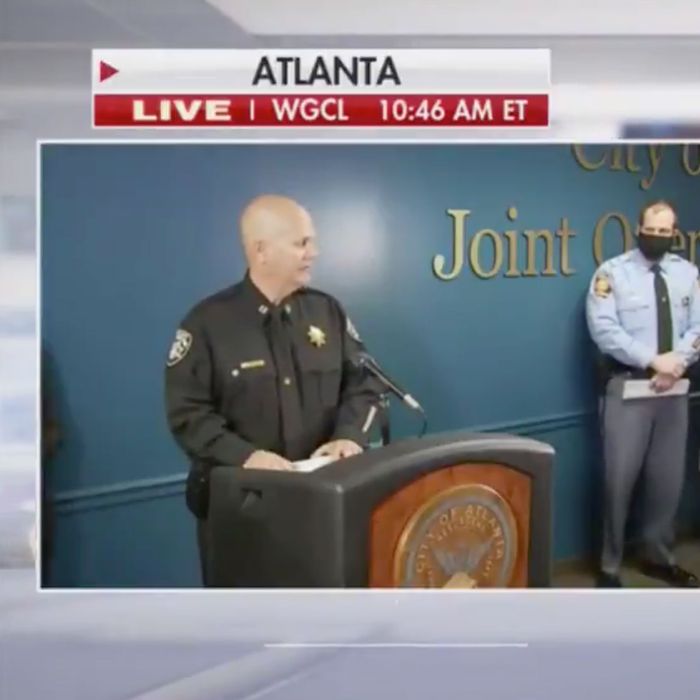 New York Is Committed to Providing Essential Coverage
We've removed our paywall from this and other stories about acts of violence and racism against Asian communities. Consider becoming a subscriber to support our journalists.
On Tuesday evening, a lone gunman in Atlanta undertook a string of targeted, deadly attacks at local spas, murdering six Asian women along with two other people.
The horrific attack comes as the U.S. is seeing a surge in violence targeting Asian Americans, yet, despite what seems tragically evident, as of Wednesday morning, investigators said that it was still "too early" to confirm whether the attack was racially motivated. According to police, the suspect, Robert Aaron Long, 21, told authorities that he did not target the victims because of their race, but because he had a "sexual addiction" and wanted to "eliminate" his "temptation."
In a bizarre and disturbing press conference, captain Jay Baker of the Cherokee County Sheriff's Office said that Long "was pretty much fed up and at the end of his rope," adding, "Yesterday was a really bad day for him, and this is what he did." As many have noted, this is an odd and shockingly callous way to talk about a man who just killed eight people. Another officer, sheriff Frank Reynolds, said that Long likely frequented the spas and was "lashing out," which again is an appallingly cavalier way to talk about mass murder.
In her own statement about the tragedy, Atlanta mayor Keisha Lance Bottoms had some more forceful words. "Whatever the motivation was for this guy, we know that the majority of the victims were Asian," she said. "We also know that this is an issue that is happening across the country. It is unacceptable, it is hateful, and it has to stop."