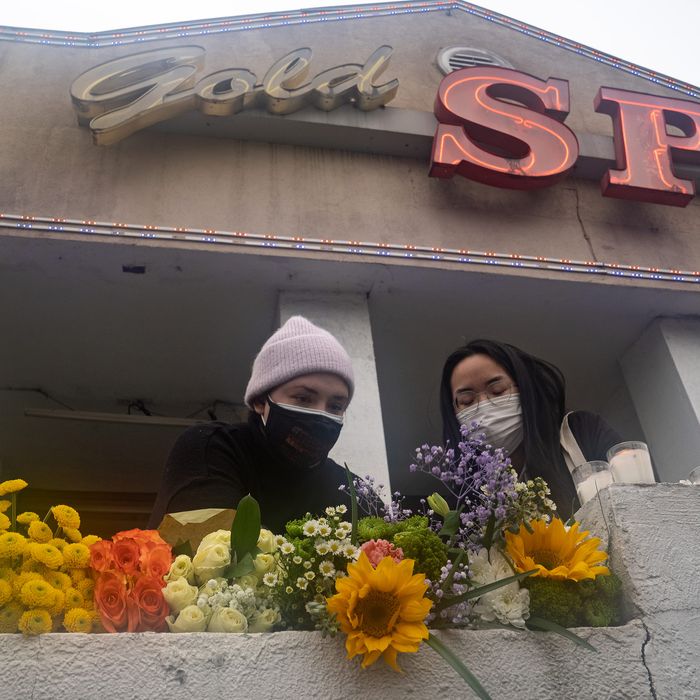 A vigil for the victims of the Atlanta spa shootings.
Photo: Megan Varner/Getty Images
New York Is Committed to Providing Essential Coverage 
We've removed our paywall from this and other stories about acts of violence and racism against Asian communities. Consider becoming a subscriber to support our journalists.
On Tuesday evening, lone gunman Robert Aaron Long undertook a string of targeted, deadly attacks at Atlanta spas, murdering six Asian women and two others. The attacks come amid a national surge in racist, anti-Asian incidents (one that has had particularly devastating outcomes for women) as well as an upswing in "male supremacy terrorism." As the investigations continue, details about the people Long killed and injured — their names, their families, their lives — are beginning to surface.
On Wednesday, officials released the names of the four people who died at Young's Asian Massage — Xiaojie Tan, Daoyou Feng, Delaina Yaun, and Paul Andre Michels — as well as Elcias R. Hernandez-Ortiz, who was wounded and is currently in critical condition. On Friday morning, the Fulton County Medical Examiner listed the names of the four other victims as Soon Chung Park, Hyun Jung Grant, Yong Ae Yue, and Suncha Kim. According to officials, seven of the victims were women.
On Wednesday afternoon, the South Korean consulate in Atlanta confirmed that four of the eight people killed were originally from Korea. A handful of organizations — Asian Americans Advancing Justice-Atlanta, Asian American Advocacy Fund, 9to5, and Korean American Coalition Metro Atlanta — are reportedly raising money for the families of the Asian victims.
Here's what we know so far.
Xiaojie Tan, 49
Xiaojie Tan, a licensed massage therapist originally from China, co-owned Young's Asian Massage and two other businesses — Wang's Feet and Body Massage and Young's Nail Salon — with her husband, Jason Wang, according to the Washington Post. "She donated and gave money to her employees and treated them so well," Wang said. "She was always celebrating their birthdays, doing good things for them."
Tan had a daughter, Jami Webb, who recently graduated from the University of Georgia, her friend and longtime customer Greg Hynson told USA Today. "She was the sweetest person you'd ever meet," Hynson said of Tan, recalling how she had surprised him with a birthday cake at the spa in October. "My heart was in my throat the second I heard of [the shooting]. It still doesn't seem real."
Speaking to WSB-TV 2, an unnamed friend described Tan as "the sweetest, most kind-hearted, giving, never-met-a-stranger person."
Webb confirmed to USA Today that her mother "loved to make friends with all her customers," and said she dreamed of traveling the world. "She did everything for me and for the family. She provided everything. She worked every day, 12 hours a day, so that me and our family would have a better life," Webb said of Tan, who was killed two days before her 50th birthday.
Daoyou Feng, 44
According to Hynson, Feng started working at the spa only shortly before the shooting. He told the Washington Post that she was quiet, but kind.
Soon Chung Park, 74
The New York Times reports that Soon Chung Park worked at Gold Spa, and had moved to Atlanta from New York, where many of her relatives live. "She got along with her family so well," her son-in-law, Scott Lee, told the paper.
Lee, who is married to one of Park's daughters and shared a close bond with his mother-in-law, told the Washington Post that Park settled on Atlanta to be closer to friends, and that she helped out with managing the spa and made meals for people who worked there. "She just liked to work," Lee said. "It wasn't for the money. She just wanted a little bit of work for her life." He explained that Park intended to move in with his family in New Jersey when her lease ended in Atlanta: "We always said to her, 'Come back and be with us.'"
Hyun Jung Grant, 51
According to the New York Times, Hyun Jung Grant was an employee at Gold Spa and a single mother of two boys in their 20s. Her younger son, Eric Park, recalled his mother's playful spirit. On days off, she enjoyed taking her sons to the mall or the aquarium, or out to eat at Korean restaurants. "As long as we were together, she was pretty happy," Eric said.
Grant's older son, Randy Park, told the Daily Beast that his mom liked to go dancing. "She loved Tiesto. She was like a teenager," he said, adding: "I could tell her anything. If I had girl problems or whatever. She wasn't just my mother. She was my friend." Randy noted that Grant "worked her ass off," having been an elementary school teacher before moving to the U.S., where, he said, "she did what she had to do."
"She was a single mother who dedicated her whole life to providing for my brother and I," Randy wrote on a GoFundMe page to raise money for the brothers' living expenses, which has received over $1 million in donations. "She was one of my best friends and strongest influence on who we are today," he wrote.
Yong Ae Yue, 63
Yong Ae Yue was also a licensed massage therapist, and according to the younger of her two sons, Robert Peterson, had been happy to return to work at Aromatherapy after getting laid off at the beginning of the pandemic. Peterson told the Atlanta Journal-Constitution that his mother was a caring woman who took great pleasure in helping others, whether by giving friends money when they couldn't make rent, or making sure her visitors had a good meal. "She feeds all my friends," he said.
"She was a good mother," Peterson said in an interview with the New York Times. "She was always there for her kids." On a GoFundMe he set up to help cover the costs of Yue's memorial, Peterson said Yue loved "introduc[ing] our family and friends to her home-cooked Korean food and Korean karaoke." Per the Los Angeles Times, Yue may have died while opening the door for Long, whom she assumed was a customer.
"My mother didn't do anything wrong," Peterson told the AJC. "And she deserves the recognition that she is a human, she's a community person like everyone else. None of those people deserved what happened to them."
Suncha Kim, 69
According to the New York Times, Suncha Kim worked at Gold Spa. A grandmother, she had been married for 50 years and liked to line dance. One of her family members told the paper that Kim originally came to the United States from Korea "to provide us a better education and better life," noting that hers was "just a regular American family [that] worked really hard."
Delaina Yaun, 33
Yaun was a mother of two — she had an 8-month-old daughter and a 13-year-old son — whose friend and former manager described her as a "very, very special person" whose "heart was so big." She worked at a Waffle House, and her manager recalled that she would regularly give food to unhoused people, and sometimes bring them to her home to shower and change clothes.
Yaun and her husband, Mario Gonzalez, were reportedly getting a couple's massage at Young's at the time of the shooting. Gonzalez survived, and told a local CBS affiliate that he was in a different room when he heard gunfire and took cover. "I'm just going to do what I can to make sure her kids are good and all the prayers are appreciated," he said. Yaun and Gonzalez were married last year.
A GoFundMe has been established to help cover the costs of her funeral.
Elcias Hernandez-Ortiz, 30
Hernandez-Ortiz was shot outside the shop next to Young's when Long opened fire. He reportedly called his wife of 10 years, Flor Gonzalez, just after it happened, saying: "I have been shot! Please come! I need you!" Gonzalez told the Washington Post that she believes her husband, who owns his own auto repair shop, was in the process of sending money to his parents in Guatemala when he was shot. When she arrived on the scene and saw his body, she said, "it was the most horrible thing."
Hernandez-Ortiz was wounded in his forehead, throat, lungs, and stomach, and remains in critical condition. His wife — with whom he has a 9-year-old-daughter — set up a GoFundMe to help cover his medical bills.
Paul Andre Michels, 54
John Michels told the Daily Beast that his brother was a veteran, a "gun-owner," a "baptized Roman Catholic," and a "staunch Republican" who valued Second Amendment rights and had been married for over two decades. "My brother was a very hard-working, loving man," John told the New York Times. "We did almost everything together."
This story is developing and will be updated.