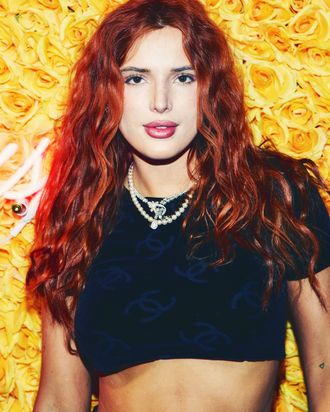 Bella Thorne.
Photo: Rodrigo Varela/Getty Images
Some celebrity engagement news: Actress Bella Thorne, 23, and her boyfriend of just under two years, Italian singer Benjamin Mascolo, are getting married.
The couple announced the news in a series of exuberant Instagram posts over the weekend. "She said YES @bellathorne," Mascolo captioned a series of photos of him and Thorne locked in a tight embrace, in which Thorne is showing off her massive pear-shaped diamond ring. He also shared the big news in a video posted to his Story, where he thanked Thorne ("baby") for being "amazing," and declared that they'll be having wedding celebrations "in Italy and America both."
"He knows exactly my style," Thorne captioned a video of her engagement ring, which, per the estimates of various "diamond experts," could be valued between $20,000 and $60,000, or even more.
Apparently, this engagement wasn't unexpected — or maybe even new, for that matter? According to People, last January, Thorne Instagrammed a photo of Mascolo alongside the caption, "💍💍💍big announcement coming soon," which certainly seems like a teaser for this weekend's engagement news. Thorne and Mascolo have been dating since at least June 2019, when they made it Instagram official; before that, Thorne was in an open relationship with a rapper named Mod Sun, whom she "fake" married, and chaotic YouTuber Tana Mongeau (who may or may not have married Jake Paul — the legitimacy of that union is still, years later, unclear).
Anyhow, congratulations to the new husband-and-wife-to-be. May their union be rich in love, support, and stability, or whatever they hope to share with one another.