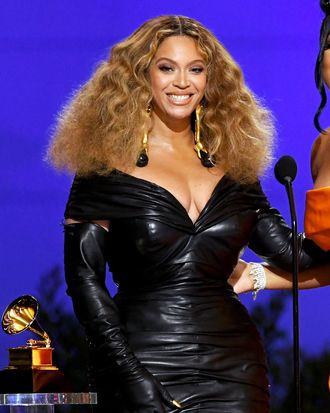 Historic Beyoncé.
Photo: Getty Images for The Recording Academy
Huge congrats to Beyoncé, who has just won her 28th Grammy — the most of any woman in history. Her win for Best R&B performance ("Black Parade") put her over the edge, breaking the tie with country-bluegrass artist Alison Krauss (27 Grammys) she'd established just minutes before.
"As an artist I believe it's my job, and all of our jobs, to reflect time and it's been such a difficult time," she said in her acceptance speech. "I wanted to uplift, encourage, celebrate all of the beautiful Black queens and kings that continue to inspire me and inspire the whole world."
"I have been working my whole life," she added. "This is such a magical night."
Beyoncé clinched her 27th Grammy with Megan Thee Stallion for their "Savage (Remix)," and before the night's ceremony officially began, she and her daughter — Blue Ivy — also won Best Music Video for "Brown Skin Girl." Bey has been nominated a total of 79 times, nine times in 2021 alone.
Still, despite all those noms, and the very fact of being … Beyoncé, she has only ever won one Grammy (for "Single Ladies," Song of the Year in 2009) in the major four categories: Album of the Year, Record of the Year, Song of the Year, and Best New Artist. For years, the Grammys have attracted criticism for consistently snubbing Black artists and vaunting white ones, prompting boycotts from stars including the Weeknd, for whom breaking chart records with the acclaimed "Blinding Lights" was somehow not enough to earn him a Grammy nod. Beyoncé hasn't publicly said anything about a boycott, but she also hasn't attended the ceremony since 2018, and declined to perform at this year's show. Still, per the Los Angeles Times, she's now tied with Quincy Jones for second-most Grammys ever collected by an artist, and three behind the top record-holder, the late Hungarian-British conductor Sir Georg Solti, who amassed 31 awards in his lifetime. So: See you next year, Grammys.